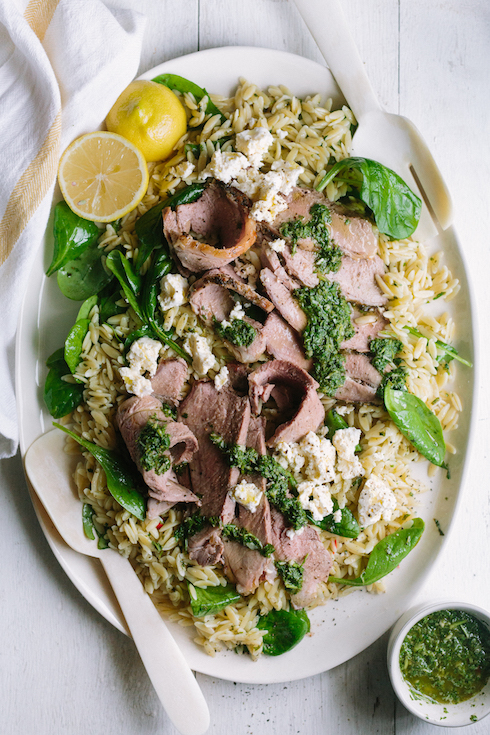 These are some of the flavours and textures that I love most: silky rosmarino (orzo) pasta cooked to al dente perfection and coated lightly in the finest olive oil, creamy salt feta, punchy zesty chimichurri and delicately roasted boneless leg of lamb, thinly sliced into beautiful folds. Top with a handful of fresh baby spinach leaves and you can serve this warm (winter) or room temperature (summer) – it's fabulous during any season of year.
This is the last recipe in a collaboration series of "lighter winter recipes with lamb" with SA Lamb & Mutton – what a great opportunity to take yet another fresh look at one of South Africa's favourite meats. I look forward to many more collaborations. See the other recipes here:
For the roasted leg of lamb: (serves 4-6)
1,5-2 kg leg of lamb, bone out (ask your butcher to cut it out, or use a small sharp knife to remove it)
45 ml olive oil
juice of half a lemon
salt & freshly ground black pepper
Preheat oven to 200 C.  Place the meat in a large roasting tray. Drizzle all over with olive oil and lemon juice, then season generously with salt & pepper. Roast for 40 minutes without covering, then turn the oven off and leave the door slightly ajar for the meat to rest for 10 minutes. Remove from the oven – the inside of the lamb should still be slightly pink, but not bloody. Transfer to a large cutting board and use a large sharp knife to carve into thin slices. Return the slices to the roasting pan to rest in the juices if not serving immediately. Note: If you prefer your meat more cooked, leave it in the oven for a little longer.
For the chimichurri:
1 punnet (20 g) fresh coriander
1 punnet (20 g) fresh parsley
1 red chilli, stalk removed
2 garlic cloves
1/3 cup (80 ml) extra virgin olive oil
45 ml red wine vinegar
salt to taste
While the meat is roasting, make the chimichurri. Place all the ingredients in a food processor and pulse to create a paste that is loose enough to drizzle over the meat. Add more olive oil if ncessary, and adjust salt levels to your taste. Cover until ready to use. Remember, this should be very punchy, as it will be the "seasoning/sauce" for the meat and the pasta. (Note: If made ahead, it should be refrigerated until ready to use. Use at room temperature.)
For assembly:
500 g rosmarino/orzo (flat, rice shaped pasta)
30-45 ml extra virgin olive oil
a generous handful baby spinach leaves
about 200 g feta, roughly crumbled
freshly ground black pepper
fresh lemon wedges, to serve
Bring a large pot of salted water to a rapid boil, then cook the rosmarino for about 7 minutes until al dente. Drain and transfer back to the pot, drizzling with olive oil. Add 3 tablespoons of chimichurri and stir through. Add the baby spinach and give it a light stir. Transfer to a large serving plate. Top with the slices of lamb, crumbled feta and drizzle with more chimichurri. Top with ground black pepper and add a few fresh lemon wedges on the side. Serve warm or at room temperature. (If making ahead, only add the baby spinach when the pasta has cooled.)