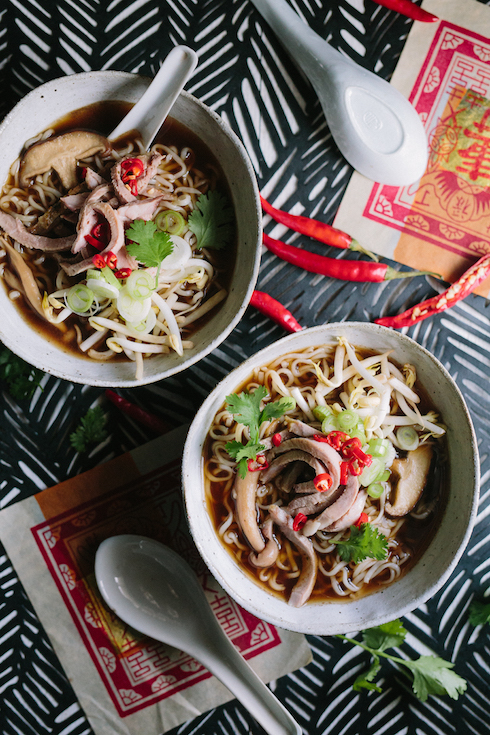 Ramen has made a huge splash over the past few years in the Western world, although it's been a staple for in the East for ages. The stuff that we know as "two-minute noodles" turned out to be much more posh that we could have ever imagined! Served right, it's light yet incredibly flavourful and packed with umami because of a magnificent meat broth, layered with deep flavours and exotic spices.
The good news is that it can be made with major shortcuts, and it's also the perfect way to enjoy leftovers from your Sunday roast. These days you'll find excellent lamb & mutton fonds (and some pretty decent stock cubes) in most supermarkets, which means you don't have to start from scratch with a homemade stock. Add a few key aromatics like star anise, ginger, garlic, chilli, shiitake mushrooms and soy sauce, and you're pretty much already there. Top with fresh bean sprouts, chopped spring onions and a few slices of roast lamb (or pan fried lamb steaks) and you're ready to rock your ramen.
I made the ramen in the photo with homemade lamb stock (using roasted lamb bones, onion, carrots, celery, black peppercorns, bay leaf, and water). Whether homemade or store bought – use whatever you prefer and have time for.
Ingredients: (serves 4)
1,25 liters good quality lamb stock/broth
2 garlic cloves, peeled, whole
1 knob ginger, peeled
1 star anise
30 ml soy sauce
1 chilli, halved and seeds removed (plus more for serving, optionally)
3-4 large shiitake mushrooms (or other exotic mushrooms, like shimeji), sliced
4 x 70g packets ramen noodles (noodles only, not spice sachets)
about 2 cups leftover roasted lamb, shredded, warmed (or about 300 g lamb steak, pan-fried and finely sliced)
one bunch spring onions, sliced, white part only
1 cup bean sprouts
a handful fresh coriander leaves, roughly chopped, to serve
Method:
Place the stock/broth in a medium size pot with the garlic, ginger, star anise, soy sauce, halved chilli and sliced mushrooms. Bring to a simmer and cook over low heat for 10 minutes, covered. Remove from the heat and let it stand while you prepare the noodles.
Bring a pot of water to a boil and cook the noodles until just tender. Drain and transfer to 4 bowls.
Strain the broth through a sieve, then top each bowl of noodles with warmed lamb, hot broth, spring onions, sprouts, more chilli (optional), and fresh coriander. Serve at once.
This recipe was created in collaboration with Lamb & Mutton South Africa. #CookingWithLamb #LambAndMuttonSA #WholesomeAndNutritious #CleanEating #TheWayNatureIntended