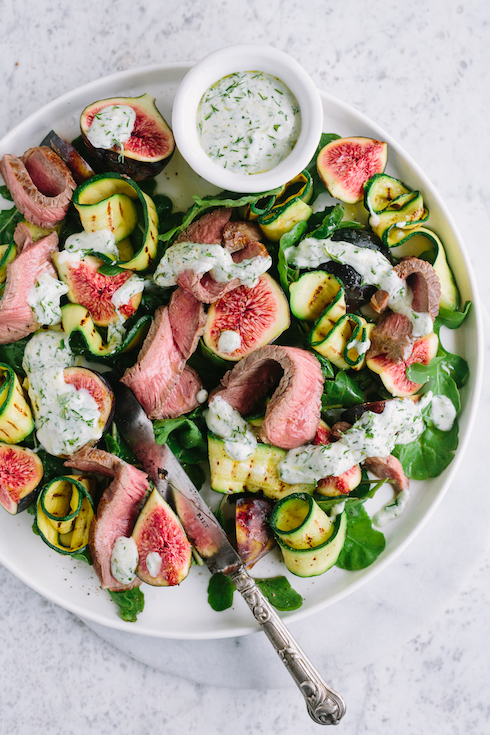 There's certainly more than one way to enjoy a good steak – and it doesn't have to include potato chips and heavy sauces. Whether it's Winter or Summer, a scrumptious lamb steak salad is such an enticing way of serving perfectly grilled pink meat on a beautiful platter.
Substitute the ingredients with whatever's seasonal and to your liking – tomatoes, aubergines, mushrooms – the variations are endless. The yoghurt sauce is packed with herbs and has an extra tang thanks to fresh lemon juice and some Dijon mustard – a match made in heaven with the rich lamb flavours.
Take a look at my easy how-to video:
Ingredients: (serves 4 as a light meal)
4-6 courgettes, thinly sliced into long ribbons
600-800 g lamb steaks (or boneless leg of lamb, cut into thick steaks)
olive oil
salt & pepper
a bunch fresh rocket leaves
4-6 large ripe figs, quartered
for the dressing:

3/4 cup double cream yoghurt
a few sprigs fresh dill, finely chopped
15-30 ml freshly squeezed lemon juice
10 ml Dijon mustard
15-30 ml extra virgin olive oil
a pinch of salt
Method:
Using a griddle pan, grill the courgette ribbons over a very high heat (without any oil) until the ribbons have charred marks on each side (can also be done over a fire). Set aside.
Place the steaks on a plate, drizzle with oil and season well with salt & pepper. Grill the meat in the same hot pan for about 3 minutes a side (depending on the thickness of your steaks). Set aside to rest while you assemble the rest of the salad.
On a large platter or on individual plates, arrange the rocket leaves, grilled courgette ribbons and sliced figs. Slice the lamb steaks into thin slivers, then arrange on top and season lightly with salt & pepper.
Mix all the ingredients for the dressing together, then drizzle over the top. Serve with more of the dressing on the side, along with fresh lemon wedges and more olive oil.
This recipe was created in collaboration with Lamb & Mutton South Africa. #CookingWithLamb #LambAndMuttonSA #WholesomeAndNutritious #CleanEating #TheWayNatureIntended