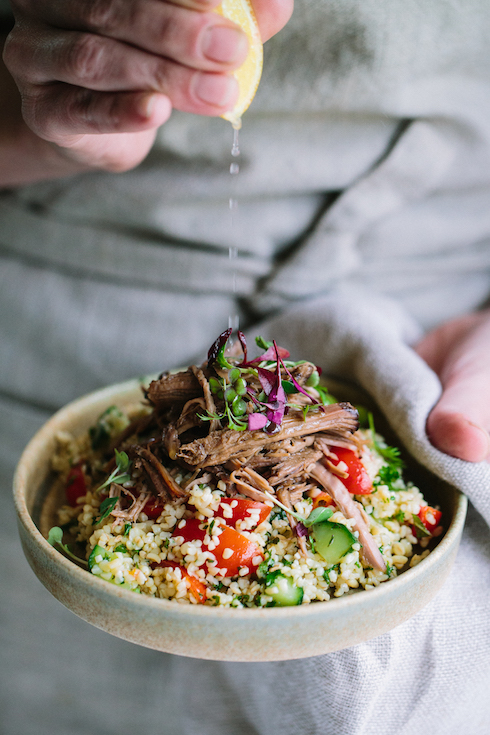 If you haven't cooked with bulgur wheat before, you'll be amazed that it only needs 20-30 min soaking (no boiling). You can't mess it up! Apart from that, it's a great source of plant-based protein and very high in fibre. With the addition of herbs, olive oil, lemon juice, tomatoes and cucumber, this classic Eastern Mediterranean favourite is the perfect "bed" for some juicy shreds of lamb.
Again, this dish is a great way to reuse your leftover pulled lamb or lamb roast of the weekend, turning it into a fantastic midweek office lunch or fresh, light dinner. It is bowl food at its best.
*Note: Head over to my recipe for pulled lamb pitas to cook your pulled leg of lamb from scratch, otherwise use a smaller cut of lamb like a knuckle, braised in stock & vegetables for 2-3 hours until it falls from the bone. Pan-fried or flame grilled lamb steak or chops will also do: just slice into thin slivers after frying, add a little stock to the pan and reduce for a little saucy goodness to pour over the slivers.
Ingredients: (serves 6)
1,5 cups bulgur
1,5 cups boiling water
4 tablespoons (60 ml) lemon juice
4 tablespoons (60 ml) extra virgin olive oil
1 clove garlic, finely grated
1 cup parsley, finely chopped
1/2 cup mint, finely chopped
1/2 cup spring onions, finely sliced
3 cups baby tomatoes, quartered
1,5 cups cucumber, seeded & cubed
salt & pepper, to taste
3-4 cups cooked shredded lamb, with some of the cooking liquids (if using leftovers, or see *note above for more info)
Method:
Place bulgar and boiling water in a large bowl and cover with plastic wrap. Let it stand for 20-30 minutes or until all the water has been absorbed, then fluff with a fork.
Add the lemon juice, olive oil, garlic, parsley, mint, spring onions, tomatoes, and cucumber and mix well. Season generously with salt & pepper and mix well. Cover and refrigerate until ready to serve.
If you are using leftover pulled lamb, place 3 cups of shreds in a small saucepan along with about 1/2 cup of the cooking liquid (or mutton stock with a pinch of salt). Heat to a simmer and reduce until the liquids have almost evaporated.
Plate the tabbouleh into bowls (best served at room temperature), then place the hot lamb shreds on top. Serve at once with lemon wedges on the side.
This recipe was created in collaboration with Lamb & Mutton South Africa. #CookingWithLamb #LambAndMuttonSA #WholesomeAndNutritious #CleanEating #TheWayNatureIntended