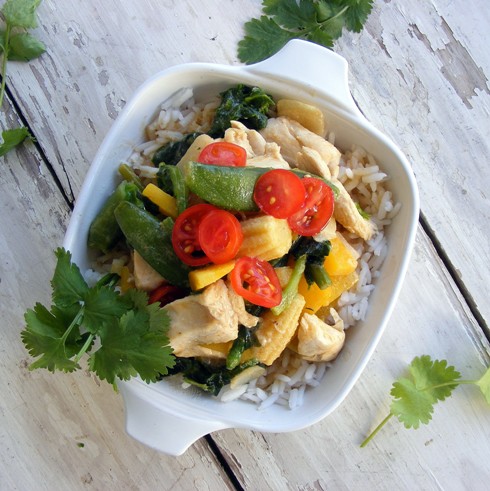 I was invited by the kind people at Crush Online Magazine to participate in a cooking challenge! This challenge involved the new Findus frozen foods range, and specifically their Wok Range. It is imported from Sweden and currently available at most Pick 'n Pay retail stores.
I chose to cook with the Findus Wok Gold pack, which contains a mixture of very exotic Asian ingredients, like cabbage flower, water chestnut, bamboo shoots and green garlic. It also contains more well-known vegetables like carrots, sugar snap peas, onions and baby corn.
I have to say that the quality of these frozen veggies is really amazing. Even after cooking, it retains the crunch of great quality fresh vegetables.
I decided to cook the vegetables in a quick, fragrant coconut curry sauce with sliced chicken breasts, but I have also tried this recipe with prawns and it worked really well. You can also cook it with cubed fish fillets.
This is a mild curry, but add as much chilli as you like. It is a really quick, easy, fragrant meal that takes only 15 minutes to make from scratch!
Ingredients:
30 ml vegetable oil
20 ml red curry paste
15 ml crushed ginger
400 ml coconut cream
400 g chicken breast, sliced into thin strips
450 g Findus Wok Range, Gold
salt to taste
fresh coriander leaves and sliced small tomatoes for garnish
cooked Thai rice, to serve with
Method:
In a wok or large pan, heat oil over medium to high heat. Add curry paste and ginger, then fry for about 30 seconds.
Add coconut cream, then bring to a boil. Add chicken and frozen vegetables, then bring to a simmer and simmer for 6-8 minutes with the lid closed.
Remove from heat, season with salt and serve with Thai Rice, garnished with coriander leaves and sliced tomato.
Tip: You can also make your own red curry paste by grinding fresh garlic, ginger, red chillies and coriander leaves in a pestle and mortar to a paste. But using ready-made curry paste saves a lot of time for people with a busy schedule!
Please go to Crush Online's Facebook Page and vote for my recipe!