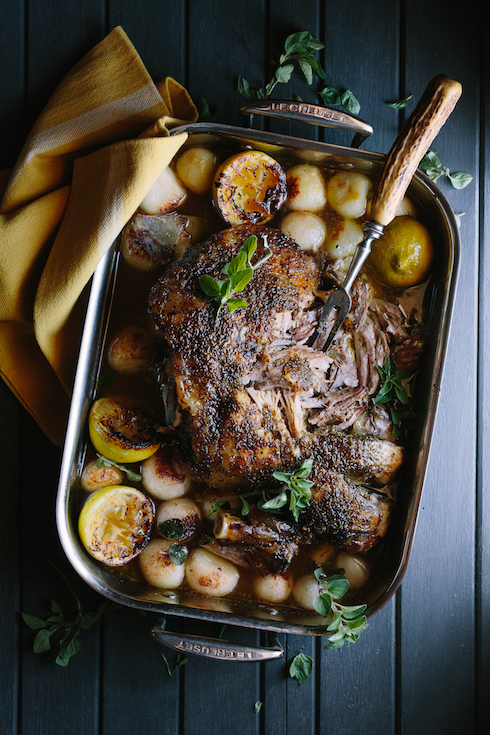 Easter weekend is here and many of us are getting ready to feast generously with friends and family. To me, entertaining a crowd is all about fuss-free choices so that you can cut back on the stress of catering and actually enjoy the feast as much as everyone else.
One of my choices for a low effort / big result showstopping roast is this Greek-style lemony leg of lamb. In Greek cooking, simplicity reigns supreme. There are very few ingredients in this recipe, making sure the flavour of the meat remains the most important: only lemon, dried origanum, olive oil, salt and pepper, and a touch of water. The meat releases so much of its own juices, so you actually braise the meat and potatoes slowly in a lemony lamb broth. The result is just magnificent, because although the meat falls apart completely, it is still pink in colour and super juicy.
Use leftovers to make the most incredible lemony lamb sandwiches the next day. A generous dollop of tzatziki won't hurt either.
Happy Easter everybody!
Note: Remember to start this dish very early in the morning if you're having it for lunch, or late morning if you're having it for dinner. You can even cook it overnight (without the potatoes) and reheat before serving. Take a look at my easy how-to video below:
Ingredients: (serves 6-8)
2-2,5 kg leg of lamb (ask your butcher to hack the shank bone so it will be able to bend and fit in your tray)
1 cup freshly squeezed lemon juice (from about 4-6 lemons)
1 cup water
1/4 cup olive oil
15 ml dried origanum
10 ml salt
5 ml ground black pepper
about 1,5 kg small-medium potatoes, peeled (and halved, if big)
Method:
Pre-heat oven to 120 C.
Place the leg of lamb in a large non-corrosive (stainless steel or ceramic) deep roasting tray, fat side up. Pour over the lemon juice, water and olive oil, then sprinkle all over with origanum. Season generously with salt & pepper. (I like to also add some of the juiced lemon halves to the tray, but it is optional.)
Cover with a layer of non-stick baking paper, tucking the sides in around the leg. Cover tightly with 2 layers of foil. Place in the oven and roast for 4 hours at 120 C, then add the potatoes and return to the oven for 4 more hours.
Remove the foil and baking paper. Crank the heat up to 220 C, then roast uncovered for 15 minutes.
To serve, press the meat here and there to gently fall apart and suck up more of the lemony broth. Serve with the potatoes, a Greek salad, perhaps some tzatziki and optionally some toasted pita bread to soak up the runny juices.
This recipe is part of a Mediterranean-inspired series for Lamb & Mutton South Africa. To learn more about South African lamb and mutton and to find more recipes, go to www.cookingwithlamb.co.za.