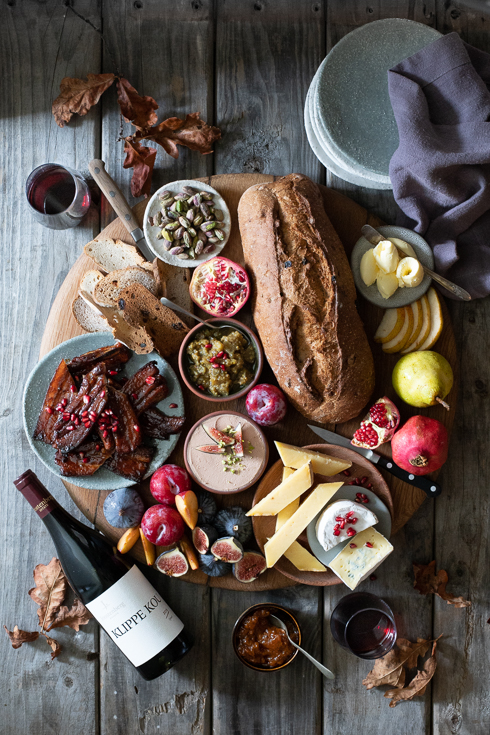 This week, I teamed up with Klein Joostenberg Deli on the R304, Muldersvlei, outside Stellenbosch. I've always been a huge fan of their shop, because they are a passionate 5th generation family business, offering the most wonderful variety of seasonal produce, specialty deli products, fresh and smoked pork, cured meat, free range chicken, freshly baked breads and pastries, preserves, wine, gifts and so much more. It's an absolute playground for a food enthusiast and stylist like me, because I usually find the most beautiful produce there that aren't stocked in more commercial supermarkets, like specialty cheeses, small batch fresh farmer's produce, and very large cuts of pork (like their beautiful deboned pork shoulders, usually around 4 kg each).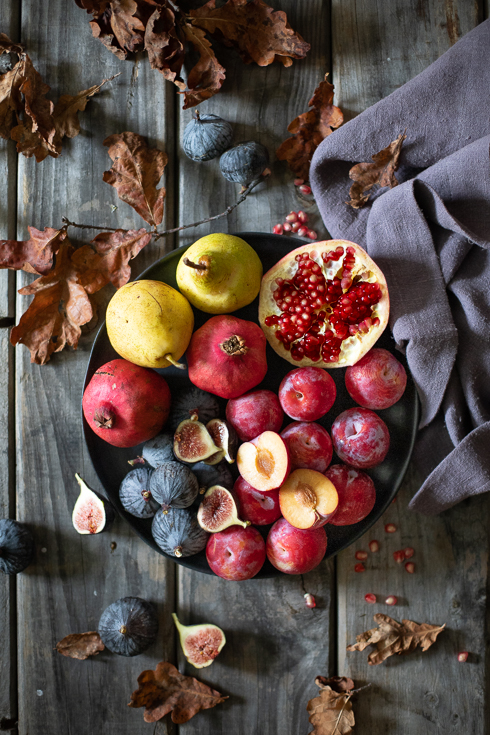 To celebrate the start of Autumn in my local region, I've decided to put together an al fresco platter to showcase the bounty of the season. I found the most terrific fresh black figs, pears, pomegranates and red plums, and decided to team it up with Joostenberg's famous chicken liver paté (it is the very best), some other preserves like peach chutney and aubergine relish, a freshly baked walnut and raisin loaf, melba toast, silky butter from Oakdale, two fabulous cheeses from Dalewood Fromage (Huguenot and Wineland Blue Camembert) and some fresh pistachios from Sonqu River (seasonal now). A Joostenberg platter wouldn't be complete without their pork, so I made an Asian-inspired glaze to go with their pork rashers – such a hit! I served it with Joostenberg's Klippe Kou 2018 Syrah, an organic estate wine made from grapes growing on a single property.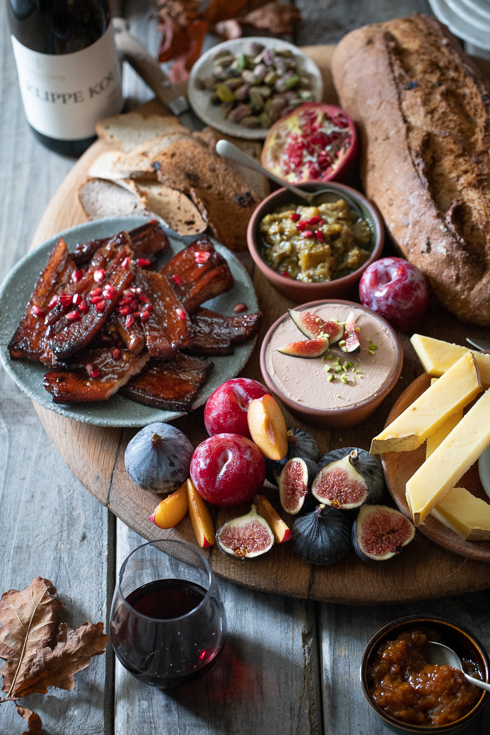 I hope you'll also make the most of Autumn's bounty by checking in at Klein Joostenberg and selecting your personal favourites. An informal platter is such an easy way to entertain, and it always brings the "wow factor"!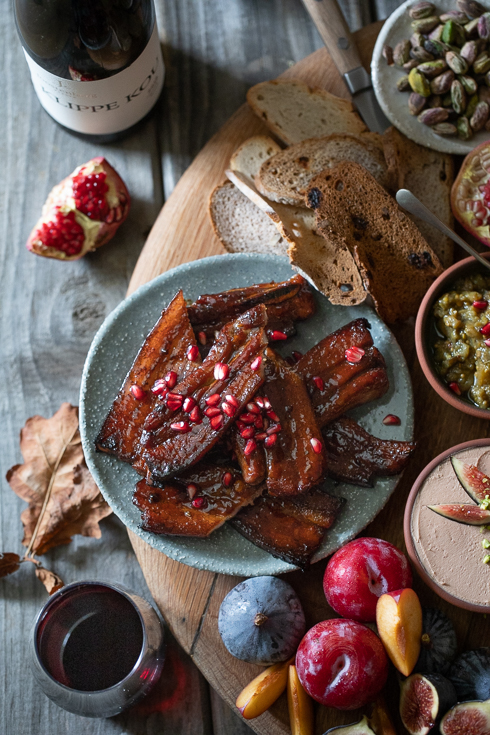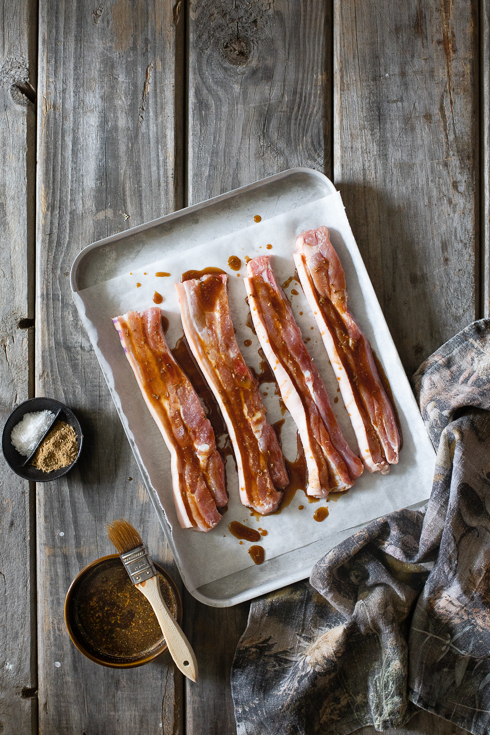 For the Asian-inpsired pork rashers: (Note: Joostenberg stocks a fantastic variety of exotic pantry ingredients from all over the world, so you'll find all of the ingredients below there. They also sell readily spiced rashers if you're keen on a more local BBQ flavour.)
1/4 cup (60 ml) hoisin sauce
2 tablespoons (30 ml) soy sauce
2 tablespoons (30 ml) honey
4 teaspoons (20 ml) rice vinegar
1 teaspoon (5 ml) Chinese 5-spice
a few drops sesame oil
a generous pinch of salt
4 large fresh pork rashers
Preheat the oven to 180 C. Line a regular baking tray with non-stick baking paper. Mix the hoisin, soy, honey, vinegar, spice, sesame oil and salt together in a jug. Place the rashers on the baking paper lined tin, then brush them all over with the marinade. Roast for 15 minutes at 180 C, then turn over and baste again. Roast for 15 minutes more, then repeat twice more (total roasting time to be 1 hour). Some of the marinade will blacken on the pan during roasting, that's alright. Remove the pan from the oven and cut into smaller chunks, then serve immediately.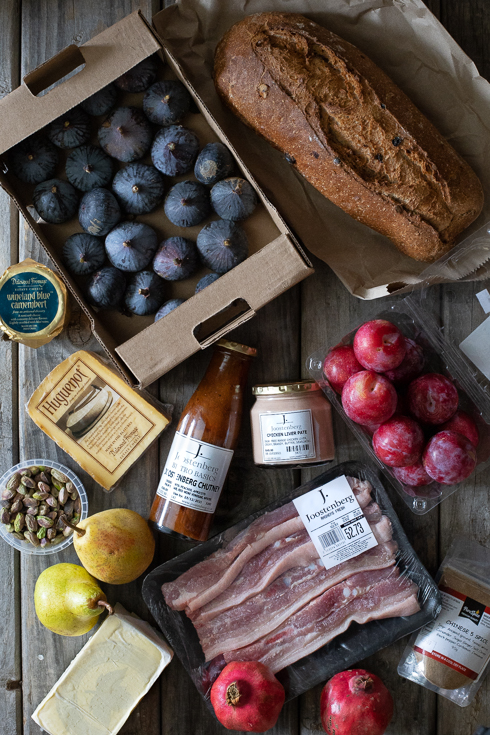 Contact Klein Joostenberg:
A – Klein Joostenberg. R304 Muldersvlei, Stellenbosch, 7607
T – 021 88 44 303
GPS – – 33 82' 66 21 S / 18 79" 55 15 W