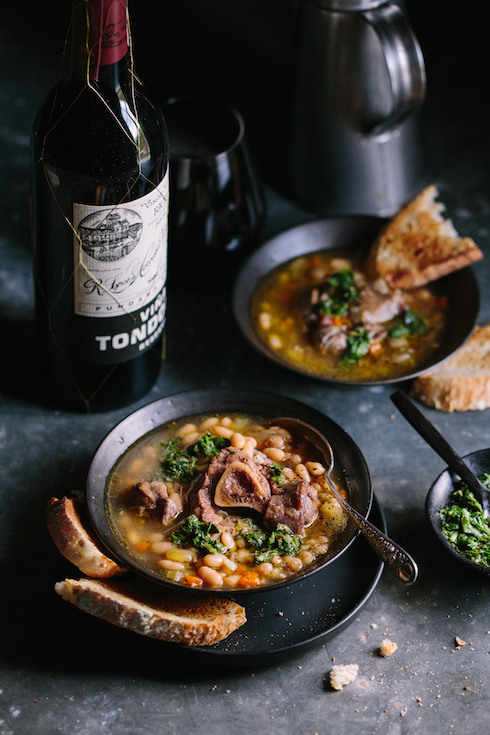 Although many of us know and love traditional South African bean soup made with red speckled beans, there's another variety that you absolutely have to try. It is made with small white haricot beans (almost like Italian canellini beans, which are not very common in SA in its dried form). These beans are very smooth in texture and they tend to not fall apart as easily as their speckled cousins, resulting in a non-stodgy end result. This is a slightly thickened brothy soup with chunks of deliciously tender meat and beautiful, small, silky beans. Made with chicken stock instead of mutton or beef stock, the soup is also lighter in colour than most bean soups. A dollop of punchy green salsa verde adds just the right lift to this meal.
A single lamb knuckle, sliced by your butcher, is enough to add the meatiness that this soup needs. It's an economical way to serve a stylish soup in a fresh way this Winter. Serve with crusty bread, if you like.
Ingredients: (serves 6)
30 ml olive oil
about 600 g lamb knuckle, sliced horizontally by your butcher
1 large onion, peeled & finely chopped
1-2 sticks celery, finely chopped
1 large (or 2 medium) carrots, peeled & finely chopped
3 cloves garlic, peeled & finely chopped
3 sprigs rosemary
250 ml dry white wine
2 liters chicken stock
500 g small white beans (haricot)
salt & pepper, to taste
for the salsa verde:

a handful each parsley, basil & mint
1 garlic clove
2 teaspoons capers
15-30 ml lemon juice
45-60 ml olive oil
a pinch of salt
10 ml Dijon mustard
Method:
Heat the oil on high heat in a large wide pot (at least 6 liters capacity), then fry lamb knuckle in batches until browned on both sides (cut larger chunks of meat in half). Remove the meat from the pot and set aside, then turn down heat to  medium.
Fry the onion, celery & carrot until soft, stirring often (add a little more oil if needed). Add the garlic & rosemary (add the sprigs whole, you'll remove the woody stems later) and fry for another minute.
The bottom of the pot should be coated with sticky brown bits by now. Add the white wine and stir to deglaze. Add the fried meat with all the juices back into the pot, then top with stock. Add the beans and stir. Note: Don't add any salt until tright at he end, otherwise the beans won't become tender.
Bring to a simmer, stirring now and then, then turn heat down to low, cover with a lid and cook for about 2,5-3 hours until the meat is falling from the bone and the beans are really tender.
Season generously with salt & pepper and remove from the heat to rest for about 15 minutes before serving.
To make the salsa verde, chop all the ingredients together by hand or in a food processor. Taste and adjust with more salt or lemon juice if needed.
Serve the soup in bowls with a dollop of salsa verde (and some crusty bread for dipping, optionally).
This recipe was created in collaboration with Lamb & Mutton South Africa. #CookingWithLamb #LambAndMuttonSA #WholesomeAndNutritious #CleanEating #TheWayNatureIntended