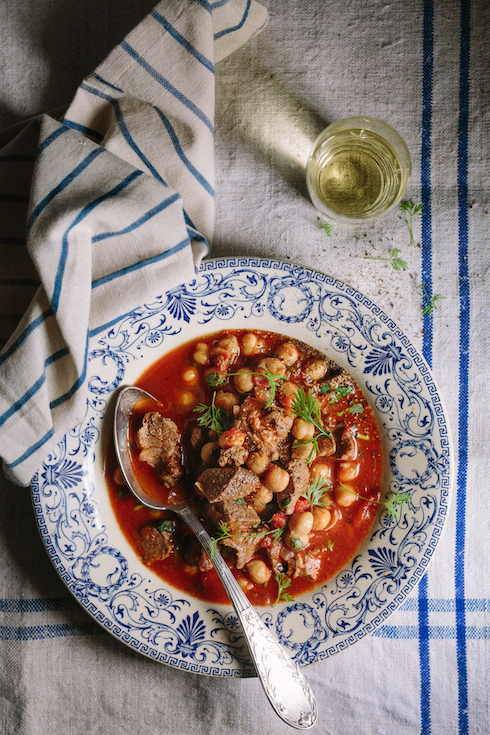 This easy North African-style lamb & chickpea stew is heartier than a soup, yet it doesn't need to be served with any added starch. It is high in protein, relatively low in fat and naturally gluten-free.
I love the fact that it can be made with a few pantry staples like canned tomatoes and chickpeas, stretching a relatively small amount of meat to serve a crowd. Top it generously with fresh herbs like coriander, mint or parsley and a squeeze of lemon juice. Perfect Autumn fare!
Ingredients: (serves 4-6)
30 ml olive oil
1 onion, finely chopped
about 800 g boneless lamb/mutton, cubed 2x2cm (leg works well, but any boneless meat will work)
2-3 garlic cloves, finely chopped
5 ml (1 teaspoon) ground cumin
15 ml (1 tablespoon) smoked paprika
2,5 ml (1/2 teaspoon) harissa dried spice blend (or cayenne pepper)
1 cinnamon stick
5 ml (1 teaspoon) sugar
500 ml lamb/mutton stock
1 can chopped tomatoes
2 cans chickpeas, drained
finely grated zest (and 15 ml juice, reserved) of a fresh lemon
salt & pepper, to taste
a generous handful fresh coriander/mint/parsley, to serve
Method:
In a large heavy based pot with lid, heat the oil over medium heat. Add the onion and fry until translucent and soft. Turn up the heat and add the meat cubes, browning on all sides but not cooking through.
Add the garlic, cumin, paprika, harissa, cinnamon stick and stir for 1 minute.
Add the sugar, stock, tomatoes, chickpeas and lemon zest and bring to a simmer. Turn down heat to very low, then simmer for about 2 hours or until the meat is very tender, stirring now and then to check that the bottom is not burning.
Season generously with salt & pepper, add the lemon juice and stir in half of the fresh herbs. Remove from the heat. Serve in bowls with more fresh herbs.
Note: This stew can be made a day or two ahead and reheated – it also freezes well. Leg meat should take less time to get tender, but any cut will eventually get really soft.
This recipe was created in collaboration with Lamb & Mutton South Africa. #CookingWithLamb #LambAndMuttonSA #WholesomeAndNutritious #CleanEating #TheWayNatureIntended