A few weeks ago I received a Greenis 888OT Smart+ Power Blender from Greenis South Africa to try out and review. I've since discovered the world of power blending and it has been a major game changer in my kitchen.
This machine not only blends chunky liquids like soups to a silky smooth consistency in a flash, it also grinds nuts to become nut butters and pulverises grains to become flours. With its digital touch interface, LCD display, bluetooth compatibility, Japanese commercial grade stainless steel blades and 3,7 peak horsepower, you can be sure that you're covered when it comes to premium power blending.
As compactness and practicality are core principles in the design of the Greenis FGR-8880T power blender, it carries the most portable (2 liter capacity) jar in the Greenis range, made from Tritan material that is 100% BPA free and super durable. The blade is able to crush pretty much any type of food ingredients, both wet and dry, soft and hard, small and bulky, thanks to the unique shape and quality stainless steel material. It is also equipped with a smart microchip which allows the blender to control operations more precisely and stably without overheating.
I've made hummus with the most velvety texture, smoothies and fruit frappés without any icy grains mentionable, and even smooth tahini using dry toasted sesame seeds and some olive oil. The machine does make a noise, but I suppose you wouldn't expect anything else from a real power tool.
This cortado frappé is a spin on the classic cortado condensado of Spanish origin, where espresso and condensed milk is enjoyed in equal quantities to make a sweet dessert coffee. With the addition of ice, you can make a 3-ingredient iced coffee with a silky, creamy texture that will beat any coffee milkshake, any day.
The Greenis FGR 8880T is available from Takealot at R4699.00 and is available in white and black. For more visit Instagram @greenissouthafrica.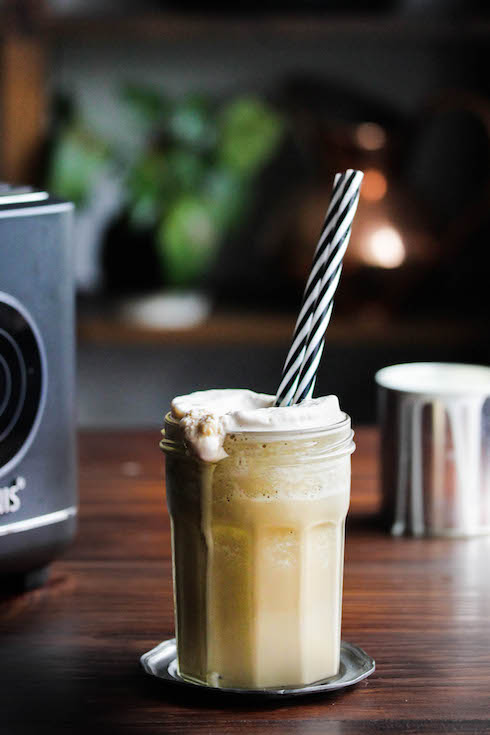 Ingredients:
1 cup ice cubes
a double espresso (or 60 ml very strong coffee), cooled for better results
60 ml condensed milk
Method:
Turn the machine on and select the cold drinks setting. Add the ice cubes, espresso and condensed milk and press "on". The machine will blend for 30 seconds with short pause intervals every 10 seconds. Pour and enjoy immediately.