My husband recently mentioned that he would love to check out the food of Peru. Peruvian cuisine? I'm not very well traveled, but I watch a lot of international food shows on tv. And I've never heard a thing about Peruvian food. Strangely, it seems like I'd been missing out on one of the best kept South American culinary secrets, and it was available right here on Cape Town's doorstep.
I received a complimentary dinner invitation from Keenwa Restaurant in Cape Town a day after my husband mentioned his curiosity about Peruvian cuisine – weird coincidence. I asked him to come along (read "date night"), so we headed for Cape Town with hopes for a memorable and relaxing dining experience. Keenwa is situated on Cape Town's "fan walk" on Waterkant Street. The restaurant looked quaint and inviting with it's restored Victorian facade.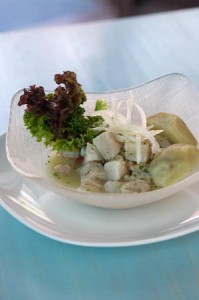 We arrived just after 19h00, and was immediately welcomed by staff that showed us to our table. The owner, German de la Malena (pronouced "Hermahn"), also came to greet us. Originally from Lima, Peru, German is a very charismatic host and truly passionate about his restaurant and about Peruvian cuisine.
After a quick chat with Chef Fabrizio Durand, we decided to share the Peruvian Platter for starters. This platter consists of four traditional Peruvian dishes: Ceviche (cubes of fish marinated in lime juice and a sprinkle of chillies), Causa de Pollo (mashed potatoes with limes and chillies topped with a chicken, avocado and home-made mayonnaise), Tiradito (thinly sliced fish in a spicy lime juice sauce) and Pulpo al olivo (octopus served on a delicious black olive sauce alongside drunken grilled prawns). The ceviche and tiradito were my favourites – very fresh and sharp flavours that makes you want to explore much more.
Peruvian cuisine is famous for great potatoes (they have about 3000 varieties) and some of the best corn in the world. They also farm with quinoa – a grain-like crop grown primarily for its edible seeds, used as a food staple and ground into flour. From the phonetic spelling, the restaurant's name "Keenwa" was born.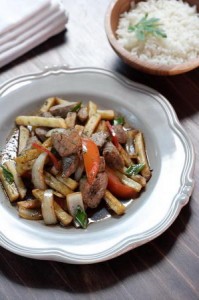 After one of their infamous Pisco Sours cocktails, we were ready for mains.  This deliciously sour drink complimented the food in a very strange but satisfying way! I ordered the Quinoa Atamalada: quinoa made in a tamal style served with grilled prawns. It was unlike anything I have tasted before, slightly creamy but spicy, and the prawns were grilled to perfection. Schalk had the Lomu Saltado: strips of beef sautéed with soy sauce and mixed with tomatoes, onions and French fries (!), served with rice. This dish was a real surprise with the chips inbetween the other ingredients, but also reminded us a lot of  stir fried beef in oyster sauce – not a new taste experience, but well-prepared and delicious.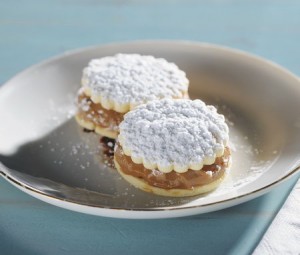 For dessert we had Alfajores: shortbread biscuits sandwiched with Manjar Blanco – their version of a cooked caramel (like dulce de leche). It was truly indulgent and very much comfort food. We also shared the egg fruit ice cream with chocolate cake, a very peculiar but delicious flavour that reminded me of a dark Mestervik cheese that I tasted at the SA Cheese Festival.
The whole evening was an absolute delight! Don't expect fine dining, this place is renowned for unpretentious, home-style Peruvian food. The atmosphere is welcoming and relaxed, and the staff is helpful and friendly. I will certainly return to Keenwa soon for another Pisco Sours cocktail and to explore the rest of their menu.
(All pictures courtesy of www.keenwa.co.za)