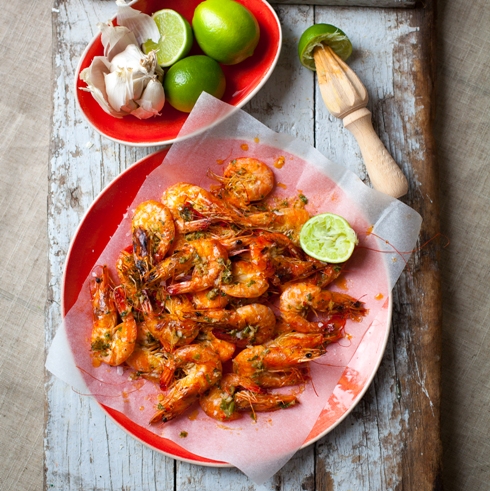 There are 2 types of people in this world: those who eat crustaceans, and those who don't.
I consider myself chief of the crustacean-eating clan. Prawns are a messy affair – that's the way they're supposed to be. You need to roll up your sleeves and really get into it, whether you like to shell your prawns or eat them heads 'n all.
This recipe really works well for smaller prawns, so look out for the frozen prawn specials and give it a go. I make a marinade of olive oil, lemon juice, garlic, ginger, chilli and parsley, then toss the prawns to coat them well. I then roast them in the oven over high heat for about 20-25 minutes, until they get a slightly toasted colour and release all of their delicious juices. The sauce needs to be mopped up with crusty bread, so be sure to serve some on the side. A glass of chilled dry white wine like Chenin Blanc will complete the picture.
Adjust the amount of chillies  according to your tolerance for heat!
Ingredients:
700g-1kg whole prawns (completely thawed if frozen)
125 ml extra virgin olive oil
juice of 1 med/large lemon
2-3 cloves garlic
a knob of fresh ginger, peeled and roughly chopped
1 red chilli, seeds removed and finely chopped
a handful of fresh parsley, roughly chopped
salt and pepper to taste
Method:
Pre-heat oven to 220 C.
Place all of the ingredients in a small food processor or chopper, and pulse until you get a chunky mixture (not smooth). If you don't have a processer, just chop them very finely with a knife and mix with olive oil and lemon juice.
Arrange prawns in a single layer in a large roasting pan, then pour mixture over it and toss to cover thoroughly.
Roast in the top half of your oven for 20-25 minutes, checking on the prawns half-way through to toss them again. The prawns are ready when they turn pink with slightly toasted edges.
Serve as a starter or snack, straight from the oven, with crusty bread.
Tip: If you are using large prawns, be sure to remove the "poop" tract before roasting them. But I don't bother with the smaller prawns. I just rinse them under cold water.
Credits:
This post was especially written for The Pretty Blog by Ilse van der Merwe from The Food Fox.
Food: Ilse van der Merwe.
Photography: Tasha Seccombe.
Styling: Tasha Seccombe & Nicola Pretorius