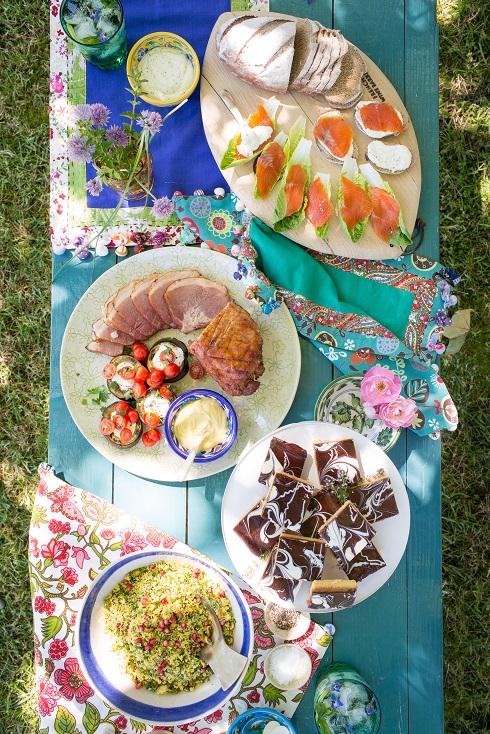 With only one week to go until Christmas, everyone's planning their spreads and feasts. A lot of us will not only have a Christmas eve dinner, but also a Christmas day lunch. I love to go traditional for a Christmas dinner with a hot roast and lots of sides, but when it is daytime I really prefer a cold Christmas spread, casual yet indulgent – something that you can even take on the road and have as a picnic in a beautiful location.
My choices for the perfect Christmas picnic table comes from The Picnic Cookbook by Annie Bell (R285 from Poetry Stores). Annie's recipes are simple but scrumptious, and her book is a great choice for any al fresco feast. The maple roast ham is glazed with a beautifully dark mixture of black treacle, maple syrup and English mustard – easy to make ahead and simply delicious served cold or at room temperature. I've also chosen Annie's recipe for gravadlax, a wonderful alternative to cold smoked fish. I used locally farmed trout instead of salmon for the gravadlax – use what you prefer and what you can afford. For a salad I chose Annie's couscous salad with pistachios and pomegranate – one of the most beautiful salads to look at with bright green and red specs! I also made her aubergine veggie roast with goat's cheese and tomatoes.
For dessert I tried Annie's recipe for salted caramel millionaire's shortbread – my favourite recipe of the day. These indulgent treats are totally amazing, a little over the top but perfect for a Christmas feast.
Me and Tasha used a selection of Poetry's beautiful wooden boards (oval wooden board = R399) to put this spread together, as well as some of their pretty colourful little bowls and placemats (pom-pom placemat = R99). For the shortbread we used a dainty white cake stand (R250) which also comes with a glass dome lid. All of these make beautiful Christmas gifts, so get to Poetry Stores this week and browse their full collection.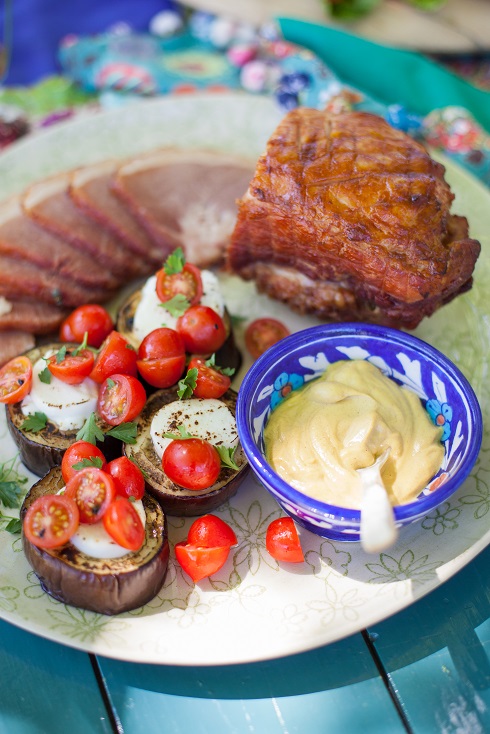 Maple roast ham: (serves 6-8)
1 x 2kg unsmoked gammon, boned and rolled
3 outer stalks of celery, trimmed and sliced
2 carrots, trimmed and sliced
1 leek, trimmed and sliced
2 bay leaves
30 ml maple syrup
5 ml black treacle
10 ml English mustard
Place the gammon in a large saucepan, cover with cold water and bring to the boil. Discard the water and start again with fresh water to cover, this time adding the chopped vegetables and bay leaves. Bring to the boil, then maintain at a gently simmer over a low heat for  50 minutes. If necessay, top up with boiling water halfway through.
Heat the oven to 180C. Tranfer the gammon from the saucepan onto a board using two forks. Remove any string around the ham and pull off the rind. Slice the fat at 2cm intervals with a criss-cross pattern, without cutting down as far as the flesh.
Blend the maple syrup, treacle and mustard in a bowl and use this to coat the ham evenly oall over. Place the ham in a roasting tin and pour some stock to cover the base and prevent the drippings burning. Roast for 35-45 minutes until the glaze is mahogany coloured and dry. Leave to cool, then carve at home before your picnic.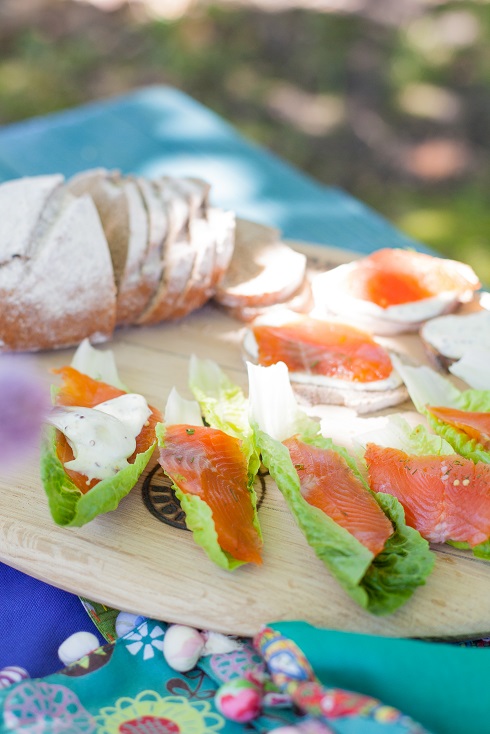 Gravadlax: (serves 6-8)
100 g rock salt
100 caster sugar
20 g yellow mustard seeds
a small bunch of dill, finely chopped, plus some to serve
900 g salmon/trout fillet, skin-on, pin boned
little gem heart leaves or buttered rye bread to serve
Method:
Comine the salt, sugar, mustard seeds and dill in a bowl. Scatter a quarter of the salt mixture over a piece of clingfilm large enough to wrap the two fillets up in when placed on top of each other. Place one fillet skin-down on top, scatter over 2/3 of the reamining mixture, then lay the second fillet on top so the thick part of the fillet is on top of the thin part of the fillet, and they lie flesh to flesh. Scatter over the remaining salt mixture, wrap in the salmon up tightly and then in foil.
Weight the salmon down by placing something heavy on top, then refrigerate for 48 hours, turning the parcel every 12 hours. The sugar and salt will draw the juices out of the salmon and turn into a sticky bring.
Unwrap the salmon and rinse the marinade off the fresh side. ome of the mustard seeds and dill should remain but you will get rid of the excess salt and sugar. Place the fillets skin-side down on the work surface, then pat dry with kitchen paper. Press some chopped dill into the surface.
Trim the edges of the fillets, then slice the gravadlax diagonally off the skin, thicker than you would slice a smoked salmon. Serve with mustard sauce.
Mustard sauce:
150 g soured cream
heaped tablespoon Dijon mustard
heaped tablespoon wholegrain mustard
15 ml caster sugar
Mix it all together, then leave to stand for 15 minutes for the sugar to melt. Stir again and serve cold.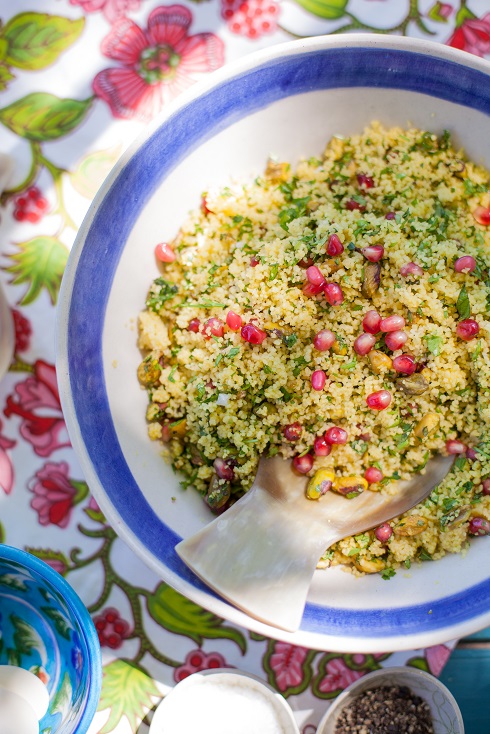 Couscous salad with pistachios and pomegranate:
250 ml vegetable stock
sea salt
a pinch of saffron filaments
200 g couscous
seeds of 1 medium pomegranate
75 g shelled pistachios
90 ml chopped coriander
90 ml chopped mint
zest of a lemon (finely grated)
15 ml lemon juice
60 ml extra virgin olive oil
pomegranate syrup, to serve (optional)
Method:
Bring the stock to the boil in a small saucepan, season with salt, and add the saffron. Pout this over the couscous in a large bowl, then cover and set aside for 30 minutes, stirring halfway through to break up the lumps. Leave to cool completely.
Mix the pomegranate seeds, pistachios, herbs and lemon zest into the couscous. Whisk the lemon juice with the olive oil and some salt, them pour over the salad and toss to coat well.
Aubergine veggie roast with goat's cheese and tomatoes: (serves 6)

 3 aubergines, sliced into 3cm thick rounds
extra virgin olive oil
salt and pepper
300 g cherry tomatoes, halved
150 g young firm goat's cheese, cut into 1cm thick dice
coarsely chopped parsley
Method:
Pre-heat the oven to 200C.
Lay the aubergine slices out on a couple of baking trays. Brush with oil on both sides and season with salt & pepper. Roast for 20 minutes, then turn and cook for another 15 minutes until golden brown.
At the same time, scatter a little salt over the tomatoes in a bowl and set aside.
Transfer the aubergines to a large roasting dish that holds them in a single layer. Pour 3 tablespoons of oil over the tomatoes, and gently toss, then mix with the goats cheese. Pile this on top of the aubergines, them return to the oven for 5 minutes to warm through. Remove from the oven and leave to cool. Scatter with parsley.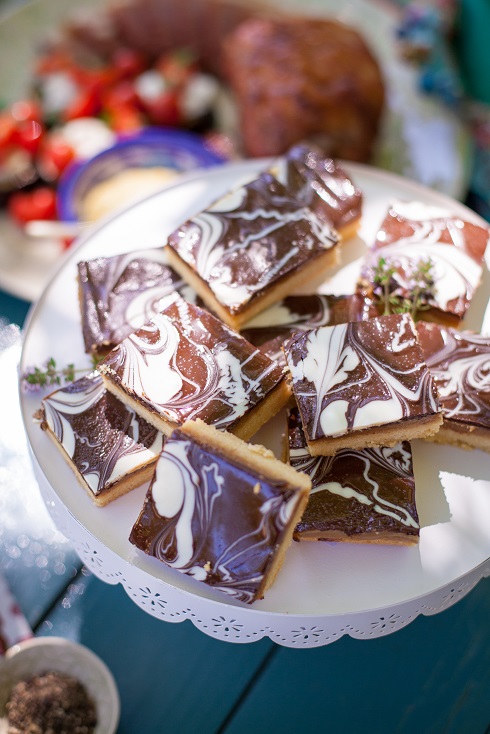 Salted caramel millionaire's shortbread:
For the shortbread:
225 g unsalted butter, chilled and diced
100 g caster sugar
200 g plain flour
115 g ground almonds
5 ml vanilla extract
For the caramel:
100 g unsalted butter
70 g caster sugar
15 ml golden syrup
275 g Caramel Treat (or dulce de leche)
1/3 teaspoon sea salt
For the top:
200 g dark chocolate, roughly chopped
25 g white chocolate chips (optional)
Method:
Place all the ingredients for the shortbread in a food processor and whizz to form a dough. Press into a buttered baking tin (27 x 18 cm), then prick with a fork and refrigerate for 1 hour.
Pre-heat oven to 140 C, then bake the shortbread for 45 minutes. Leave to cool.
Place all the ingredients for the caramel in a small saucepan and bring to the boil, stirring well. Simmer gently for 8 minutes, stirring often, then pour over the shortbread base and leave to cool completely.
Melt the chocolate in a bowl set over a pan of simmering water, then pour over the caramel and smooth the top. If you want to marble the surface, melt the white chocolate in the same way, then drop 1/4 teaspoons on top of the dark, marbling it with a cocktail stick. Work quickly.
Set aside in a cool place until set but still soft, then cut into squares and chill. Store in an airtight container.
Credits:
All recipes by Annie Bell, from her book The Picnic Cookbook.
Food preparation & text: Ilse van der Merwe of The Food Fox
Photography: Tasha Seccombe
Styling: Ilse van der Merwe & Tasha Seccombe
Homeware: Poetry Stores