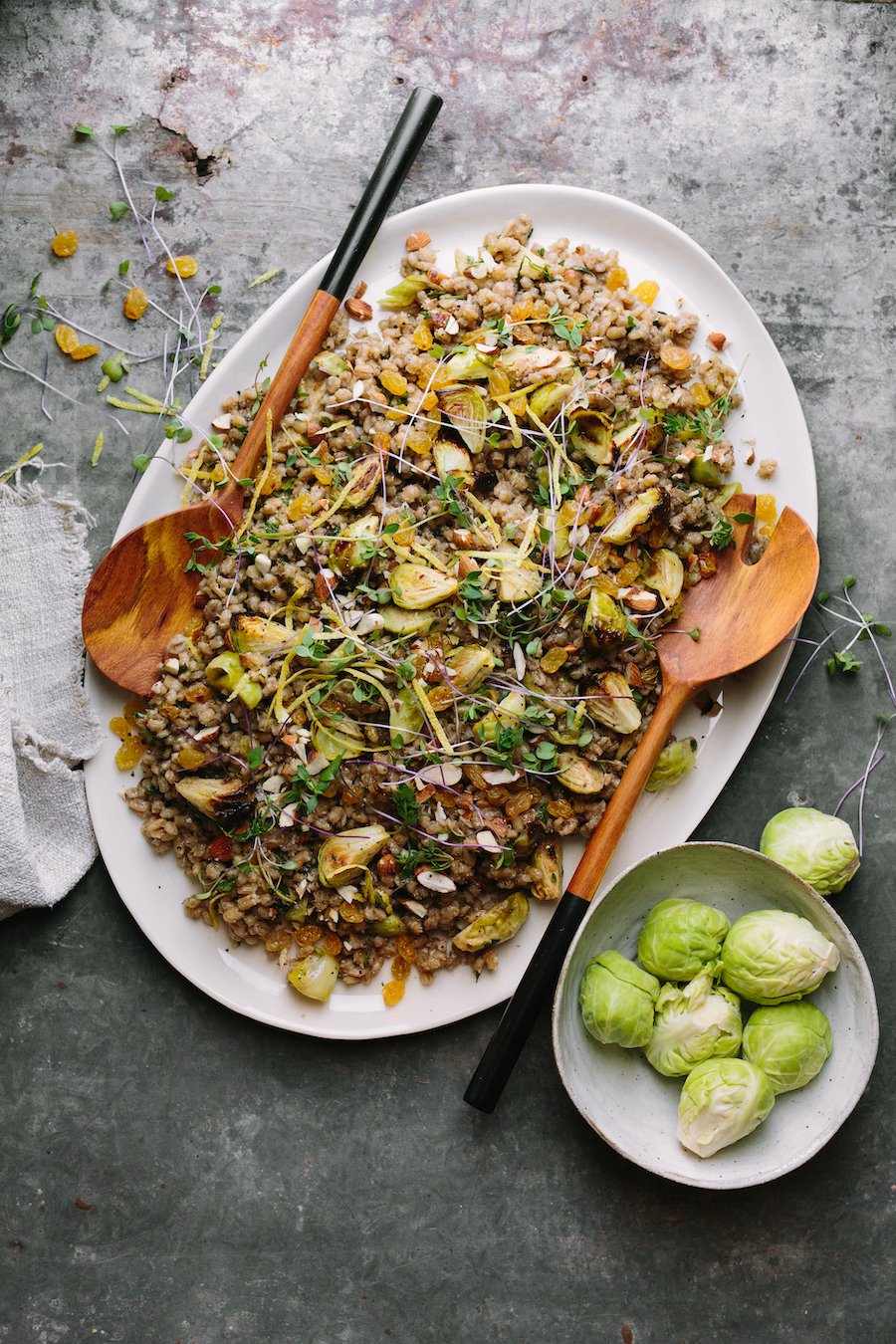 This comforting, earthy barley dish is filled with texture, spices and even some sweetness. The list of ingredients might seem long here, but don't be discouraged ‒ they're all relatively simple and very much needed. I love the fact that it is all speckled 'small bits' instead of large chunky parts. A wonderful dish for any time of the year, really, and you can swap the Brussels sprouts for other seasonal vegetables like chopped courgettes, broccoli, etc. During the warmer months, I love to serve it at room temperature with an extra bunch of wild rocket stirred through.
Ingredients: (serves 4 as a main course or 6 as a side)
30 ml (2 tablespoons) olive oil, plus extra
1 onion, finely chopped
2 cloves garlic, finely grated
5 ml (1 teaspoon) ground cumin
5 ml (1 teaspoon) ground coriander
5 ml (1 teaspoon) ground allspice
1.25 litres (5 cups) hot water
2.5 ml (½ teaspoon) salt
375 ml (1½ cups) pearl barley
300 g Brussels sprouts, halved or quartered
salt and pepper, to taste
125 ml (½ cup) toasted almonds, roughly chopped
125 ml (½ cup) dried yellow sultanas (or raisins or dried cranberries)
3‒4 sprigs fresh thyme, woody stalks discarded
a small bunch fresh parsley, chopped
finely grated zest of a small lemon
juice of a small lemon
10 ml (2 teaspoons) honey
Method:
In a medium-size pot over medium-high heat, add the olive oil and fry the onion until translucent and fragrant. Add the garlic, cumin, coriander and allspice and fry for another minute, then add the water, salt and pearl barley. Bring to a simmer and cook for 40‒50 minutes or until the barley is cooked but not mushy.
In the meantime, preheat the oven to 220 °C. On a baking sheet, spread out the Brussels sprouts, drizzle all over with olive oil and season with salt and pepper. Roast for 20 minutes or until golden brown and cooked, then set aside.
When the barley is cooked, drain off any excess water and transfer it to a large mixing bowl. Add the roasted Brussels sprout, almonds (reserve a few for topping) sultanas, thyme, parsley and lemon zest.
In a small jar, add the lemon juice, honey and 30 ml (2 tablespoons) extra virgin olive oil. Shake well, then pour all over the pilaf and give it a good stir. Taste and add more salt and pepper if needed, then transfer to a serving dish and top with the reserved almonds. Serve hot or at room temperature.