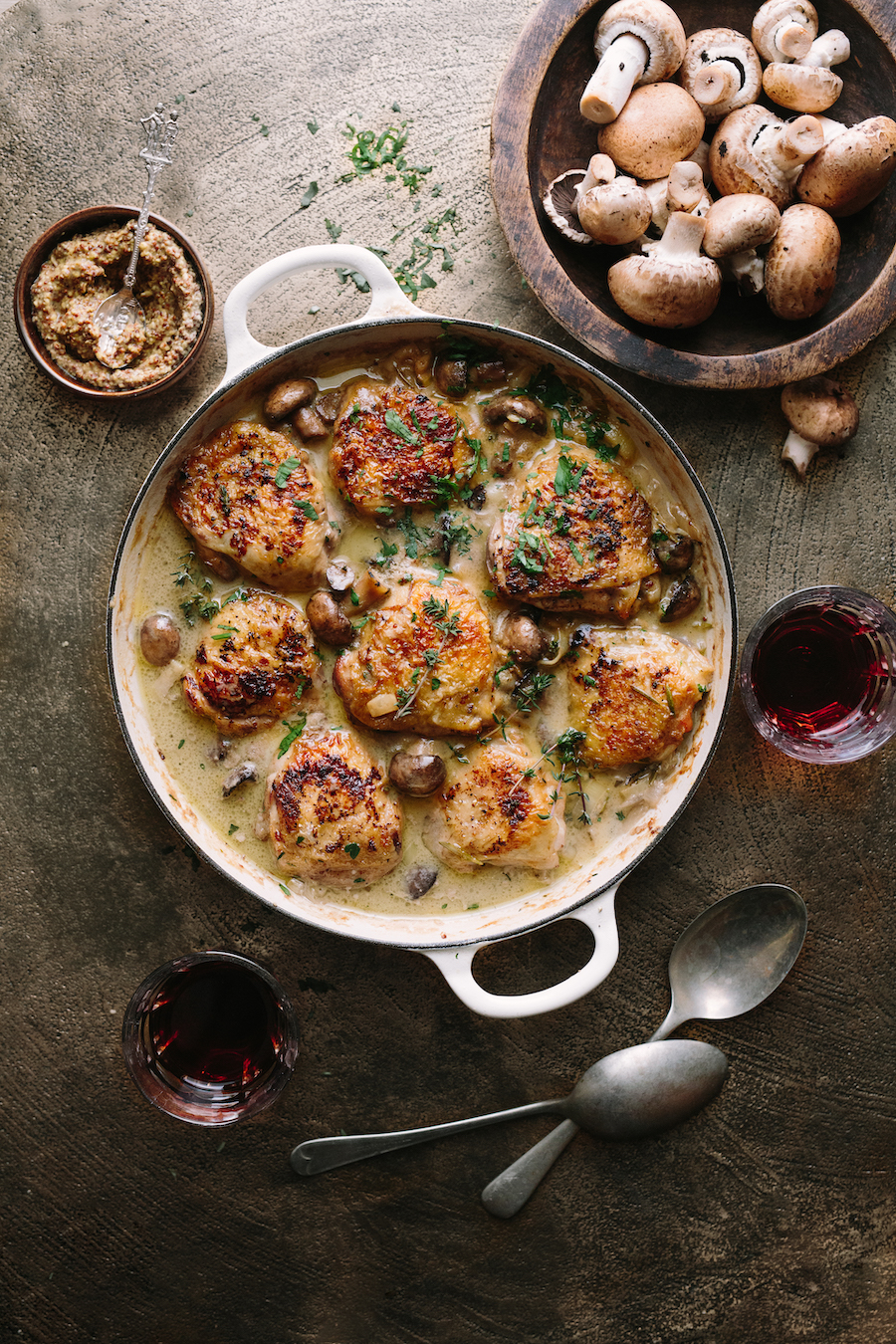 This kind of soft-and-saucy food is the stuff my midweek dinner dreams are made of, and one of the most popular Autumnal recipes from my second book Simply Seasonal. I love all the individual ingredients and the sum of the parts, equally. It's one of the best ways to enjoy chicken ‒ simply, saucy, decadently.
Note: Cape tawny is a barrel-matured fortified wine with a complex, nutty flavour ‒ a caramel-coloured style of port. You can also use sherry as a substitute, but I've had good results with most white wines such as a fruity Riesling, a wooded chardonnay, or when all else fails, a trusty chenin blanc or sauvignon blanc.
Serve with rice, pasta, or with some fresh bread to mop up the sauce.
Serves 4
30 ml (2 tablespoons) olive oil
8 bone-in chicken thighs
salt and pepper, to taste
1 onion, chopped
4 medium leeks, white parts only, sliced
250 g portabellini mushrooms, sliced (or brown mushrooms)
3 sprigs thyme, woody stalks discarded
finely grated zest of half a small lemon
80 ml (⅓ cup) Cape tawny (or sherry)
250 ml (1 cup) chicken stock
250 ml (1 cup) cream
a handful fresh Italian parsley, chopped, to serve
In a large, wide heavy-based casserole over medium-high heat, add the oil and fry the chicken on both sides until lightly browned, seasoning with salt and pepper. Remove the chicken from the pot and set aside to return later, then add the onion, leeks, mushrooms, thyme and lemon zest. Fry, stirring, until softened and lightly brown. Add the Cape tawny and loosen any sticky bits on the bottom, then add the stock and cream and return the chicken pieces to the pot. Bring to a simmer over low heat, then cover with a lid and cook for 45 minutes, checking every 10‒15 minutes to see if the bottom isn't burning. When the chicken is very soft and almost falling from the bone, remove from the heat, scatter with parsley, and serve hot (with cooked rice or mash or crusty bread to mop up the sauce).