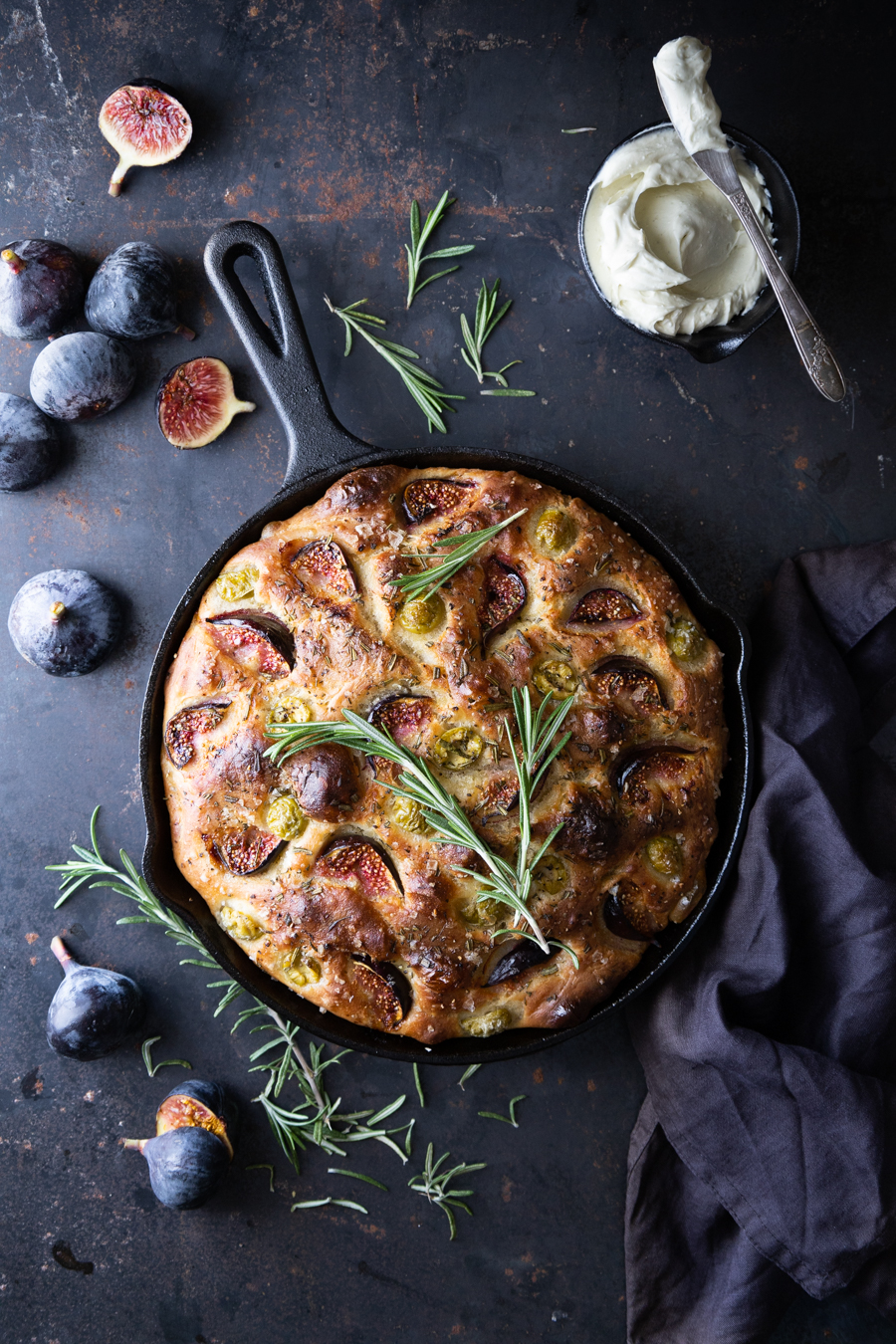 As we're nearing the last few weeks of fig season in South Africa, I'm feeling inspired to celebrate this royal purple fruit with a new recipe. After seeing Mynhardt Joubert's recent stunning grape focaccia recipe as part of a beautiful gift package (which included fresh figs from XTN Family Farm, focaccia mix from Eureka Mills and extra virgin olive oil from Willowcreek), I decided to put a spin of my own on it with the addition of figs and a creamy salty blue cheese spread.
I am over the moon with the result – the flavour combination of sweet baked figs, slightly bitter green olives, herbaceous rosemary and the creamy salty blue cheese is pure heaven. The focaccia itself is super light and pillowy – the result of a very runny dough that is best achieved with a stand mixer fitted with paddle attachment. I absolutely love the royal colours of the figs and paired it with one of my dark linen napkins from H&M South Africa. This colour is from a previous season, but you can currently shop it in a beautiful dark grey.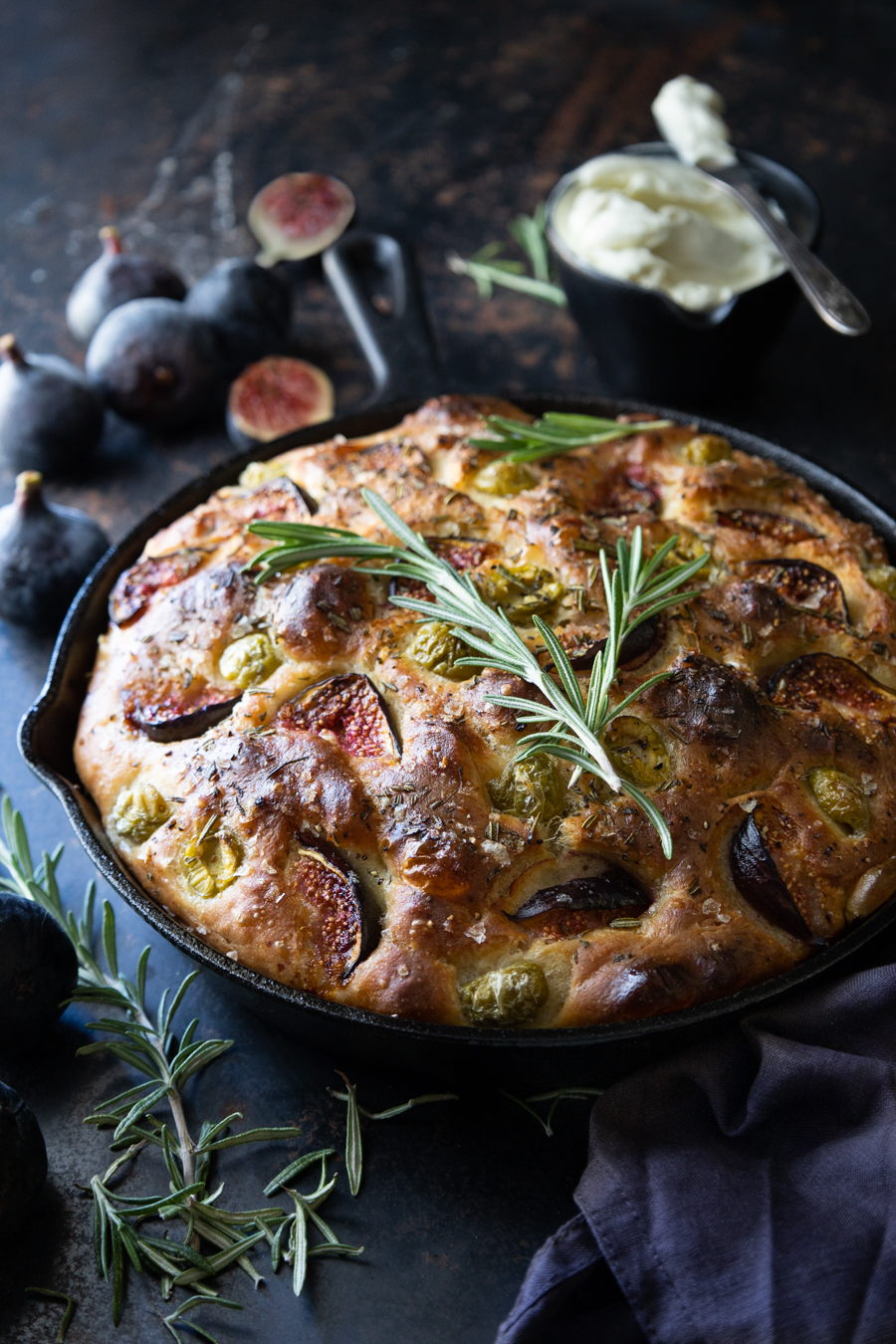 This bread is topped with crunchy salt flakes and drizzled with more extra virgin olive oil when it comes from the oven, making it incredibly flavourful and textural. I baked it in my medium size iron skillet (24cm diameter), perfect for serving 6 as a starter/snack, but you can also bake it in a cake tin, or a similar size square or rectangular deep baking tin.
Note: Eureka Mills Focaccia Mix already includes salt and yeast, but I opted to use their regular white bread flour instead, with my own addition of salt and yeast. If you prefer using the focaccia mix, follow the instructions on the packet.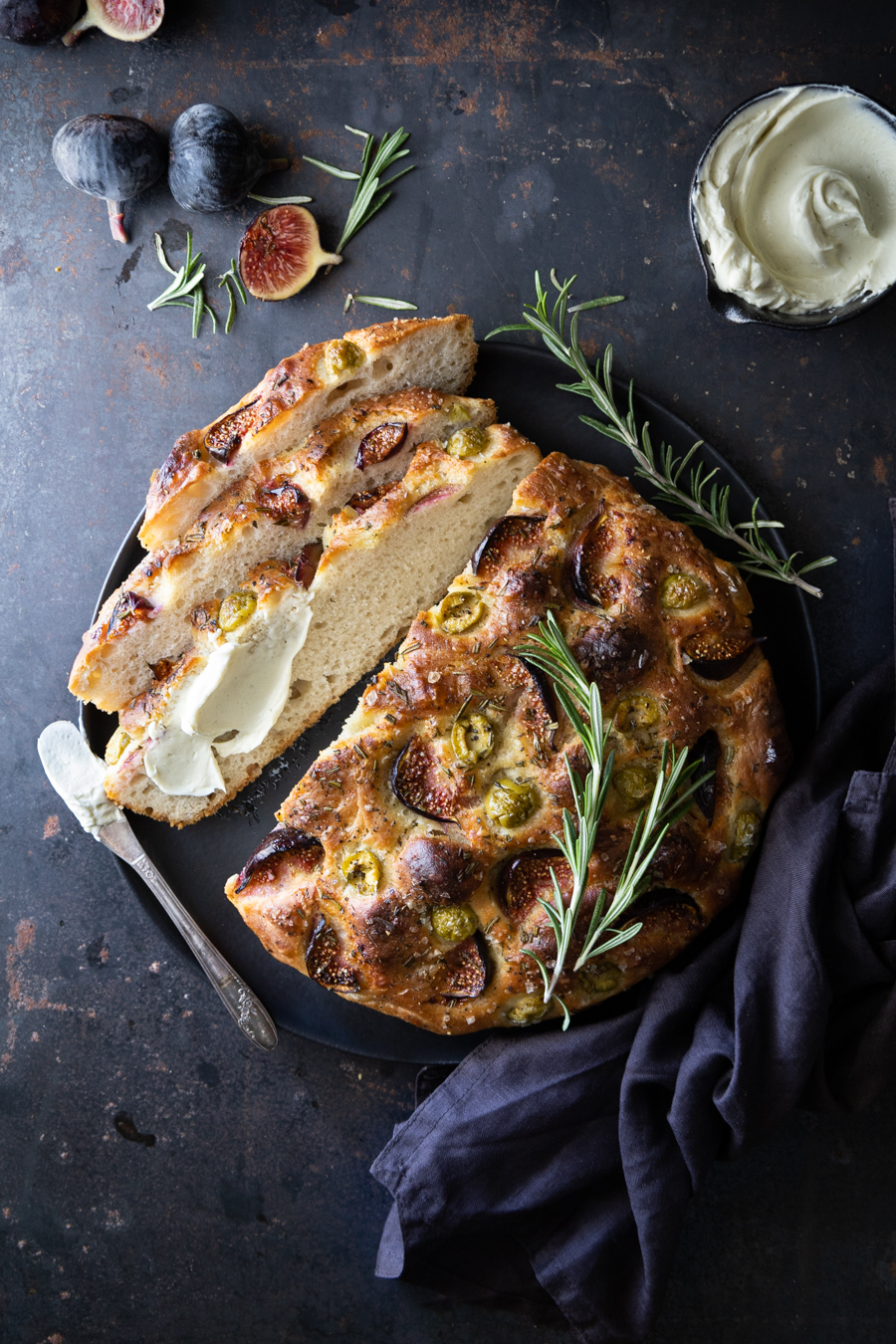 Ingredients:
For the focaccia:
500 g stone ground white bread flour
10 ml (2 teaspoons) instant yeast
7,5 ml (1½ teaspoons) salt
400 ml lukewarm water
90 ml extra virgin olive oil (divided)
3-4 ripe black figs, sliced into ⅛ segments
a handful green pitted olives, halved
about 3 sprigs rosemary, woody stalks discarded, leaves chopped
salt flakes and freshly ground pepper, to taste
For the creamed blue cheese spread:
230g plain cream cheese, at room temperature
100 g blue cheese, crumbled
a pinch of salt
Method:
Prepare the focaccia: In the bowl of a stand mixer fitted with paddle attachment, add the flour, yeast, salt and mix briefly. Add the water and 15 ml olive oil, then mix for 30 seconds, scraping the sides. Continue to mix on medium speed for about 7 minutes or until the dough starts pulling away from the sides – it will be quite runny and very sticky. Scrape the sides, remove the paddle attachment, cover the bowl and leave to rise in a warm area until doubled in size. In the meantime, use 45ml olive oil to generously oil the inside of a deep iron skillet (about 24cm diameter) – the oil must slightly pool at the bottom and cover all inner sides. Now, preheat the oven to 230 C with oven rack in the middle. Transfer the proofed dough from the bowl to the skillet using a spatula (don't knock it down, keep as many of the bubbles as you can). Using oiled fingers, gently press indents all over the dough, edging it evenly over the surface of the skillet. Top with figs segments, olive halves, chopped rosemary, some salt flakes and freshly ground pepper. Drizzle all over with another 15ml of olive oil, then leave to proof for another 20 minutes. Bake at 230 C for 30 minutes or until beautifully brown and fully cooked, then remove from the oven. Drizzle with another 15ml of olive oil, then leave to cool in the skillet. Serve slightly warm or at room temperature, with the creamed blue cheese spread.
Prepare the blue cheese spread: To the bowl of a blender, add the cream cheese, blue cheese and a pinch of salt. Blend until very smooth, regularly scraping the sides. (Tip: If your mixture is too thick and won't blend well, add a splash of milk.) Transfer to a serving bowl. Cover and refrigerate until ready to serve. Best served at room temperature.