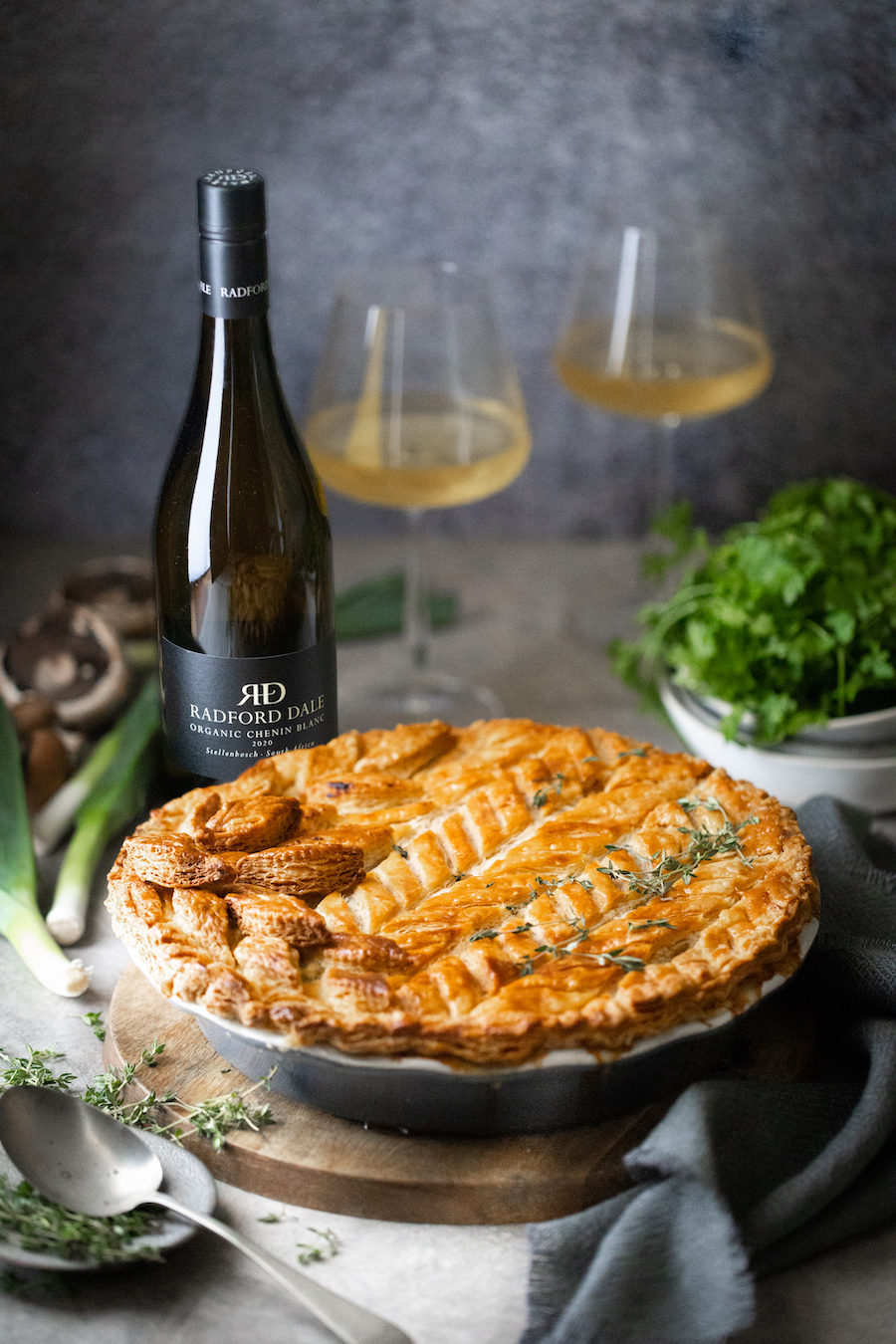 This festive chicken pie is an adaptation of one of the most popular recipes from my latest recipe book – Simply Seasonal (based on the chicken, mushroom and leek casserole in the Autumn chapter). It was created to pair with Radford Dale's Organic Chenin Blanc, so I used as many organic and free range ingredients in this pie as was available to me: free range whole chicken, free range chicken broth from Terra Madre, organic butter, organic cream, organic leeks and free range eggs.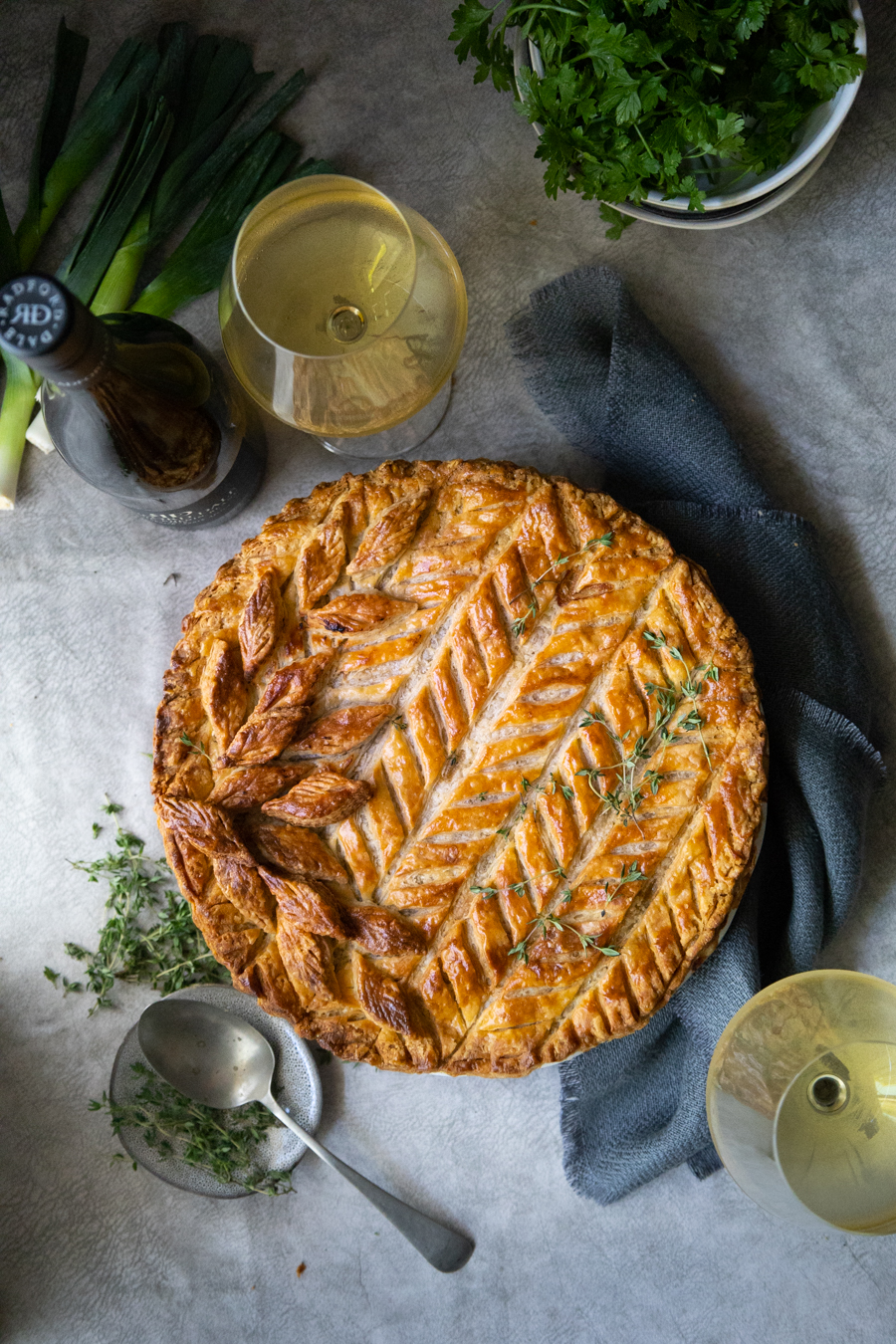 Using a store-bought butter puff pastry will certainly cut your prep time in half, but I urge you to try this buttery sour cream pastry – the magic lies in grating frozen butter into the flour, so that you are left with beautiful pockets of butter in the dough without having to fold the dough multiple times. It's incredibly flaky and utterly delicious.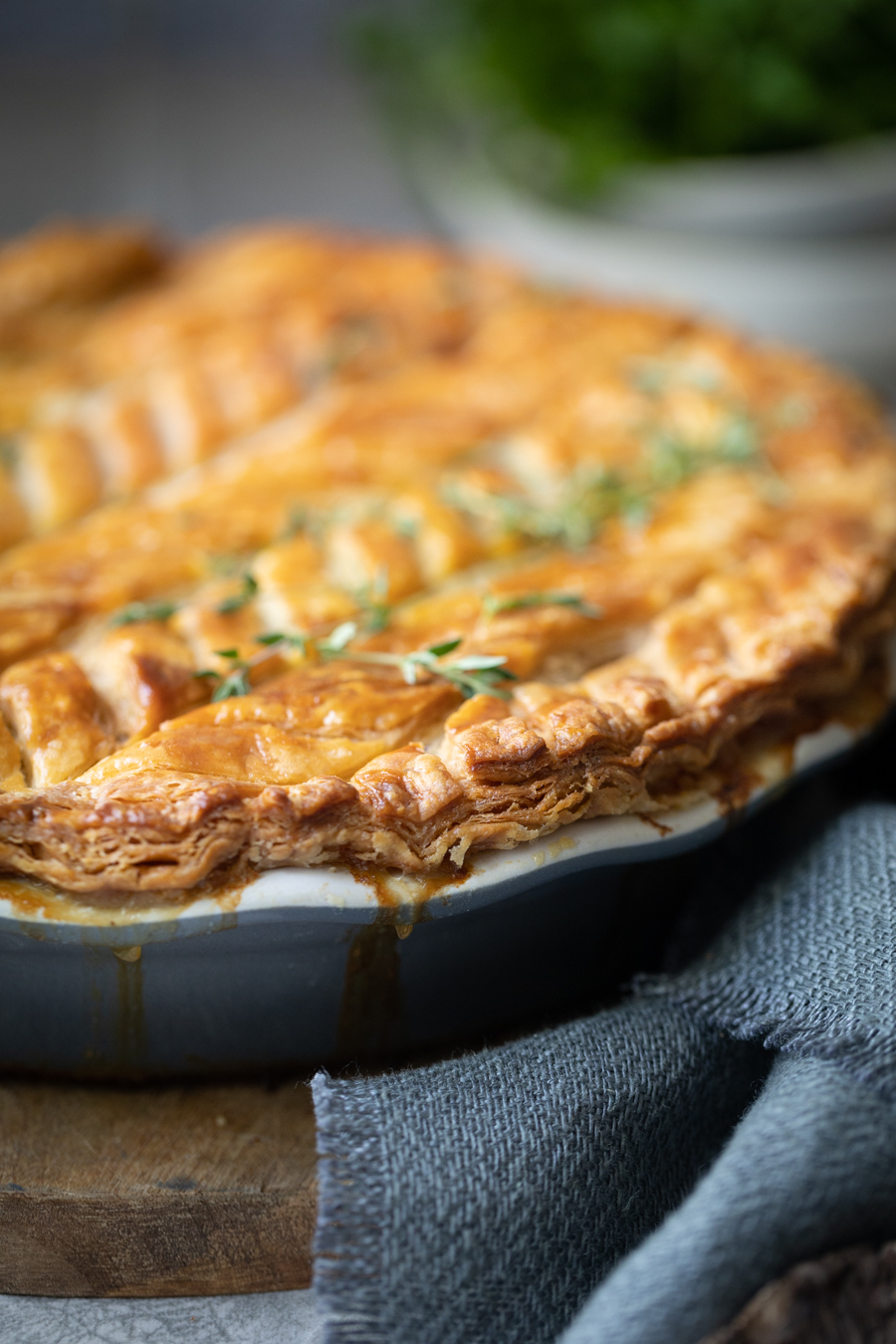 This is everything I want in a chicken pie – saucy, well seasoned, with a chunky yet marrow-soft filling and the most glorious golden flaky crust. It pairs so well with Radford Dale's Organic Chenin Blanc 2020 – an elegant, skilfully balanced, lightly oaked wine made from grapes in the Stellenbosch region (Radford Dale's first fully certified organic chenin).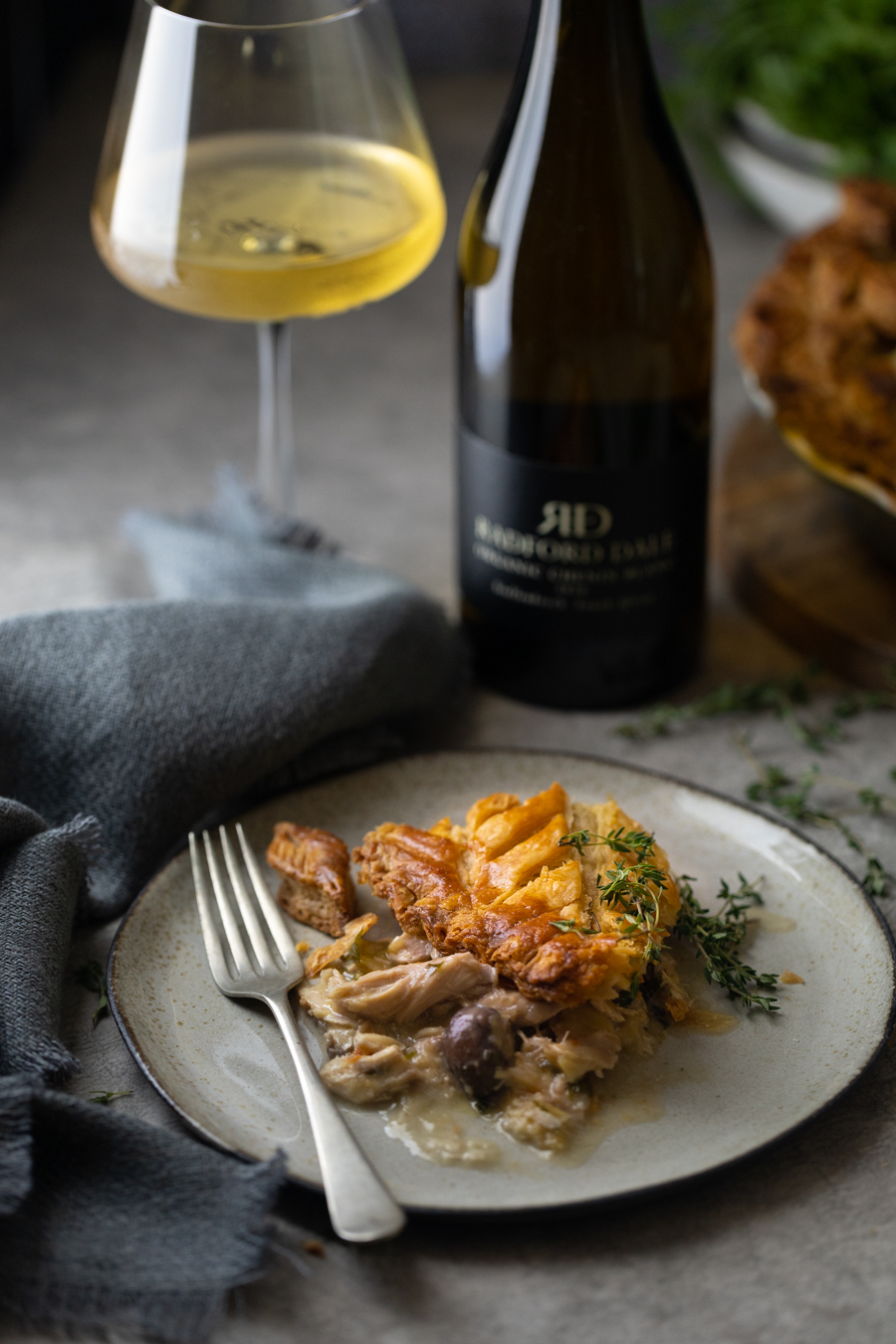 Tips: 1) If you want to serve this pie for lunch, start the previous day with the filling, let it cool, debone and refrigerate. Make the pie dough and refrigerate. This way, you can just roll out, assemble and bake the pie on the day that you want to serve it. 2) To make your pie feast extra special, roll out excess pastry and cut decorative shapes, baking them on a separate lined baking sheet at 180 C until golden brown and puffed (about 12-15 minutes). Arrange on top of the pie for extra crunch, or serve on the side.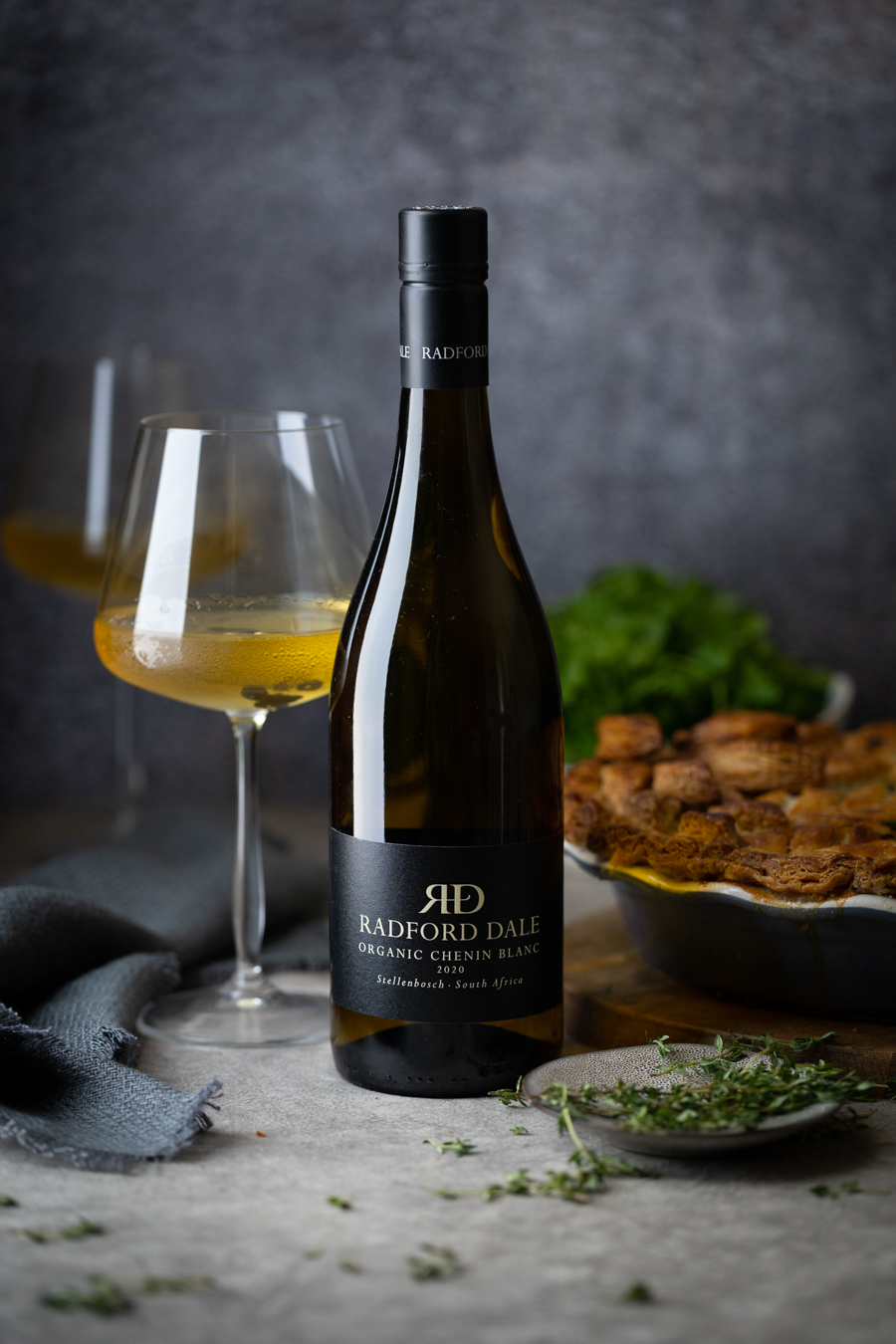 Ingredients: (serves 6)
For the filling: (adapted from my 2021 book, "Simply Seasonal")
30 ml olive oil
1,5 kg whole free range chicken, quartered (no giblets)
salt & pepper, to taste
1 onion, finely chopped
about 250 g leeks, chopped (white parts only)
250 g portabellini mushrooms, halved
leaves of 5 sprigs of thyme, stalks discarded
80 ml dry white wine (I used Radford Dale Organic Chenin Blanc)
30 ml Dijon mustard
450 ml chicken broth/stock (I used Terra Madre Free Range Chicken Broth)
125 ml cream or sour cream
a handful Italian parsley, finely chopped
Preheat the oven to 200 C. In a large wide casserole/pot, heat the oil and fry the chicken quarters over medium heat on both sides until golden, seasoning with salt & pepper. Remove from the pot and add the onion, leeks, mushrooms and thyme, frying for a few minutes until the onions are translucent and the bottom of the pot turns sticky. Add the wine and mustard, stir to deglaze, then add the broth and cream. Stir and bring to a simmer, then arrange the chicken back into the pot, gently submerging it under the liquid. Transfer to the oven (without a lid), then bake for 50 minutes until it is fully cooked and easily comes from the bone. Remove from the oven and leave to cool, then debone the chicken, discard the bones, cut the larger pieces of meat into chunks and return the deboned chicken to the pot (I like to also chop the crispy skins and return it to the pot). Taste the liquid and adjust the seasoning, if necessary. At this point, you can choose to slightly thicken the liquid with a small amount of corn flour mixed with 2-3 tablespoons of milk, cooking it briefly until thickened, or to keep it as is (I thickened mine with 2 teaspoons of corn flour). Transfer the filling to a deep pie dish (any shape), filling it almost level with the top, and refrigerate until the pastry is ready.
For the flaky pastry:
2 cups (280 g) cake flour (I used stone ground)
2,5 ml (½ teaspoon) salt
250 g butter, frozen
125 ml (½ cup) sour cream
1 XL egg yolk
5 ml lemon juice
1 egg, lightly whisked, for brushing
In a large mixing bowl, mix the flour and salt. Grate the frozen butter with the coarse side of a box grater into the flour, then mix briefly with clean hands. In a small mixing bowl, whisk together the sour cream and egg, then add it with the lemon juice to the flour mixture and stir with a metal spoon until lumps form. Use your hands to press the dough together and knead it lightly until it just comes together in a ball, then shape into a disk, cover with plastic and refrigerate for at least 1 hour, or overnight. When you are ready to bake the pie, roll out the pastry on a lightly floured surface to a rough circle of about 5mm thick. Use a small sharp knife to score patterns all over (don't cut all the way through), then brush the rim of your (already filled) pie dish with whisked egg. Transfer the pastry to the pie dish, then use kitchen scissors to trim the edges, slightly wider than the rim. Crimp the edges or press with a fork, then roll out the rest of the pastry and cut out decorative shapes to put on top (optionally). Brush all over with egg, then refrigerate until ready to bake. To bake, preheat oven to 180 C, then place on a separate baking tray and bake in the middle of your oven for 60 minutes, placing a ring of foil over the edges half way through if it gets too dark too quickly. Let the pie rest for 10 minutes before serving. Serve with your choice of sides like rice, vegetables or salad.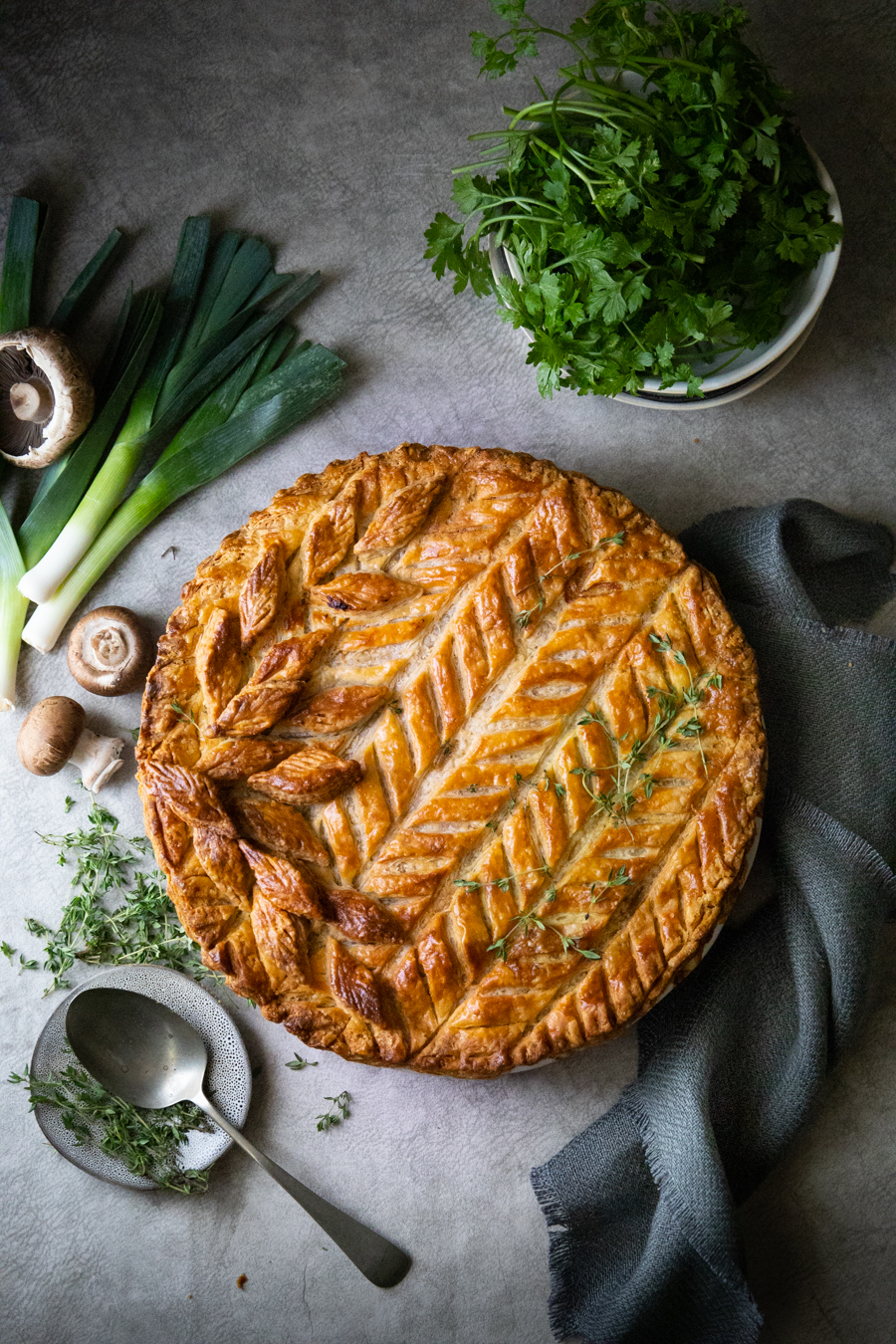 This recipe was created in proud collaboration with Radford Dale Wines.