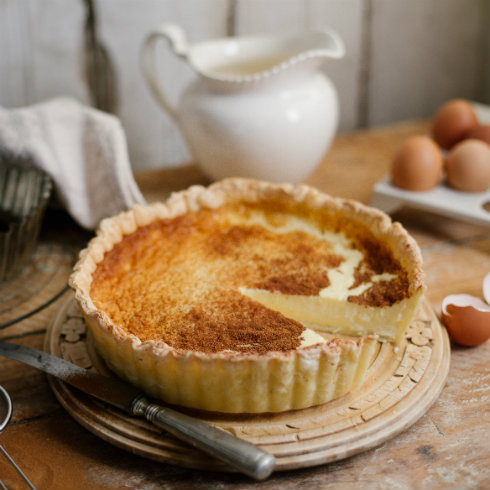 If there was ever a prize for the most popular sweet treat in South African heritage recipes, it must surely go to the milk tart. You'll find more recipes for milk tart in local cook books, websites and blogs than probably any other local dish. Why? Because it's so flipping delicious, of course! Even superstar Jamie Oliver included a recipe for SA milk tart in his recent book, Jamie's Comfort Food, causing a stir on Instagram with the pictures.
Traditional milk tart is usually flavoured with lemon or naartjie rind, cinnamon and a drop of almond essence – no vanilla. This sets it apart from many other custard tarts across the world, many of which come quite close to what we know and love as milk tart in South Africa.
I've only published one recipe for milk tart on my blog before, so it was time for a revisit of this stunning South African classic. The previously published recipe is for a crustless version with a fantastic texture – light and almost foamy because of the added whisked egg whites.
The recipe that I am writing about today is more traditional, made with good quality store-bought puff pastry (takes quite a lot of work out of the equation) and with a filling that is silky smooth and not too sweet. It makes 2 standard 20-23 cm round shallow milk tarts or one large deeper tart if you have a very big tin and want to feed a crowd. Tasha had this magnificent vintage fluted deep pie dish, so I made it in her tin and the result was quite spectacular.
Don't be alarmed if your tart cracks on the surface – mine did because of it's size. Doesn't change the taste at all, of course, and just adds to the home-baked authenticity.
Tip: Use loose-bottomed tins if you want to turn out your tart. Otherwise, use authentic enamel tins or other oven-proof dishes and slice the tart straight from the tin/dish.
Ingredients: (makes 2 medium tarts or 1 large)

400 g puff pastry, thawed
1,25 liters (5 cups) milk
1 cinnamon stick
1 large piece of naartjie peel
125 ml sugar
125 ml cake flour
60 ml butter, cubed
6 egg yolks
a pinch of salt
1/4 teaspoon almond essence
ground cinnamon for topping, finely sieved
Method:
Grease your baking tin/s with non-stick spray and pre-heat oven to 200 C.
On a lightly floured surface, roll out puff pastry to fit your baking tin/s. Line the tin/s carefully with the pastry, trimming the edges and gently pressing the pastry into the fluted edges. Line with non-stick baking paper and fill the surface with uncooked rice or beans (for blind baking). Bake blind for 15 minutes, then remove the rice/beans and paper and return to the oven for 5 more minutes. Remove from the oven and leave to cool while making the filling.
Turn down the oven to 180 C.
In a medium pot, heat the milk, cinnamon stick and naartjie peel over medium high heat.
While the milk is heating, mix the sugar and flour together in a large bowl. When the milk is reaching a temperature where you can just stick your finger in it, pour it over the sugar and flour. Stir well with a whisk, then return it to the warm pot.
Turn down the heat to low and continue to stir until the mixture thickens (do not boil) – it will take 5-10 minutes. When it is thick, remove from the heat and quickly stir in the cubed butter and egg yolks. Add the salt and almond essence and stir until smooth and glossy.
Pour the mixture into the prepared pastry tin/s, sift over a thin layer of ground cinnamon, then carefully place in the oven (the mixture will be quite runny, so work carefully). Bake for 30 minutes, then turn the oven down further to 160 C and bake for another 15 minutes (smaller tarts) – 30 minutes (large tarts), or until the centre of the tart is just tenderly cooked and still slightly wobbly. Remove from the oven and leave to cool completely (the tart needs time to stabilize, so don't slice while it is still hot).
Slice and serve warm (reheated) or cold.
Credits:
This post was written by Ilse van der Merwe for The Pretty Blog.
Text and food preparation: Ilse van der Merwe from thefoodfox.com & The Demo Kitchen
Photographer: Tasha Seccombe