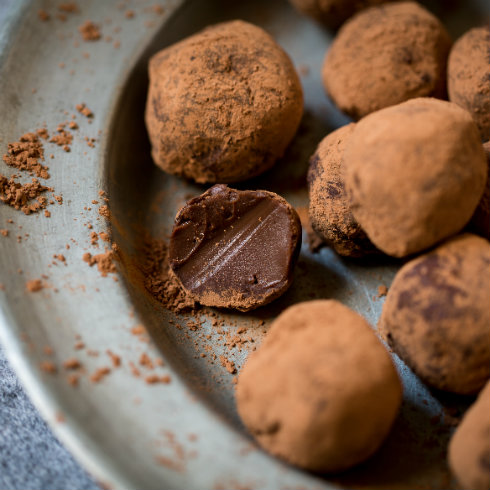 This deceptively simple recipe is not for the faint hearted. You think you might know and love a traditional chocolate truffle? Well, this one takes it to another level of decadence.
My previous assistant at the demo KITCHEN, Elsebé Cronjé, shared my passion for beautiful recipes, pictures and food. She often brought new ideas to the table for upcoming menus and shoots, and this recipe is from one of her books: Adventures with Chocolate by Paul A. Young. It's a dark chocolate truffle that is made with muscovado sugar. The recipe calls for the muscovado to be melted with fresh cream in a saucepan, forming a rich caramel sauce which is then added to chopped dark chocolate.  It is then stirred to create a smooth dark caramel chocolate ganache. Once cooled, you can roll your truffles and coat them in cocoa powder.
Caramel and melted chocolate, rolled into bite-size balls. Need I say more? I think not.
 Ingredients: (recipe by Paul A. Young from Adventures with Chocolate)
100 g muscovado sugar
a pinch of salt flakes
250 ml double cream
250 g finest dark chocolate, broken into pieces
cocoa powder for dusting
Method:
Add the sugar, salt & cream to a small sauce pan and bring to a simmer, stirring. When the sugar has melted, remove from the heat.
Add the broken chocolate pieces to a small mixing bowl, then pour the warm cream mixture over it and stir until smooth and glossy and melted. Leave to cool, then refrigerate to set.
Using a teaspoon, scoop some of the mixture and roll quickly into balls. Then cover in cocoa powder and set aside.
Store in the refrigerator, but enjoy at room temperature.
Credits:
This post was written by Ilse van der Merwe for The Pretty Blog.
Text and food preparation: Ilse van der Merwe from thefoodfox.com
Photographer: Tasha Seccombe
Assistant: Elsebé Cronjé