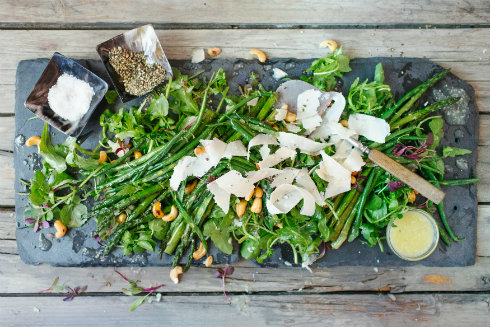 A few weeks ago, my parents came down to Stellenbosch from Keurbooms for a quick visit. My dad was scheduled to see a specialist about a double knee replacement (ouch), and it gave all of us a nice excuse to spend some quality time with the family.
We got together at my youngest brother Dirkie's farmhouse cottage, where he and his partner Frans made us the most amazing lunch: pork ribs on an open fire rotisserie, grilled asparagus & fennel salad, bacon & mushroom quiche, and ending off with homemade coffee & brandy ice-cream with malva pudding. We ate like kings!
Dirkie told me that his idea for the salad came from Guy Fieri's TV show, and that he was winging it that day from memory. It was absolutely magnificent. I wanted to make it for my blog, but couldn't find fresh fennel on the day of the shoot. I substituted it with green beans, and the result was just as good.
This is my version of this delicious, luscious, green salad. Use whichever greens you love and substitute with any type of nuts that you prefer. Dirkie used pine nuts for his salad, but I find that toasted cashews make for a fantastic alternative. To bulk it up as a main meal, add a few soft boiled egg wedges. What a feast!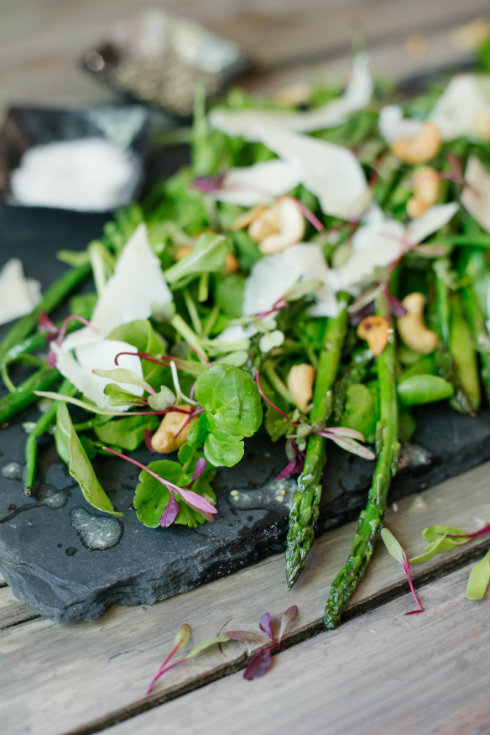 Ingredients: (serves 6)

15-30 ml olive oil
one bunch of green asparagus, trimmed if necessary
one bunch of fine green beans, trimmed (or one bunch of baby fennel, sliced in quarters lengthways)
salt & pepper
a bunch of rocket and/or watercress leaves, washed & drained
100g toasted cashew nuts
shaved parmesan cheese (about 25-35g)
for the dressing:

1 garlic clove, finely grated
1 knob of fresh ginger, finely grated (optional)
10 ml wholegrain mustard
30 ml lemon juice
90 ml extra virgin olive oil
30 ml finely grated parmesan cheese
salt & pepper
Method:
 Heat the oil in a large pan over high heat, then fry the asparagus & beans in batches for just a minute or two until they get some colour, but remain crunchy. Season well with salt & pepper, then remove from the heat and transfer to a cool plate.
On a large platter, arrange the rocket/watercress, then top with the grilled veg and toasted cashews.
Use a vegetable peeler to shave parmesan shavings on top.
Mix the ingredients for the dressing in a glass jar (shake vigorously with the lid covered), then drizzle all over the salad. Serve immediately.
Credits:
Text, recipe, food preparation & food styling: Ilse van der Merwe
Photography & prop styling : Tasha Seccombe
Venue for shoot: the demo KITCHEN
This post was originally produced for The Pretty Blog.