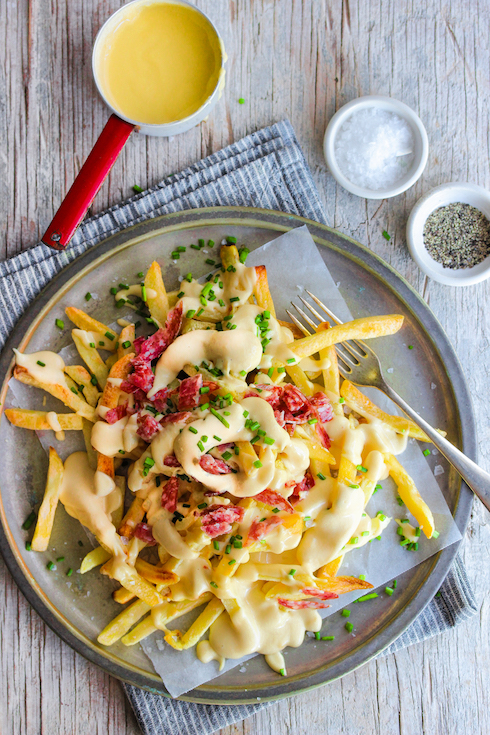 I've been having this craving for golden potato chips covered in cheese sauce ever since we returned from our annual holiday early in January this year. I restrained these thoughts because of good intentions as part of a new "exercise and under-indulgence regime" (it was a brand new year, after all). And then I received an incredible cheese hamper courtesy of Dalewood Fromage about two weeks ago. And then Eat Out published this video about Bertus Basson's burger joint, De Vrije Burger's cheesy fries. Well folks, I think the universe was trying to tell me something…
Needless to say, I immediately did some research on making the easiest, cheesiest, fuss-free, silky smooth cheese sauce. I came across a fantastic feature on Alton Brown's site SeriousEats.com (one of my favourite resources for researching recipes) by J. Kenji López-Alt where he uses evaporated milk instead of a milk/butter/flour roux as a base, ensuring an incredibly smooth end result with a slightly sweet milky tinge to it. Using a really good quality cheese is at the centre of this recipe, because it only contains 3 ingredients, the last being a tablespoon of neutral tasting corn flour. So I chose Dalewood's Boland™ – a semi-hard cheese with a hard rind made in the style of a Port Salut. It has a relatively mild and nutty flavour; savoury and slightly sweet. With its smooth, velvety texture, it was going to make my cheesy dreams come true.
Last night I finally put the recipe to the test. At first I thought I was going to add a little Dijon mustard and perhaps a little squirt of hot sauce and a pinch of salt. But the flavour of the Dalewood Boland™ was just perfect – strong and complex enough to ensure a deep, nutty, cheese flavoured sauce without the addition of anything else. The texture was velvety, indulgent and inviting. It was even better than I could have imagined.
I'm a little hesitant to admit that my husband and I finished the whole pot of sauce (and about 650 g of fries, loaded with chopped salami and chives) by ourselves. OK, I finished the last bit by myself with a spoon, straight from the pot. It was THAT good.
So give it a go. Also incredibly good on burgers, schnitzels, broccoli, macaroni, nachos, steak etc. Watch how to make it:
Ingredients for cheese sauce:
(based on a recipe featured on SeriousEats.com)
250 ml (1 cup) evaporated milk (canned)
250 g Dalewood Boland™, rind removed and coarsely grated
15 ml (1 tablespoon) corn flour / Maizena
Pour the evaporated milk into a small saucepan and place over medium heat on the stove. In the meantime, toss the grated cheese and corn flour together. When the milk starts to boil, add the cheese & corn flour, lower the heat, and stir until the cheese has melted fully and the sauce is silky smooth. Remove from heat.
To serve: Pour over freshly made golden fries (potato chips), seasoned generously with salt flakes. Optionally top with shredded salami (or crispy bacon) and chopped chives, or sliced jalapenos and guacamole.
To reheat: Place the saucepan back on the heat and stir until runny and smooth. Alternatively, heat in a microwaveable container, stirring every 15-30 seconds until runny and smooth. Store in the fridge, covered.
Substitutions for the cheese: Substitute the cheese for any other cheese that is punchy in flavour, like a mature cheddar/gouda or a slightly milder Gruyere etc. The colour of the sauce will also be affected by your choice of cheese, so if you like a yellow sauce, choose a darker, yellower cheese.