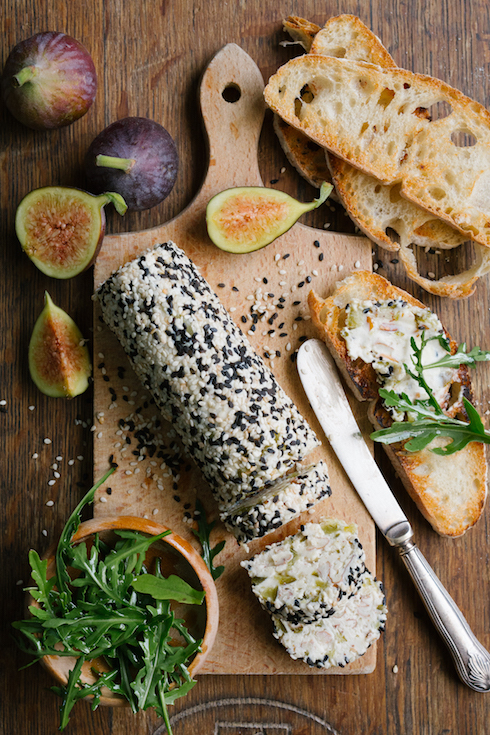 There's no easier way to entertain than with cheese and crackers – perfect for a lazy glass of wine, a simple starter or even an elegant dessert. Although there's nothing wrong with just unwrapping a few blocks of your favourite cheese and serving them on a platter, this recipe goes the extra mile and delivers something beautifully tasty that looks like a lot more effort than it actually is (always a good thing).
If you love blue cheese, goats cheese and green figs, this simple recipe will have you longing for more opportunities to entertain friends and family. The mixture firms up quickly in the fridge so you don't need hours to prepare. A stunner for special occasions like Christmas, Easter and everything in-between.
Preparation time: 10 minutes plus 1 hour for chilling
Serves: 6
Ingredients:
200 g creamy blue cheese (gorgonzola, Simonzola or similar)
100 g plain, soft goats cheese log (chevin)
2-3 preserved green figs in syrup, drained and cut into small chunks
1 tablespoon (15 ml) brandy
a pinch of ground nutmeg
50 g shelled walnuts, chopped
1/4 cup sesame seeds, for coating on the outside (I've used a mixture of black & white, lightly toasted)
melba toast, for serving (or crackers of your choice)
fresh fruit and/or preserves, to serve (optional)
Method:
In a medium size mixing bowl, mix together the blue cheese, goats cheese, figs, brandy, nutmeg and walnuts using a wooden spoon.
Spoon the chunky mixture onto a sheet of grease-proof baking paper and carefully roll into a neat sausage shape. Place in the fridge to firm up until ready to serve – at least 1 hour.
Spread the sesame seeds out in a thin layer on a large plate. When ready to serve, unroll the cheese log from the wrapping paper, then roll it in the sesame seeds to cover all sides. Place on a serving board and serve immediately with melba toast or crackers, fresh fruit and preserves.