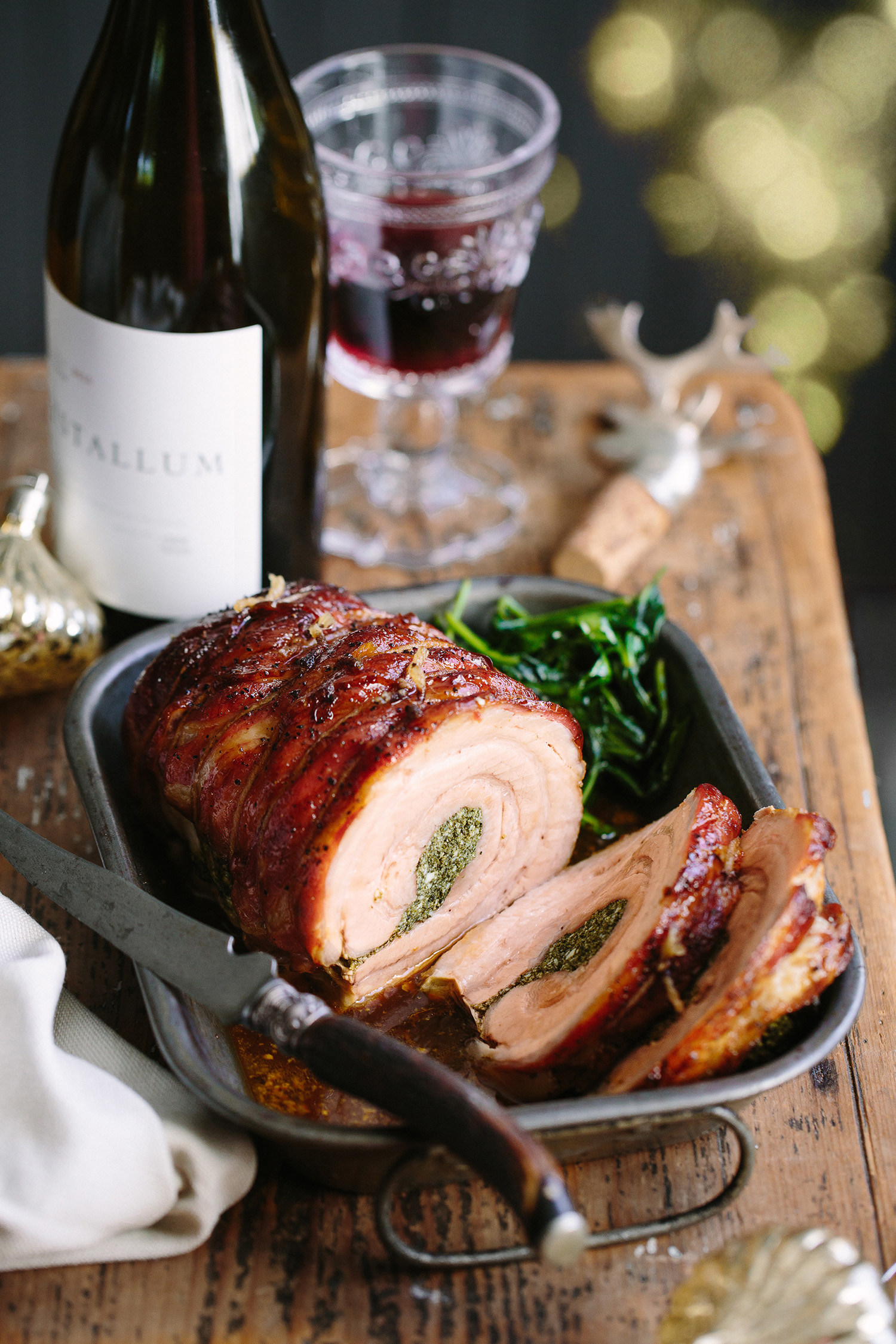 It's almost Christmas and some of us will have the privilege and joy of preparing a beautiful roast for our family and friends on this special day. A stuffed roast is even more festive in my opinion, and the Italians do it best with a traditional porchetta. Porchetta simply refers to a savoury, moist, fatty, boneless cut of pork that is rolled and roasted – perfect for stuffing beforehand and cutting beautiful rounds when cooked.
I recently developed six new recipes in collaboration with Pork 360 (this one's number four). It's a quality assurance and traceability certification – a guarantee to both the consumer and retailing sector that the producer has a consistent production process that complies with minimum standards and ensures high-quality pork. The Pork 360 projects takes place under the guidance of the South African Pork Producers Association (SAPPO). Watch their video for more info.
In a nutshell: it's pork you can trust!
I've chosen a boneless pork belly for this porchetta recipe, but you can also use a boneless shoulder. Look for a belly with a thin layer of fat compared to meat – it will still be super moist but not overwhelmingly fatty. I bought the meat (and other ingredients) from my local Food Lover's Market. You can find the most beautiful, fresh, whole pork shoulders, necks, bellies and legs – great choices when entertaining a large crowd. They also have great spare ribs, chops and festive gammons.
Serve your porchetta in thick slices with your choice of roast potatoes or mash, some pan-fried spinach and a generous drizzle of the pan sauces. Enjoy the festive season everybody!
Ingredients: (serves 6)
for the stuffing:

15 ml olive oil
200 g baby spinach
250 g ricotta cheese
1/2 cup grated parmesan cheese
a pinch of ground nutmeg
salt & pepper

about 1,5 kg boneless pork belly
250 g smoked streaky bacon
30 ml olive oil
1 small onion, sliced
4 cloves garlic, sliced
about 2 tablespoons chopped herbs (like thyme & sage)
Method:
To make the stuffing: heat the oil in a large pan, then fry the spinach over high heat until just wilted, stirring often. Remove from the heat, drain the excess liquid from the pan, then place in a food processor along with the ricotta, parmesan and nutmeg. Season generously with salt & pepper, then process to a thick pulp. Set aside.
Preheat the oven to 170 C. Place the pork belly on a clean working surface, skin side up. Use a very sharp knife to remove the tough outer layer of skin (save it for making crackling later, if you want to). Turn the belly over, widest side facing you – you want to roll it up to form a long/narrow log, not a short/fat log.
Arrange the stuffing horizontally in the middle of the belly from side to side, then roll the belly up with the seam on the bottom. Arrange slivers of streaky bacon diagonally over the top, overlapping slightly.
Use pieces of kitchen string to neatly secure the roll at about 3 cm intervals, knotting them at the top and snipping the loose ends.
Drizzle a deep medium-size roasting tray with olive oil, then arrange the onions, garlic and herbs on the bottom. Place the prepared pork roll on top of this in the middle of the tray. Roast for 3 hours at 170 C (if the meat/veg get too dark, cover lightly with foil). Remove from the oven and let it rest for at least 10 minutes before carving.
Serve hot with pan-fried green vegetables, roast potatoes or mash (or cauliflower puree) and a drizzle of pan juices.
Note: If you love a thicker gravy, remove the meat from the tray after roasting and bring the pan juices to a boil over the stove top, scraping any brown bits. Add some lamb or chicken stock (about 250 ml), a splash of dry white wine and cook, stirring. Mix some of the hot liquid with a spoonful of flour and a spoonful of butter, then return the paste to the pan and stir to make a smooth, slightly thickened gravy. Add salt & pepper to taste, then pour in a jug and serve with the porchetta.