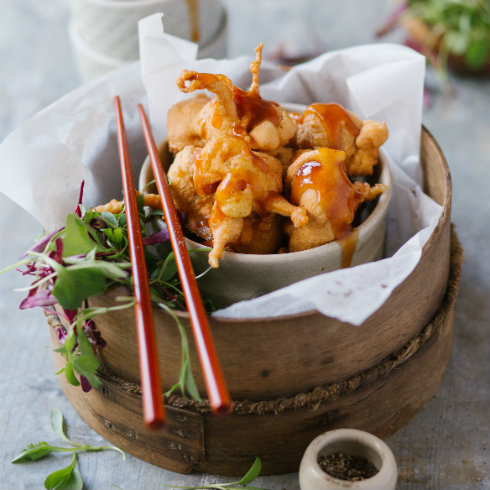 In 2003 I started working in Belville with my friend Albert du Plessis, from his home. We started a partnership music booking agency for local rock 'n roll artists. It was a very exciting time in my life and I enjoyed being part of this small and vibrant growing industry. During that time I also discovered a few take-away spots in the Northern Suburbs, one of which is Ho-Ho Take-Aways in Kenridge. It was run by a soft-spoken tiny Chinese woman, and she was a legend in the way that she stuffed your foamalite take-away container full of freshly cooked food. My favourite was always her sweet & sour pork – warm, crispy, golden nuggets with a small container of sweet and sour dipping sauce. I would stand in her shop, mesmerized, looking at the way she filled the containers with her scoop. More, more, always more. It was a value-for-money bonanza, and the best sweet & sour pork that I've ever tasted. She's still there as far as I know, but sadly I don't frequent that neck of the woods that often anymore.
This is the closest I could come to Ho-Ho's legendary sweet & sour pork. Be sure to eat it straight from the fryer, as it becomes a bit softer on standing. If you're feeling lazy, buy some sweet & sour sauce from your local speciality store instead of making your own.
Ingredients for the sauce:
1/2 cup (125 ml) sugar
1/4 cup (60 ml) white vinegar
10-15 ml soy sauce
45 ml tomato sauce (I prefer All Gold)
20 ml corn flour, mixed with 125 ml cold water
Mix the sugar, vinegar, soy and tomato sauce in a small saucepan and bring to a boil. Stir in the cornflour/water mixture, then turn down to a simmer and stir until thickened – it will happen quite quickly. Remove from the heat and set aside. Serve warm or cold as a dipping sauce.
Ingredients for the pork: (serves 2)
2 XL eggs
60 ml cake flour
60 ml corn flour
a pinch of salt
canola oil for deep-frying
250 g lean pork meat (like fillet or steak), trimmed and cubed (about 2 x 2 cm)
Mix the eggs, cake flour, corn flour and salt together to a sticky batter.
Heat the oil over medium high heat until it reaches around 180 C.
Dip the cubes of pork into the batter and carefully drop into the hot oil, frying until golden on all sides. Drain on kitchen paper. Serve immediately with sweet & sour sauce.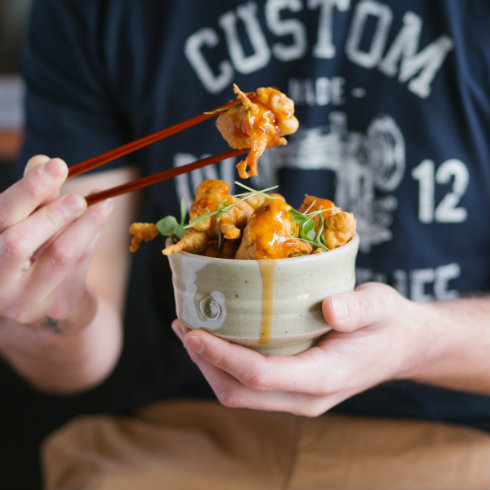 Credits:
Recipe, food preparation & text: Ilse van der Merwe
Photography: Tasha Seccombe
Assistant: Scott Armstrong