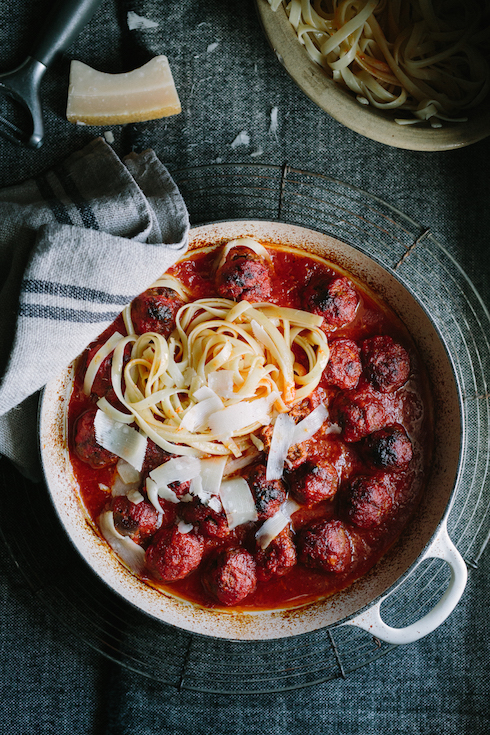 After the winter solstice has come and gone a few days ago, we can safely say that we're smack bam in the middle of the coldest season in the Cape. Most of us are looking for something hearty to cook for dinner, so why not try these incredibly flavourful lamb meatballs in tomato sauce. They are easy to cook and perfect for any day of the week, served with your choice of pasta.
If you don't see any lamb or mutton mince on the shelf at your local butchery, just ask for it. Most butchers are more than happy to grind a chunk of boneless leg (or perhaps a boneless shoulder) into beautifully pink lamb/mutton mince. Leg mince is relatively low in fat compared to chops and makes excellent, juicy meatballs. I don't add any breadcrumbs to my meatballs because I love the flavour and texture of the meat as it is, but if you want to stretch it a little and have an even softer texture result, add a cup or two of soft white breadcrumbs (process 2-3 slices in a food processor).
Thank you SA Lamb & Mutton for another opportunity to collaborate! Check out more wintery lamb dishes that's on the lighter side of winter entertaining: Pulled lamb pitas with tomato salad & tzatziki, tabbouleh bowl with shredded lamb, lamb steak salad with figs & courgettes, lamb ramen with star anise, ginger & chilli, Italian-style white bean soup with lamb knuckle.
Ingredients: (serves 4)
For the tomato sauce:
30 ml olive oil
2-3 cloves garlic, finely grated or chopped
2 cans whole Italian tomatoes, pureed
10 ml sugar
salt & freshly ground pepper to taste
10 ml smoked paprika
For the meatballs:
700-800 g lamb mince
1 red or white onion, coarsely grated
5 ml dried oregano
10 ml smoked paprika
1 teaspoon salt
1/2 teaspoon freshly ground black pepper
10 ml Dijon mustard
15 ml olive oil, for greasing
To serve:
500 g dried pasta, cooked al dente (tagliatelle/spaghetti etc.)
shaved or grated parmesan cheese (or grana padano or pecorino)
Method:
Make the sauce: heat the oil in a medium saucepan, then fry the garlic over medium heat for just a minute. Add the pureed canned tomatoes, sugar, salt, pepper and paprika. Stir and bring so a simmer. Turn heat down to low, cover and cook for 15 minutes while you make the meatballs.
Preheat oven to 200 C.
Make the meatballs: in a mixing bowl, add the mince, onion, oregano, paprika, salt, pepper and Dijon. Use a fork to mix it well (or use clean hands). Shape into balls about the size of golf balls. Pour a little oil into a large (30 cm round) oven proof dish and use your hands or a brush to cover the base with oil all over. Arrange the rolled meatballs in the dish, then pour the sauce all over the meatballs. Bake in the preheated oven for 25 minute or until brown on top and fully cooked.
Serve with freshly cooked pasta and shaved parmesan.