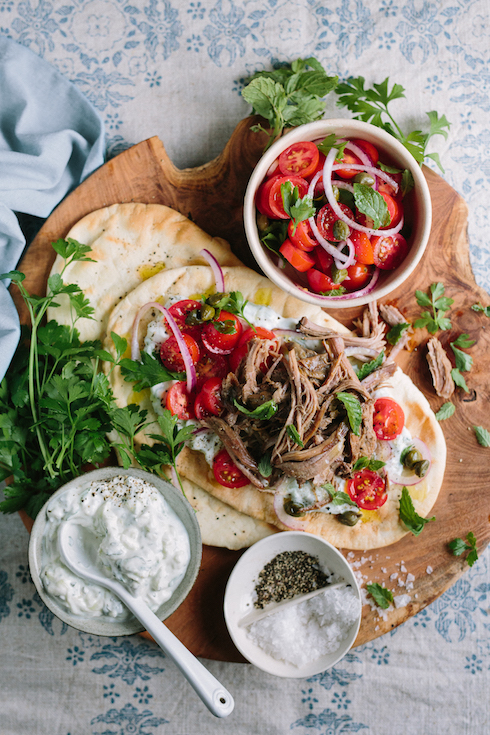 Once you've tasted a proper Greek-style souvlaki, few things can beat this meaty "sandwich": slightly sticky pieces of tender, slow roasted lamb on a toasted pita with fresh tomato and red onion, slathered with double cream tzatziki. It's a slice of heaven.
With pulled lamb, there's only one way to do it – slowly. Covering your leg of lamb in baking paper and two layers of foil means that the meat steams while roasting, resulting in a really tender roast that literally falls apart. I roast it overnight at 120C for 8 hours, but you can also do it even slower at 100C for 12 hours.
With pitas, there are two ways of doing it: stuffing them, or using them as a foldover. I prefer the foldover, because it tends to hold better and not break apart. You'll be surprised to see that naan bread also works wonderfully as foldovers, because of their elongated shapes. Use whatever you prefer!
Note: Use the leftover pulled lamb to make lamb ramen or tabbouleh bowls with lamb – great for lunch/dinner the next day.
Ingredients: (serves at least 6)
For the pulled leg of lamb:
1,8 – 2 kg leg of lamb (bone-in)
30 ml olive oil
10 ml dried oregano
10 ml chopped fresh rosemary
salt & pepper
4 cloves garlic, peeled, whole
1 onion, quartered
250 ml dry white wine
For the tzatziki:
500 ml double cream yoghurt
1/2 English cucumber, seeds removed and roughly grated
1 clove garlic, finely grated
a small bunch mint leaves, finely chopped
salt & pepper, to taste
1 tablespoon extra virgin olive oil
For the tomato salad:
about 400-500 g ripe small rosa tomatoes, sliced
1/2 red onion, finely sliced
1-2 tablespoons capers
a handful fresh Italian parsley, roughly chopped
a handful fresh mint, roughly chopped
10 ml red wine vinegar
15 ml extra virgin olive oil
salt & pepper, to taste
To assemble:
6-12 round pita breads (or foldovers, or naan breads), heated or toasted
Method:
Preheat oven to 120 C. In a medium size roasting tray, place the leg of lamb then drizzle with olive oil and sprinkle with oreganum, rosemary, salt & pepper. Place the onion quarters and garlic around the sides, then add the white wine. Cover with a layer of baking paper, tucking it in around the sides of the meat, then cover the pan with 2 layers of foil. Roast for 8 hours until the meat falls from the bone. Use two forks to pull the meat apart and let it lie in the cooking juices, removing the large bones. Set aside.
While the meat is roasting, prepare the tzatziki: Add the yoghurt to a medium mixing bowl. Squeeze the grated cucumber to get rid of the excess water, then add the shreds to the yoghurt along with garlic and mint. Season with salt & pepper, add the olive oil and mix well. Cover and refrigerate until ready to use.
For the salad: make just before serving – toss all the ingredients together and set aside (don't make ahead, or it will draw a lot of water).
To assemble: plate freshly toasted pita breads with a dollop of tzatziki, some shredded warm lamb and some tomato salad on top – it's a nice idea to let your guests each plate/assemble their own. Fold over and enjoy.
This recipe was created in collaboration with Lamb & Mutton South Africa. #CookingWithLamb #LambAndMuttonSA #WholesomeAndNutritious #CleanEating #TheWayNatureIntended