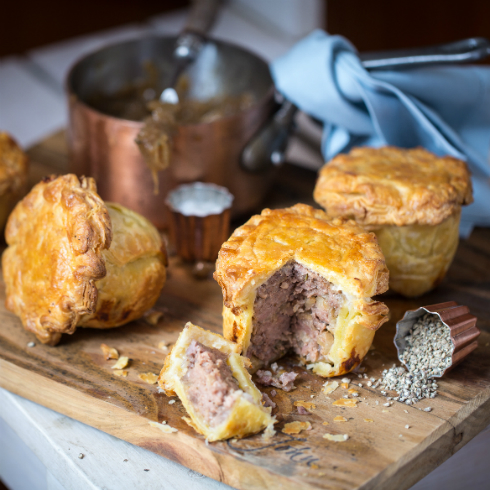 I've always had a special interest in comfort food, and the Brits do it so well with their traditional pub fare. The idea of proper bangers with buttery mash and savoury gravy makes me want to grab a warm blanket and head for the couch.
Although I've never been to the UK, I've seen so many beautiful pork pies on TV and in recipe books. In Britain, they make their traditional pork pies in a round baking mould, rather than a flat pie dish. I've used my metal dariole moulds (also used for chocolate fondants etc.) to bake these pies, as they are the perfect size and shape to produce a nice round pork pie. You can use a large muffin tin if you don't have these. The English also mostly use homemade shortcrust pastry, but in this case I took a shortcut and used store-bought puff pastry.
Making onion gravy takes a little patience, but it really isn't difficult the result is totally worth it! If you prefer a smooth gravy, just give it a blitz with your stick blender.
Ingredients: (serves 6)
2 tablespoons olive oil

1 large onion, finely diced

1 teaspoon fresh thyme leaves

600g fresh pork sausage (coarsely textured)

½ teaspoon allspice

a pinch of nutmeg

2 x rolls puff pastry or shortcrust pastry (400g each)

1 egg, slightly beaten for egg wash
Method:
Heat the oil in a pan over medium-low heat. Add the onion & thyme and fry until it is soft but not too brown – about 15-20 minutes. Remove and cool slightly.

In the meantime, remove the sausage meat from the casings (cut it open lengthways with kitchen sears), and place in a mixing bowl. Add the fried onions, allspice & nutmeg, then mix well (you can use your clean hands).

Butter/grease 6 dariole moulds, then use the pastry to line each mould, pressing down gently. Fill each pastry case with pie filling, then place a round of pastry on top of each pie and pinch it together. Trim away any excess pastry, then brush with the egg wash on the tops.


Place the prepared pies on a baking sheet, then bake at 220C for 25 minutes. Carefully turn the pies out of the moulds (I use a clean tea towel to assist), then turn them upside down place on a baking tray. Return to the oven for another 10 minutes to brown the bottoms.

Remove from the oven and serve with mashed potatoes & gravy.
For the onion gravy:
15ml (1 tablespoon) butter
30ml (2 tablespoons) olive oil
4 onions, peeled and finely sliced (not chopped)
10ml (2 teaspoons) brown sugar
15ml (1 tablespoon) balsamic vinegar
250ml (1 cup) chicken stock
15ml (1 tablespoon) Worcestershire sauce
salt & pepper
10ml (2 teaspoons) cornflour/Maizena mixed with 15ml (1 tablespoon) cold water – optional
Method:
In a medium size saucepan over medium-low heat, add the butter & olive oil. Now add the onions and stir well. Cook, covered, for about 30 minutes, stirring often to prevent burning. You're looking for very soft and slightly golden onions.
Turn the heat up to high, then add the brown sugar & balsamic vinegar. Cook for 2-3 minutes until it reduces and starts to caramelize.
Now add the stock & Worcestershire sauce and bring to a simmer (turn the heat down to medium). Simmer for 5 minutes without a lid, then season to taste with salt & pepper. If you like to thicken your gravy, you can now add the cornflour/water mixture and stir to thicken. If you like a smooth gravy, use a stick blender to create a smooth sauce. Transfer to a small gravy jug and serve hot.
Credits:
This post was originally written for The Pretty Blog by Ilse van der Merwe from The Food Fox.
Recipe, food preparation and text: Ilse van der Merwe
Photography: Tasha Seccombe
Styling: Nicola Pretorius