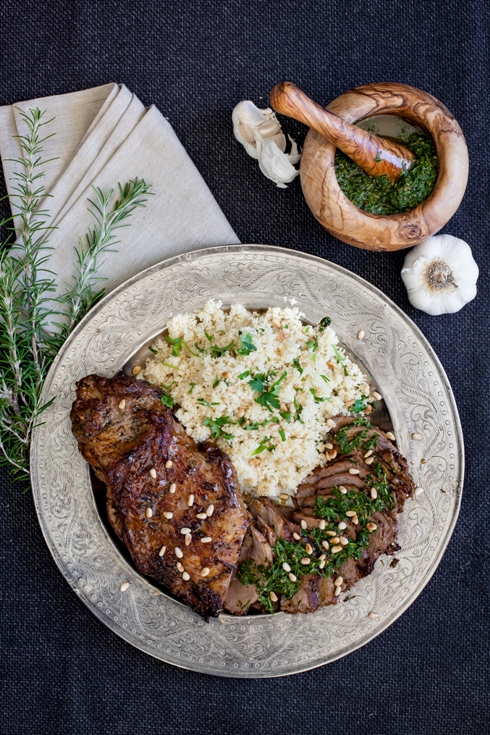 In a few days we will be celebrating Easter weekend, a holiday that is usually spent with family and good friends. Last week I shared the first recipe of a 3 part series that I am doing in a special Easter collaboration with Poetry stores: salmon bisque for starters. Today I am sharing a phenomenal recipe for a festive lunch: marinated seared leg of lamb with chermoula and pine nuts from A Week In The Kitchen by Karen Dudley.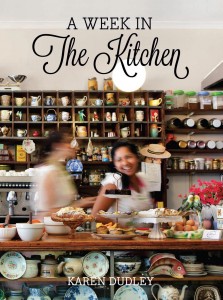 Contrary to what most of us are used to, this butterflied leg of lamb is not slow roasted for countless hours, but rather seared in a pan and then roasted at 200 C for only 45 minutes. The meat is then rested and cooled, then carved thinly and served at room temperature. That means that all the stress of heating up large roasts at the last minute is totally irrelevant. It is served with a fresh and fragrant chermoula paste – a fabulous North African way to bring loads of extra flavour to cooked meat. A few toasted pine nuts perfects the picture. This recipe is certainly a must for stress-free scrumptious entertaining!
Ingredients for marinade:
3 sprigs of rosemary, finely chopped
4 cloves garlic, crushed
zest of 2 lemons
juice of 3 lemons
310 ml extra virgin olive oil
Ingredients for searing the meat:
2,5 kg butterflied deboned leg of lamb (marinated for 30 hours – see marinade above)
15 ml of your favourite meat rub (or use a blend of salt, white pepper, paprika, dried mixed herbs, and a pinch of sugar)
15 ml vegetable oil
Ingredients for chermoula paste:
30 g fresh coriander
30 g flat leaf parsley
2 cloves garlic, crushed
30 ml lemon juice
5 ml ground cumin
1/4 teaspoon paprika
1/4 teaspoon chilli flakes
1/4 teaspoon cinnamon
1/4 teaspoon salt
60 ml extra virgin olive oil
For serving:
Method:
Mix all ingredients for the marinade together in a large glass/ceramic bowl or baking dish. Place the leg of lamb in the marinade and leave to marinate (covered) in the fridge for 30 hours.
Remove the lamb from the fridge and return it to room temperature (it takes about 2 hours).
Pre-heat the oven to 200 C.
Heat your largest pan on high heat until it is super hot. White the pan is heating, season the meat all over with your meat rub. When the pan is smoking hot, add the vegetable oil, then sear the meat on all sides, starting with the fat side. Use tongs to turn it.
Place the seared leg fat side up on a baking tray, then roast for 45 minutes at 200 C.
Remove the meat from the oven, then allow to rest and cool before carving into very thin slivers. Arrange it on a platter and serve with chermoula paste and toasted pine nuts (I also added some couscous to the platter).
Credits:
Recipe from: A Week In The Kitchen by Karen Dudley (R225 from Poetry Stores)
Photography: Tasha Seccombe
All homeware: Poetry stores (ranging from R199-399)