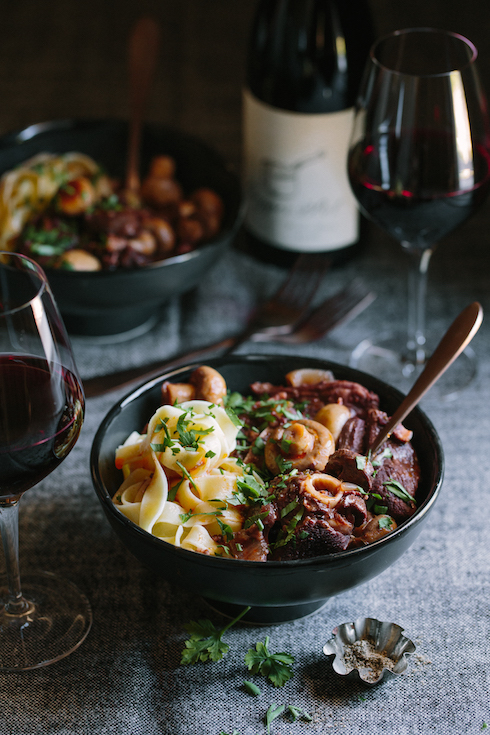 Beef bourguignon is probably one of the best-known classic French dishes, also famously featured in the movie Julie & Julia. This fuss-free version is made with delicious lamb chops – a hearty, upgraded "plan B" for when the weather is not ideal for a braai. Yes, there's more than one way to enjoy a chop. Bring on winter, please!
This recipe is also perfect for making in a cast iron potjie over the fire, if you prefer. Check out my easy how-to video:
Ingredients: (serves 6)
45 ml olive oil
1,2 kg lamb chops
salt & pepper
250 g streaky bacon, chopped
2 large onions, peeled & quartered
4 cloves garlic, peeled & sliced
5 sprigs thyme, woody stalks removed
30 ml tomato paste
10 ml cake flour
750 ml dry red wine (a Bordeaux-style blend works well)
250 g small mushrooms (or halved if bigger)
500 g tagliatelle, cooked & buttered, for serving
a handful fresh parsley, chopped, for serving
Method:
Preheat the oven to 170 C.
Heat the oil in a heavy based large pot (that has a lid) over high heat. Fry the chops in batched, browning them on both sides and seasoning with salt & pepper. Remove from the pot and turn down the heat to low.
Add the bacon, onions, garlic & thyme and fry for 2-3 minutes, stirring.
Add the tomato paste & flour, stirring.
Add the red wine and stir to loosen any sticky bits on the bottom of the pot. Now add the browned meat and juices back to the pot and bring to a simmer. Cover with a lid and braise in the oven for about 2,5-3 hours or until the meat is just starting to fall from the bone. Taste and adjust seasoning if necessary.
Add the mushrooms and cook for a further 10-15 minutes (covered), then remove from the oven.
Serve hot with freshly cooked tagliatelle (or rice or potatoes) and scattered parsley.
Note: This tagine can be made a day ahead and reheated before serving as the flavours improve on standing (store in the refigerator overnight). Freezes very well.
This is the third recipe in a series of four Mediterranean-inspired Autumn/Winter dishes for Lamb & Mutton SA. Also check out my recipes for Greek-style 8-hour leg of lamb with origanum & preserved lemon and Italian-style lamb & tomato ragu with gnocchi.