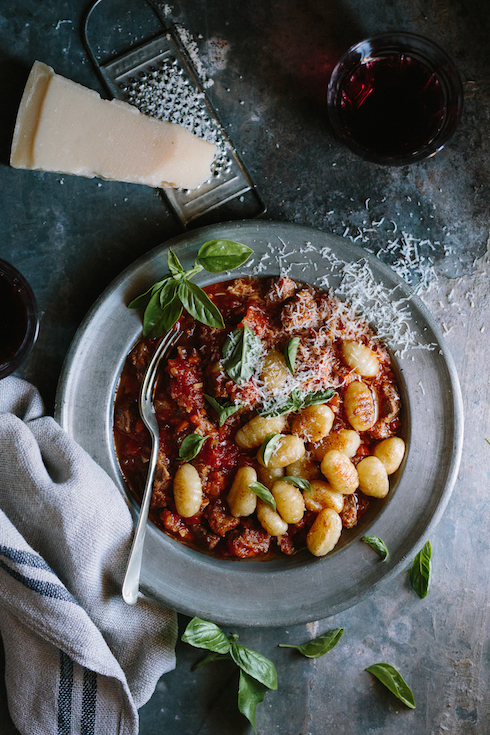 This is hands-down one of the most comforting dishes I've ever eaten. It is made with boneless lamb that's been cubed into 1 x 1 cm blocks – don't stress about the labour, it goes quickly and it's actually quite therapeutic (read: pour yourself a glass of wine while you do it). You can use chops, leg or even stewing meat, just remove the bones and chop-chop-chop. The result is a chunkier ragu than those made with ground meat, very tender with an incredible mouth-feel and packed with simple, robust flavours. Just the way the Italians intended.
I love serving this ragu with gnocchi, but it also works well with pasta – homemade is best. Fresh basil and grated parmigiano is compulsory. Bellissima!
Check out this handy how-to video:
Ingredients: (serves 6)
45 ml olive oil
1 large onion, peeled & finely chopped
1-2 celery sticks, finely chopped
1 large carrot, peeled & finely chopped
2 sprigs rosemary, woody stems removed & finely chopped
1 kg boneless lamb/mutton, cubed into 1 x 1 cm pieces
1 cup (250 ml) dry white wine
2 cans whole Italian tomatoes, roughly chopped, with juice
salt & pepper
5 ml sugar
about 750g-1 kg fresh gnocchi, cooked, to serve (or 500 g dried pasta, cooked)
a handful fresh basil leaves, to serve
grated parmesan cheese, to serve
Method:
In a heavy based large pot, heat the oil over medium heat and fry the onion, celery, carrot and rosemary until soft and fragrant.
Add the cubed meat and turn up the heat. Fry until it starts to catch (get brown and sticky) on the bottom stirring often – this is important, so be patient. It takes about 10-15 minutes.
Add the wine and stir to deglaze. Add the chopped tomatoes with juice, season with salt & pepper, add the sugar and stir. Bring to a simmer, then turn the heat down low, cover and cook for 2-3 hours until very soft. Stir every now and then.
Serve with cooked gnocchi or pasta, with fresh basil and grated parmesan cheese.
Note: Store-bought gnocchi don't pan-fry well and should rather be boiled briefly in salted water until they pop to the surface. Freshly made gnocchi can be directly pan-fried in butter until golden, it only take a few minutes over medium heat and it is most definitely my preference.
This is the second recipe in a series of four Mediterranean-inspired Autumn/Winter dishes for Lamb & Mutton SA. Also check out my recipe for Greek-style 8-hour leg of lamb with origanum & preserved lemon.