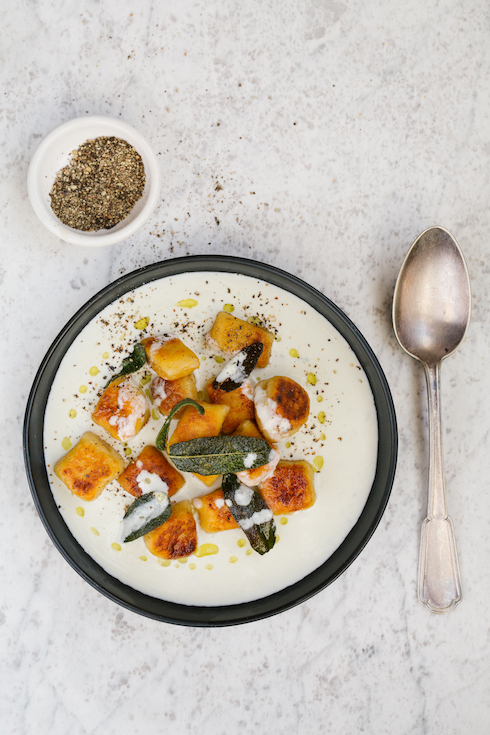 Some classic dishes are not to be tampered with. They are beautiful in their simplicity, their uncomplicated perfection, their timeless deliciousness.
I feel that way about potato gnocchi with blue cheese sauce. It was the very first recipe that I'd published on my blog www.thefoodfox.com on 21 January 2011. Over the past few years since that post, I've published hundreds of recipes, cooked MANY batches of gnocchi (not only for myself but also for groups of guests while catering) and learned that you always return to simple, old favourites.
I've also learned that making gnocchi is not as difficult as everyone says. You just need to "understand" your potatoes and know that they are going to react slightly differently each time (the texture and water content will be different for every single batch). Once you get the hang of the consistency in the dough, the rest is truly child's play.
I often make potato gnocchi with blue cheese sauce at home for my family. I sometimes add a swirl of truffle oil or a drizzle of sage butter, but you don't even need to. I mostly boil the gnocchi, but some days I prefer golden pan-fried nuggets of plush pillowy potato. Serve them straight from the pan as they can slightly lose their crispy exterior texture on standing.
Note: For the blue cheese sauce, I prefer using a strong-flavoured gorgonzola-style cheese. The blue veins of the cheese don't completely melt into the cream, it remains delicately textural. The sauce always looks a little too runny at first, but be patient – when you serve it in bowls with the gnocchi, it is just right. Leave the salt & pepper up to your guests as the cheese can sometimes be very salty already.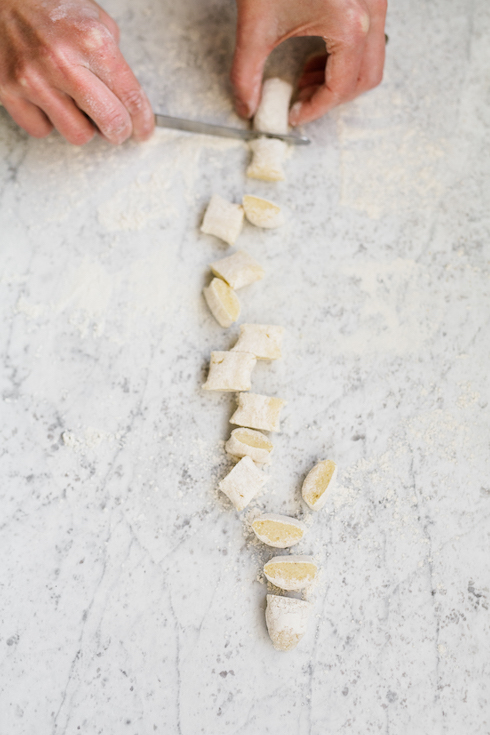 Ingredients for gnocchi: (serves 6)
1 kg floury potatoes, skin on
1 XL egg
1 generous teaspoon salt
freshly ground black pepper
250 g cake flour (about 2 cups)
Method:
Boil or bake the potatoes until they are completely tender. Cool slightly and remove the skins (in Italy they believe that cooking the potatoes in their skins add a lot of flavour to the gnocchi).
Press the cooked potatoes through a sieve (this is a laborious process, but the end result is well worth it) or use a potato ricer to create finely minced potato.
Place the fine potatoes in a mixing bowl, then add the egg, salt, pepper and half of the flour. Use a fork or spoon to mix it, adding more flour as you need it (you might not need it all). Turn it out on a floured surface and delicately knead the mixture until it forms a ball that resembles smooth bread dough. Do not over work the dough – you're looking to create a smoothly textured potato dough that is not lumpy but just kneaded to the right consistency.
Divide the dough into 8 pieces, then roll out each piece on a large floured working surface, one at a time, into a long sausage shape of about 2cm thick. Use a knife to cut each strand into gnocchi, flicking the pillows as you're cutting (so that they don't stick to the knife or to each other). Quickly toss in a light coating of flour, then pan-fry in butter on both sides until golden (about 1-2 minutes a side). Serve with blue cheese sauce.
For the blue cheese sauce:
500 ml fresh cream
200-250 g gorgonzola-style blue cheese
Method:
Place the cream in a small sauce pan over high heat. When it just comes to a light simmer, crumble the blue cheese into the cream and turn down the heat to very low, stirring for a few minutes until the cheese is completely melted. Pour a pool of sauce into bowls, then top with pan-fried gnocchi (and optionally some crispy fried sage leaves and a few drops of truffle oil or extra virgin olive oil).