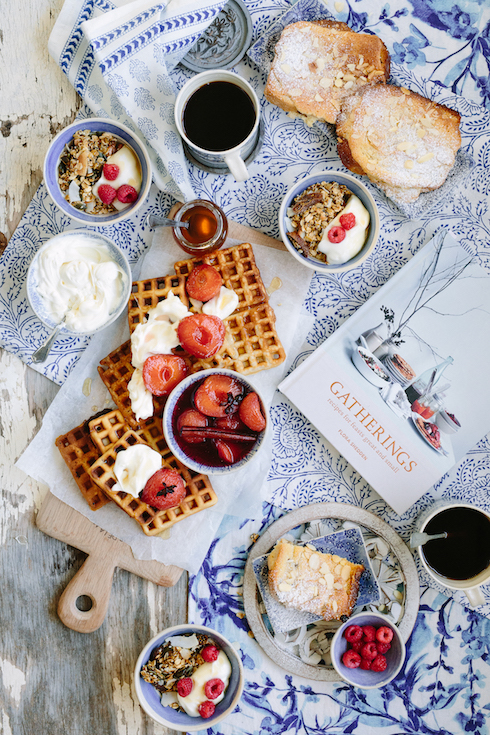 During the month of April we are blessed in South Africa with not only one but two long weekends! That usually means family time and slower mornings – perfect for an indulgent brunch. With Easter weekend already behind us, I cannot wait to treat my family next weekend with these fabulous brunch recipes from Gatherings, the new book by Flora Shedden from Scotland, available from Poetry Stores.
Flora recently was the youngest ever semi-finalist in The Great British Bake Off, impressing judges with her simple, elegant designs. Her book is a reflection of her love for cooking and baking, and it is clear that she has a profound understanding and respect for good ingredients and wonderful flavours.
I've chosen Flora's recipes for a crunchy pumpkin seed, fig & coconut granola served with double cream yoghurt and fresh berries, some rye waffles with mascarpone & poached plum compote as well as French-style bostock – baked sliced of brioche soaked in vanilla apple syrup and covered in a gooey, golden brown almond past. Although all three recipes are stunning, my hands down favourite is the bostock. If you love gooey almond croissants, these beauties will rock your world.
Enjoy a little slow indulgence around the brunch table this Easter, served with steamy coffee and decorated with Poetry's magnificent blue floral table linen and wonki ware.
All three recipes below are from Flora's beautiful book, Gatherings, available from Poetry Stores and online for R370. It's an exceptional book and a must for your recipe collection.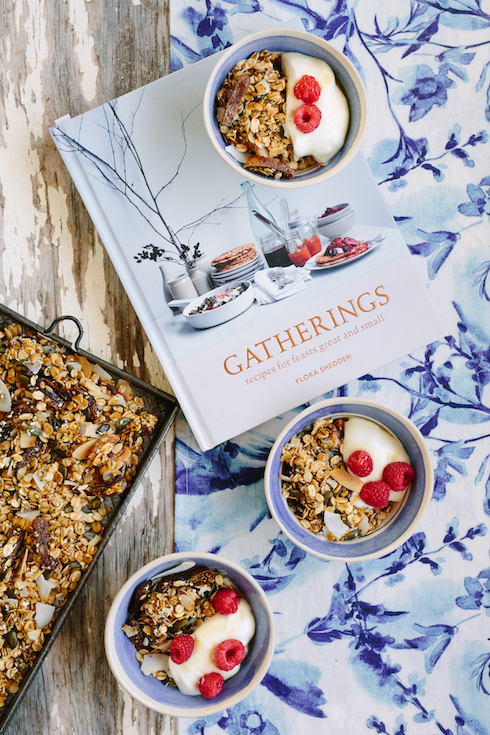 Fig & coconut granola (makes approximately 750 g)
3 tablespoons coconut oil, at room temperature (i.e. in liquid form)
100 ml maple syrup
100 g clear honey
1 teaspoon vanilla bean paste
350 g rolled oats
50 g sesame seeds
25 g poppy seeds
100 g pumpkin seeds
50 g flaked almonds
100 g dried figs, roughly chopped
50 g coconut flakes
Preheat the oven to 160 C. Weigh out all the ingredients (except for figs & coconut flakes) in a large bowl. Mix the lot together using your hands, ensuring everything is well coated in the wet ingredients. Top the mixture into a large roasting tray and bake for 10 min. Remove the tray from the oven and stir the granola around – this helps to ensure it colours evenly. Bake for a further 10 min or until golden and becoming crisp. (It will become crunchier once it cools down.) Add the figs and coconut flakes while the mixture is still hot and mix them through. Allow the granola to cool completely, then package it up in a large jar or small cellophane gift bags. It will keep for about 1 month in airtight storage.
My notes: I found that the granola needed more time in the oven, so I baked it at 180 C for about 3 intervals of 10 minutes each.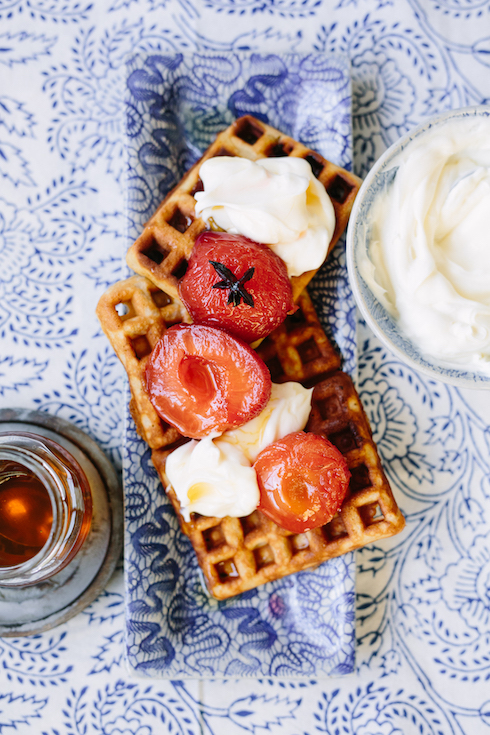 Rye waffles (makes 8-10)
150 g plain flour
150 g rye flour
1 teaspoon baking powder
75 g caster sugar
3 eggs, lightly beaten
1/2 teaspoon ground cinnamon
300 ml milk
100 g butter, melted
To serve: Whipped cream and spiced plum compote (from page 262)
Preheat your waffle maker. To make the batter, stir in the flours, baking powder, sugar, eggs and cinnamon together, then whisk in the milk gradually. Continue to beat until the mixture is smooth. Finally stir in the melted butter. Ladle about 125 ml of the batter into the waffle iron and close the lid. Cook for 2-3 minutes or until golden. Remove the cooked waffle, keep warm and repeat with the remaining batter. Serve warm with whipped cream (or mascarpone) and spiced plum compote.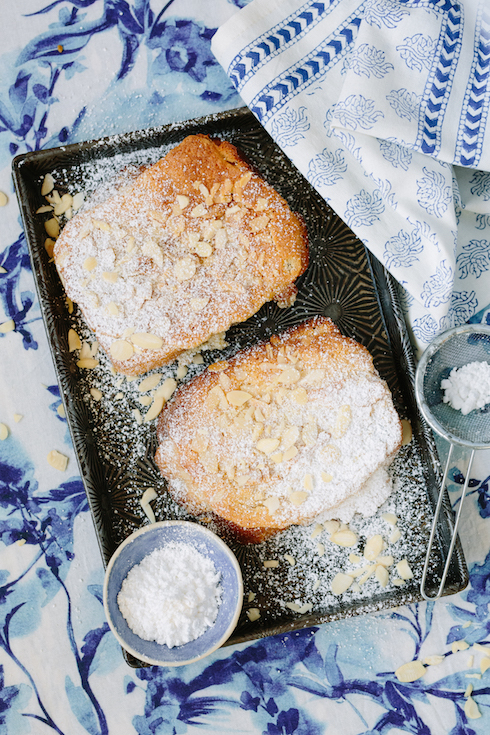 Apple & almond bostock (serves 4)
125 g butter, softened
125 g icing sugar, plus extra for dusting
100 g ground almonds
1/2 teaspoon almond extract
1 teaspoon vanilla bean paste
1 egg
50 g plain flour
6-8 sliced of stale brioche or bread
200 g flaked almonds, for topping
For the syrup:
150 ml apple juice
150 g caster sugar
1 teaspoon vanilla bean paste
Preheat oven to 200 C. First make the syrup. In a saucepan, bring the apple juice, sugar and vanilla to the boil. Cook over a high heat for no more than 1 minute until the sugar has dissolved and you have a light clear syrup. Set aside.
In a bowl beat the butter and icing sugar together until light and fluffy. Add the ground almonds, almond extract, vanilla, egg and flour and heat again until the mixture is smooth.
To assemble, take a piece of brioche and soak each side in the syrup. Place it on a lined baking tray and repeat with the remaining slices. Divide the almond batter between the brioche slices and spread it across the top of each slice. Sprinkle generously with the flaked almonds. Bake for 10-12 minutes or until golden brown and the almond topping is cooked through. Dust with icing sugar and serve warm.
My notes: I found that about 50 g flaked almonds are more than enough for topping the bostocks.
(This featured post was created in collaboration with Poetry Stores.)
Save