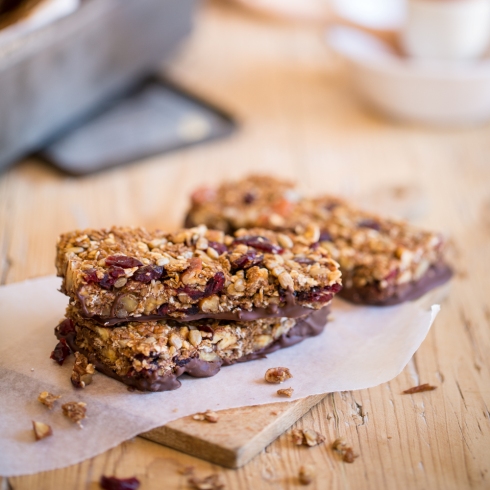 When I was in primary school, there were a handful of kids whose lunch boxes looked very different from the rest of us. They had these amazing treasure chests filled with biltong, individually wrapped cheese blocks, boxed juice and – behold – granola bars. We envied them at each break time when they casually grazed on their royal snacks. I sometimes tried to swop my very average brown bread sandwiches with them (sorry Mom), with no success, obviously.
Now that I'm a fully grown adult, I still think of granola bars or breakfast bars as a royal snack. They are so luxurious, and I absolutely love making them at home. This specific version is not the hard and crunchy type, it is a soft and chewy version filled with amazing goodies like mixed nuts, cranberries, seeds, honey and banana. It contains no flour, no butter, and no added sugar, believe it or not!
Because this bar is so soft, I dip the bottom in chocolate to provide extra support when it sets, and to add some of that royal touch that I loved so much as a child. I can guarantee some serious envy from your colleagues when you'll open this snack at tea-time. Jealousy, to be exact.
Enjoy every bite – it's so delicious you won't believe that it's a healthy snack!
Ingredients:
100 g mixed nuts
2 cups all bran flakes, crushed to a volume of about 1 cup
1 cup oats
1/2 cup sunflower seeds
100 g dried cranberries (make sure they don't stick together)
1/2 t ground cinnamon
a pinch of salt
2 ripe bananas, mashed with a fork
1/3 cup honey
80 g dark chocolate
Method:
Pre-heat oven to 180 C.
Roughly chop the nuts, then spread them out on a baking tray. Toast in the oven for 10 minutes, then set aside.
In a large mixing bowl, add the toasted nuts, crushed all bran flakes, oats, sunflower seeds, cranberries, cinnamon, nutmeg and salt. Mix well.
In a small mixing bowl, mix the mashed bananas with the honey, then mix this with the rest of the ingredients in the large mixing bowl.
Line a 23 x 23 cm baking dish with baking paper, then spread out the mixture in the lined baking dish. Smooth the surface with wet hands, pressing down on the mixture to compact it gently. Bake for 20 minutes at 180 C.
Remove from the oven and cool completely in the tin. Remove the uncut slab with lining onto a wooden board, then cut in bars and discard baking paper.
Melt the chocolate carefully over a bain marie or in the microwave, then dip the bottom of each bar in the chocolate (or use a brush to "paint" the bottoms with chocolate). Place these on a clean sheet of baking paper to set. Transfer them to your fridge if you want it to set quicker.
Store in a closed container in the fridge for up to a week.
Credits:
This post was originally written for The Pretty Blog by Ilse van der Merwe from The Food Fox.
Recipe, food preparation and text: Ilse van der Merwe
Photography: Tasha Seccombe
Styling: Nicola Pretorius