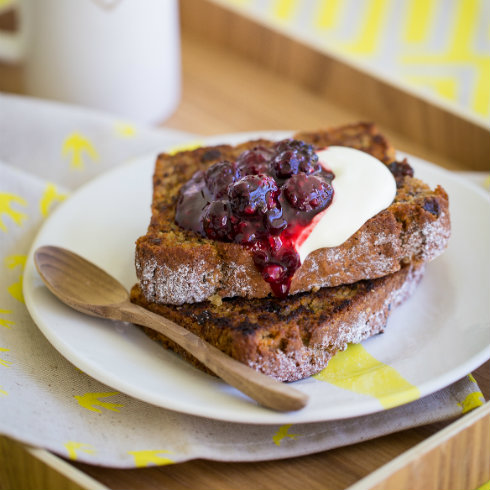 For one of our monthly food shoots last year at Tasha's house in Elgin, she greeted us with the seducing smell of something exotic yet strangely familiar. It was a loaf of freshly baked banana bread with added rum and sultanas. It was so moist and delicious that I had to ask for the recipe.
Tasha found it in Nigella's "How to be a Domestic Goddess", but changed it slightly to include desiccated coconut instead of walnuts, and salted butter instead of unsalted. This is honestly one of the best recipes for banana bread that I have tasted, and I can strongly recommend it. Nigella says on her website that you can add some cocoa powder and chocolate chips, which would make it darker and even more heavenly. But the choice is yours.
I love serving this bread thickly sliced topped with double cream (or clotted cream or mascarpone) and some kind of berry coulis or good quality runny berry jam. It is an excellent choice for breakfast in bed for your lover on Valentines Day or on a romantic weekend, might I add. Decadent, indulgent, utterly delicious.
I celebrated my 10th wedding anniversary on the 14th of February this year. I'm a very, very lucky girl to be married to Schalk. He is kind, honest, an amazing father, and the best friend I could ever wish for. Did I mention he is tall, dark and dangerously handsome? Here's to many more breakfasts in bed for the two of us!
Ingredients:
100 g sultanas or raisins (both work very well, but I prefer sultanas)
75 ml dark rum
175 g cake flour
10 ml baking powder
2.5 ml bicarbonate of soda (baking soda)
2.5 ml salt
30 g (125 ml) desiccated coconut
125 g salted butter (melted)
150 g caster sugar
2 large eggs
4 small ripe bananas (or 3 large, about 300 g mashed banana)
5 ml vanilla extract
Method:
An hour before you start baking, place the sultanas/raisins and rum in a small saucepan and heat until it comes to a boil. Remove from the heat immediately, cover with a lid, and leave to soak for an hour.
Pre-heat oven to 170 C.
Sift all the dry ingredients together and add the coconut.
In a separate mixing bowl, beat the melted butter and sugar. Now beat in the eggs one at a time, then stir in the bananas, sultanas with rum, and vanilla. Don't worry if it looks like the mixture has "split".
Add the flour mixture, a third at a time, and stir well after each bit.
Pour into a loaf tine of about 23 x 13 x 7 cm (9 x 5 x 3 inches) and bake in the middle of your oven for 50-60 minutes. The outside should be a nutty brown colour.
Remove from the oven and let it cool in the tin.
Tip: You can also make beautifully soft muffins from the same recipe, just bake them for about 20-25 minutes.
Credits:
This post was originally written for The Pretty Blog by Ilse van der Merwe from The Food Fox.
Food preparation and text: Ilse van der Merwe
Photography: Tasha Seccombe
Styling: Nicola Pretorius