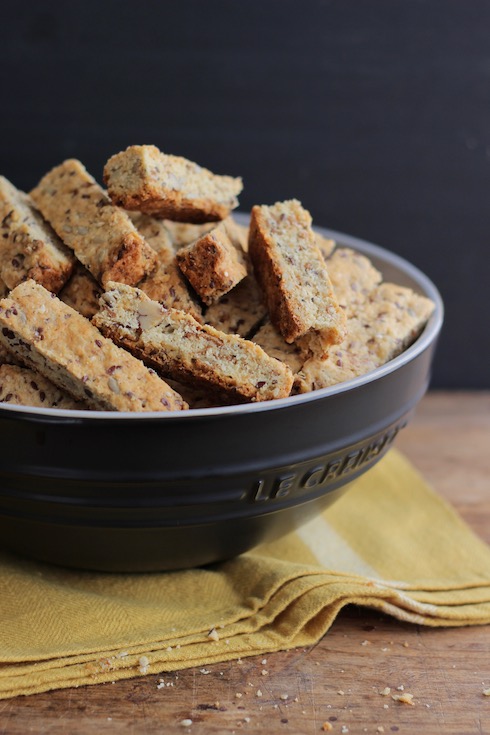 I've published the recipe for these winning rusks twice before – one of my first posts ever on this blog in 2011 and again on Die Kos Vos last year. These buttermilk rusks are exceptionally delicious, packed with oats, bran, coconut, pecan nuts, sesame seeds, sunflower seeds and linseeds. I enjoy them with coffee or tea, first thing in the morning, then I'm good to go. These days I make the recipe with olive oil instead of canola oil, which brings a wonderful richness to the taste that I prefer. The oils and seeds contain precious Omega-3, -6 & -9 that keep our hearts healthy and enough fiber to keep our digestive systems in mint condition.
For smaller households I've found that a halved recipe is more than adequate. It fills one standard baking tray (roughly 51 rusks, depending on how thick you cut the fingers) and will last for many weeks after being dried out, stored in an airtight container. Take a smaller container to your office for a fantastic teatime snack.
Watch my video for an easy how-to guide. Happy baking!
Ingredients: (makes about 51 medium size rusks)
Note: This is the halved recipe. Feel free to double it up for a bigger batch.
500 g self raising flour
1 teaspoon baking powder
1 teaspoon salt
1 cup brown sugar
1/2 cup sunflower seeds
1/2 cup linseeds (flax seeds)
1/4 cup sesame seeds
1/2 cup regular oats
1/4 cup desiccated coconut
1 cup bran cereal flakes
50 g pecan nuts, roughly chopped
1 XL egg
1 cup olive oil (or canola oil)
1 cup buttermilk
Pre-heat oven to 180 C and line a standard shallow baking tray (about 30 x 40 x 2 cm) with grease-proof baking paper. Place the flour, baking powder, salt and sugar in a large mixing bowl and mix well. Add the sunflower seeds, lin seeds, sesame seeds, oats, coconut and bran flakes. In a smaller bowl, mix the egg, oil and buttermilk, then pour over the dry ingredients and stir until it starts to come together. Use clean hands to work it into a ball, but don't knead. Transfer the mixture to the lined baking tray, pat out evenly to fill all the corners, then bake at 180 C for 35-40 minutes or until golden brown and cooked. Remove from the oven, then carefully turn it out on a wire rack to cool.
When cool enough to handle, transfer to a cutting board, then cut into rectangular fingers. Remove an oven rack from the oven, then preheat oven to 100 C. Arrange the fingers slightly apart on the oven rack, then dry out for 3 hours or until crisp but not dark. Let it cool completely then store in an airtight container. Serve with tea or coffee (to be dipped).
Tip: Save money by buying the exact quantities of seeds and nuts at a weigh-and-pay store.
Save