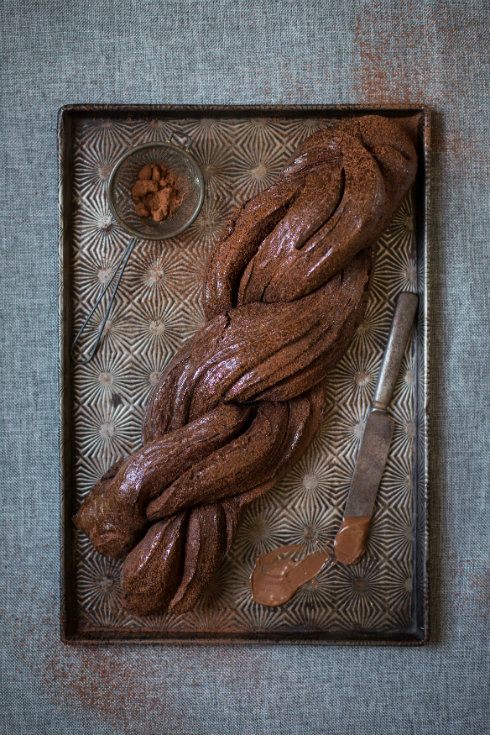 My sister is a keen baker. She specifically loves baking ciabatta loaves for her family and for dinner guests, and uses great quality stone ground flour for her bread. They also have a beautiful little outdoor pizza oven at the farmhouse where they live in Somerset West, which bakes amazing pizzas in just 2-3 minutes – fantastic.
My sister also loves baking cakes and pastries. She has dozens of little colourful page markers inside her food magazines that she uses as recipe references, and have passed quite a few of her favourite recipes on to me.  Last year, she gave me a 10 page spread from Rooi Rose of July 2013 featuring amazing bread recipes and baking tips. I use it as a reference often!
So when I got the idea of baking a chocolate brioche, I first consulted my sister's baking references, then my trusted range of recipe books at home. Strangely, none of them contained a recipe that I liked. I was looking for a dark brown all-chocolate loaf, not a white loaf with a chocolate filling (which can also be amazing, by the way). In the process I came across Herman Lensing's recipe for a chocolate brioche that he did for Sarie Kos – a rich buttery loaf with a chocolate filling and a chocolate sauce drizzled over the top. I decided to adapt Herman's recipe for what I had in mind, and serve it with lashes of Nutella chocolate hazelnut spread.
Herman's recipe makes 2 large loaves, which I found can sometimes be a little too much for a small household. I halved the recipe, but kept some more yeast in the list of ingredients for the smaller mixture to rise as well as the large mixture does.
This is a recipe that I'll be passing back to my sister for her collection – such an indulgent treat, especially for breakfast on a rainy Winter's weekend. Enjoy!
Note: The dough needs to rest overnight in the fridge, so remember to start the process the night before if you want to eat it freshly baked for breakfast.
Ingredients: (makes 1 large loaf)

 450g cake flour
50g (1/2 cup) cocoa powder, sifted
50g (60ml or 1/4 cup) caster sugar
15g instant dry yeast (1 and a half sachets)
10g (10ml) salt
6 XL eggs
250ml butter, cut into small blocks
1 egg, lightly whisked
Method:
Using a stand mixer with K-beater attachment, place the flour, cocoa powder, caster sugar, yeast, salt and eggs in the bowl of the mixer and mix on medium speed for 8 minutes. You should have a stiff dough mixture.
Now add butter a bit at a time, mixer running, until all the butter has been incorporated. You should have a smooth sticky dough.
Place dough in an oiled bowl and cover, then refrigerate overnight to rest.
Turn the mixture out on a floured surface, then roll it out to a thickness of about 1cm. Fold the dough and repeat 2 times. Now roll it up and place inside a greased bread tin, OR cut into 3 strands and plait for a different look (place on a greased baking tray). Leave the dough in a warm area to rise for 60-90 minutes, until double in volume.
Pre-heat the oven to 180C for at least 15 minutes, then brush with the whisked egg and bake for about 30 minutes until done. Serve warm with lashings of Nutella spread.
Credits:
This post was originally written for The Pretty Blog by Ilse van der Merwe from The Food Fox.
Recipe, food preparation and text: Ilse van der Merwe
Photography: Tasha Seccombe
Styling: Nicola Pretorius