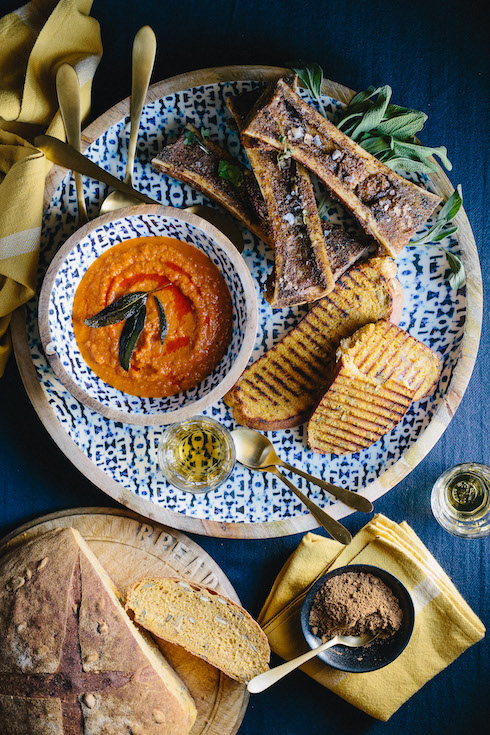 There are few things that beat the smell of freshly baked bread. But have you smelled oven roasted tomatoes? Man, that is something very special. It permeates your house with a sweet and savoury umami fragrance that is second to none.
I've put together a menu for the ultimate wintery soup night in. Oven roasted tomato soup has been one of the favourites for many years, so I've decided to serve it this time with a deliciously chewy pumpkin loaf and roasted garam masala marrow bones instead of butter.
Because all three recipes need oven time, start with the soup. While it's in the oven, make the bread dough. Then when the bread is baking, prep the garam masala. Roast the marrow bones right before serving everything.
Oh, and I'm also going to tell you how to make your own super fragrant garam masala. It will change your spice game in a huge way.
Bon appetit!
Roasted tomato soup: (serves 6)
about 16 large ripe tomatoes
2 cans whole tomatoes
200 g (about 4 large) leeks
1 carrot, peeled
4 garlic cloves
a handful thyme sprigs
30 ml olive oil
30 ml sugar
15 ml salt
15 ml red wine vinegar
250 ml crean
Preheat oven to 180C. Chop the tomatoes in batches in your food processor. They don't have to be very fine, just chopped. Add it to a large deep rectangular roasting pan or a wide deep dutch oven. Process the canned tomatoes to a pulp and add it to the pan. Pulse the leeks, carrot and cloves into pieces, then add it on top of the tomatoes. Place the thyme sprigs on top, then drizzle all over with olive oil and sprinkle with the sugar, salt and red wine vinegar. Without stirring too much (just flatten the surface) place into the oven and roast for 2 hours, stirring well every 30 minutes. The mixture should get toasty on the edges and reduce by about 25 %. When it is read, remove from the oven, then remove the stalks of the thyme. Use a ladle to transfer the mixture to a pot, then use a stick blender to blitz to a smooth pulp. Because your using the tomatoes skins and all, your soup with still be chunky – that's the way I prefer it. Add the cream and mix well. Check the seasoning and add more sugar, salt and vinegar if needed. Cover and set aside until ready to serve. To serve, drizzle with more cream or olive oil and your choice of herbs or croutons.
For this shoot, we got our hands on the fabulous new collection of Haus tableware by Hertex. Go to your nearest showroom to see the full collection, it is absolutely gorgeous!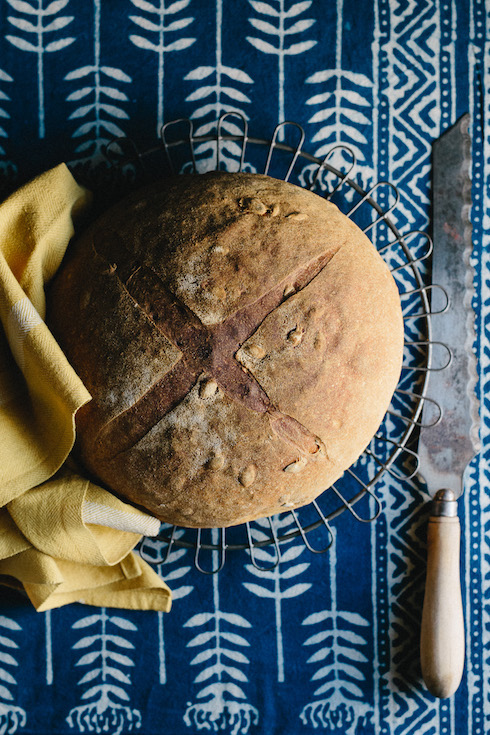 Pumpkin bread: (makes one large loaf)
1 small butternut or pumpkin
4 cups stone ground white bread flour
10 ml salt
7,5 ml instant yeast
10 ml mixed spice
125 ml pumpkin seeds
about 1/2 cup water
Peel the butternut and cut into chunks. Boil in water until tender, then process to a pulp. You'll need about 2 cups processed pumpkin pulp for the bread. Set aside to cool slightly, but use it while still slightly warm.
Place the flour, salt, yeast, spice and seeds in a large bowl. Mix well. Add the cooked pumpkin and water and stir until it starts to come together. Use your hands to shape it into a soft pliable dough, kneading it until it is smooth (about 5-10 minutes). Add a little more water or flour if necessary. Shape into a smooth ball, then place on a lined baking tray. Cut a cross shape on the top, then cover with a plastic bag to rise until doubled in size. When ready, bake at 220 C for about 45 minutes until golden brown and cooked. Remove from the oven and let cool on a rack. Serve the slices toasted or untoasted with butter or with roasted marrow bones.
Make your own garam masala:
30 ml cumin seeds
30 ml coriander seeds
30 ml fennel seeds
3 cloves
10 green cardamom pods
2 black cardamom pods
2 star anise
15 ml black peppercorns
1 cinnamon stick or cassia bark
2 bay leaves
Place all the ingredients in a wide pan, then dry roast them over medium-high heat until the mixture becomes fragrant. Transfer batches to a spice grinder, then store in an airtight container.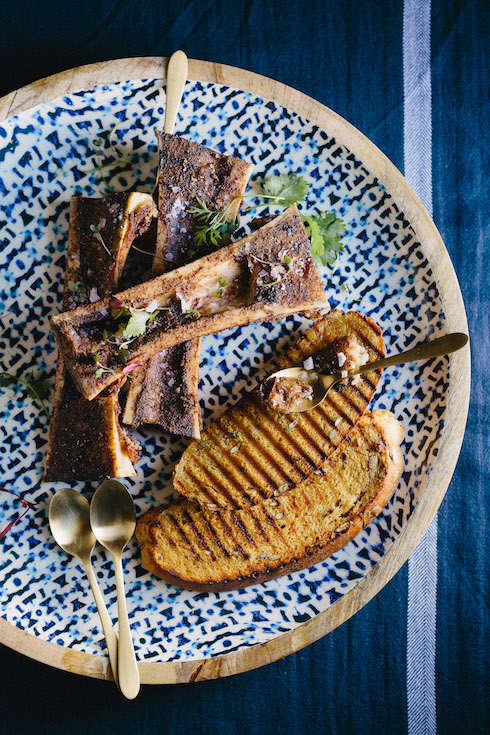 Roasted marrow bones:
3 marrow bones, sliced in half horizontally (ask your butcher)
15 ml garam masala (see above)
15 ml olive oil
salt flakes
Pre-heat oven to 220 C. Place the marrow bones cut side up in a roasting tray lined with foil or baking paper. Mix the garam masala with the oil to form a paste. Rub the paste all over the bones. Roast for about 25 minutes or until fully cooked. Serve at once, with toasted bread.