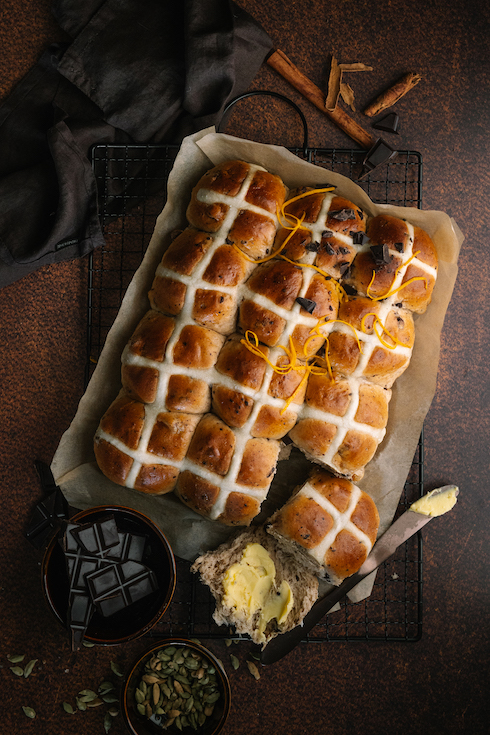 Friends, the Easter weekend is here and I would love to share this homemade hot cross bun recipe with you. I didn't think that it was possible to get so close to the texture and taste of the kind of store-bought hot cross buns that I love (fluffy, fragrant, freshly baked, delicately brioche-y) with a home recipe, but I think these are pretty authentic!
Thank you to the team of Roodeberg Wine for the opportunity to work on this campaign – I loved every second.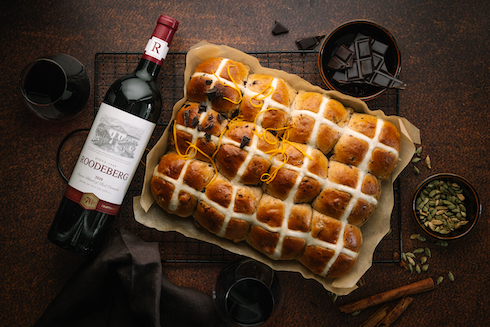 Note: This recipe uses a stand mixer to make beautifully classic, fluffy hot cross buns. The cardamom & dark chocolate provide lovely depth of flavour and complex bitterness that really pairs well with the Roodeberg Red Blend – omit the cardamom & dark chocolate chips if you prefer a more traditional bun.
Ingredients: (for 12 large or 20 medium buns)
630 g (4,5 cups) white bread flour, plus extra for kneading
150 g (2/3 cup) caster sugar
10 g (15 ml) instant yeast
7,5 ml (1,5 teaspoons) salt
10 ml (2 teaspoons) ground "mixed spice"
10 ml (2 teaspoons) ground cinnamon
4 cardamom pods, seeds ground with a pestle & mortar (husks removed)
60 g (1/4 cup) butter, melted
375 ml (1,5 cups) milk
1 XL egg
1 cup (130 g) sultanas / golden sultanas
zest of an orange, finely grated
80-160 g dark chocolate, chopped into chunks
For the stripes: (Note: you can leave out the stripes if you want to!)

1/2 cup (70 g) flour
75 ml (5 tablespoons) water
For the glaze:
30 ml smooth apricot jam
15-30 ml water
Method:
In the bowl of a stand mixer fitted with K-beater, add the flour, sugar, yeast, salt and spices and mix well. Add the butter, milk, egg, sultanas and orange zest and mix for a minute. Change to the dough hook, scrape the sides, and continue to mix for 5 minutes. Add the chocolate chips and mix for 1 minute. Turn the sticky dough out onto a lightly floured surface and knead into a smooth ball – adding a little more flour if necessary. Place the dough in a bowl, cover with plastic and leave to proof for 1,5 hours. In the meantime, line a large deep roasting tray with greaseproof baking paper.
Turn out the dough and punch it down, then divide it into 12 equal parts (for large buns) or 20 equal parts (for medium), shaping them into smooth balls by pinching any edges together at the bottoms. Flatten each ball slightly, then arrange in the prepared pan with some space in-between for rising. Cover with plastic and leave to rise for 30-45 minutes until almost doubled in size. In the meantime, preheat the oven to 180 C. When the buns are ready, mix the flour and water for the stripes, place in a piping bag with thin nozzle/hole, then pipe those classic "hot cross bun stripes/crosses", easing the batter lines into the dips between the buns. Bake at 180 C for 25-30 minutes or until golden brown and fully cooked, then leave to cool in the tins (don't be tempted to eat them straight away, they need some time to settle otherwise they will seem undercooked). Serve warm or at room temperature, or toasted, with lashings of butter (and optionally jam).
Recipe developed exclusively for Roodeberg Wine.
Photography by Tasha Seccombe.