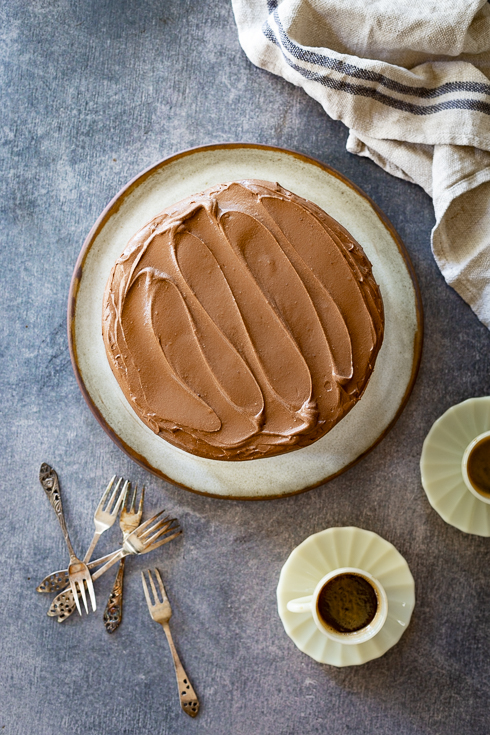 Is there anything in the world more tempting than a decadent, freshly baked piece of chocolate cake served with a cup of freshly brewed quality coffee?
I recently teamed up with Kenwood South Africa by welcoming their new Espresso Machine with integrated grinder into my home – a beautifully made stainless steel machine that has been bringing us a lot of joy in the mornings by making superb coffees and espressos. I love a manual espresso machine and prefer the involved craft to an automated machine. But the coolest bonus feature is the integrated grinder, meaning you can pour freshly roasted beans into the top funnel and press a button to get just the right amount of ground coffee directly into your pod filter. You can even adjust the grinding level with a bezel on the side.
I have now also mastered the steam nozzle and have been making "real deal" microfoam to go with my flat whites. It's such a pleasure to finally figure this out! I'm not pouring patterns yet, but coffee making is certainly becoming a true passion.
There are many recipes where you can use freshly brewed coffees and espressos as an ingredient, so I've decided to bring you this easy, decadent, super moist, dark chocolate cake that features a strong cup of coffee in the batter (I've actually used 3 shots of espresso in my cup) and about half an espresso in the chocolate cream cheese frosting. The result is a deeply flavourful chocolate cake with a hint of bitter coffee – not overpowering at all.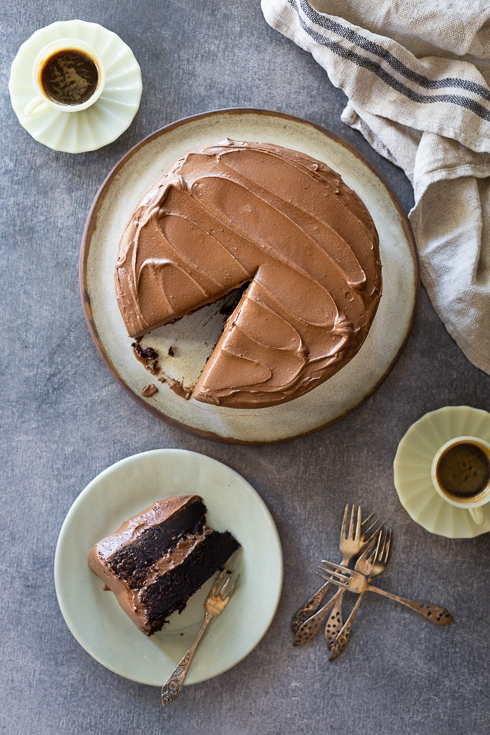 The chocolate cream cheese frosting is very soft at room temperature in warm weather (almost like a soft mousse), so it's best to store the cake in the fridge and serve it either cold or at room temperature. It will keep well for at least a week, if refrigerated, so it's a great do-ahead dessert or tea time treat.
This machine retails for around R8 999 on various online platforms and in stores. Thank you Kenwood for bringing such joy into my home! I cannot wait to try out more coffee recipes.
(Shop this Kenwood Espresso Machine on Yuppiechef.)
Note: This recipe is based on an unidentified magazine cut-out for a fabulous "chocolate coffee cake" that my aunt Ena Coetzee from Wellington sent to me many years ago. She's been baking this cake for decades, icing it with a simple, thick cocoa glaze. I've baked and adapted it many times for different occasions, but the original cake recipe is one of the best I've ever come across. I do prefer the cream cheese frosting to a glaze, but you can top it with your favourite chocolate or coffee based recipe for frosting (buttercream or glaze etc.) , if you don't like cream cheese frostings.
Take a look at my how-to video:
Ingredients: (makes a 20cm 2-layer cake)
For the chocolate coffee cake:
280 g (2 cups) cake flour
70 g (3/4 cup) cocoa powder
7 ml (1,5 teaspoons) baking powder
10 ml (2 teaspoons) baking soda
2,5 ml (1/2 teaspoon) salt
400 g (2 cups) light brown sugar
2 XL eggs
250 ml (1 cup) milk
125 ml (1/2 cup) canola oil or olive oil
5 ml (1 teaspoon) vanilla extract
250 ml strong coffee (I brewed a triple espresso coffee)
For the chocolate cream cheese espresso frosting:
2 x 230 g plain cream cheese, at room temperature
125 g soft butter
5 ml (1 teaspoon) vanilla extract
375 g (3 cups) powdered icing sugar, sifted
50 g (1/2 cup) cocoa powder, sifted
15 ml (1 tablespoon) brewed espresso, cooled to room temperature
Method:
For the cakes: Preheat the oven to 180 C and line 2 x 20cm loose bottom cake pans with non-stick baking paper (and spray with non-stick spray). Sift the flour, cocoa powder, baking powder, baking soda and salt together in a large mixing bowl. Ass the sugar and stir to mix. In a second bowl, add the eggs, milk, oil and vanilla. Mix well using an electric whisk, then add the egg mixture to the flour mixture and whisk until well mixed. Add the coffee and mix well, then pour into the prepared tins and bake at 180 C for 40 minutes. Remove from the oven and leave to cool completely in the tins. In the meantime, brew a single espresso and leave to cool.
For the frosting: In a medium-large mixing bowl, add the cream cheese, butter and vanilla and whisk until very creamy. Add the sifted icing sugar and cocoa powder, and carefully whisk until fully incorporated. Add the espresso and whisk until very creamy. At this point the frosting will be very soft, so you can refrigerate it for 1 hour to firm up if the weather is warm. To assemble, place one layer of cake on a cake plate, top with frosting, them top with the second layer of cake and frost all over. Neaten the edges by wiping off any excess frosting, them refrigerate the cake to firm up and set. Serve at room temperature or straight from the fridge, with a cup of freshly brewed espresso of coffee of your choice.
Note: This recipe was created in collaboration with Kenwood South Africa. All recipe content, photography and videography by Ilse van der Merwe. Video music by Hooksounds.com.