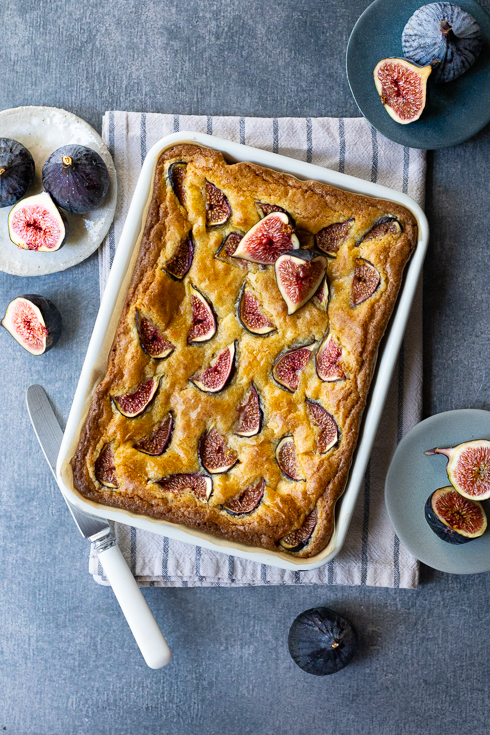 It is fig season in the Boland and I couldn't feel more inspired! These must be some of the most beautiful fruit known to mankind – "dark with drama" on the outside, jammy soft and lusciously ruby on the inside. I grew up with the soft, light green variety of figs in our home garden. They were OK, but we never really loved them. Fast forward a few decades and I now know and adore quite a few varietals of figs, and I honestly love every single one.
My go-to way of enjoying figs will always be fresh, as part of a simple cheese board with preserves and fresh bread, or with extra virgin olive oil and aged balsamic in a caprese salad. But when it comes to baking, the possibilities are endless. I've posted my favourite fig frangipane tart some time ago – I make this tart every year during fig season a couple of times, it's such an elegant dessert. But the other day I wanted to try something new, so I thought of my friend Anele Horn's delicious raspberry blondies that she made at a dinner party a few months ago. She said the original recipe called for rhubarb and strawberries, so surely it should work with figs?
She sent me the link of the original recipe from Taste Australia, and I adapted it for the size of my small new cream enamelware tin (how beautiful?), reduced the sugar content (because my ripe figs were definitely sweeter than rhubarb) and simplified some of the steps. The results are absolutely dreamy: golden edges that are perfectly chewy and caramelized, the figs omitting a royal perfume and jammy texture, the centre gooey and fudgy with pockets of white chocolate chips. I'm going to be making these a few more times this season, that's for sure!
PS: Thank you XTN Family Farm for the beautiful figs that I've had the privilege of experimenting with over the last week. If you are interested in buying +-750-800g boxes of fresh figs weekly from these Wellington-based orchards (seasonal; limited; Stellenbosch-based distribution), give me a shout and I'll send you a price list: [email protected].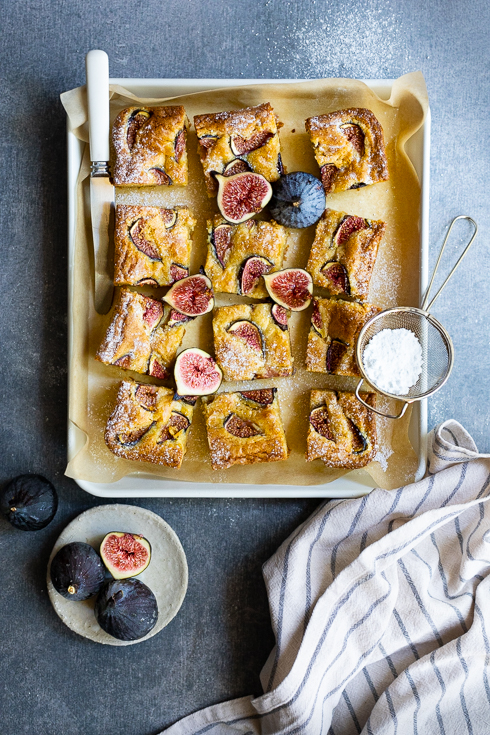 Ingredients:
100 g butter, chopped
240 g white chocolate, chopped into small chunks
3/4 cup (180 ml) caster sugar
5 ml (1 teaspoon) vanilla extract, or 10 ml (2 teaspoons) vanilla essence
2 XL eggs, lightly beaten
1 ,25 cups flour (310 ml/175 g) white bread flour or cake flour
5 ml (1 teaspoon) baking powder
1 ml (1/4 teaspoon) salt
about 4 medium-large ripe figs, sliced into quarters or wedges
Method:
*Note: I used a 17 x 23 cm enamel baking tin, which is not a regular size. You will get the same results with a 20 x 20 cm square tin, or a 16 x 26 cm oven dish – anything slightly bigger will also do, but don't go smaller.
Preheat the oven to 180 C with oven rack in center of oven. Line a suitable baking tin (at least 3,5 cm deep, see *note above) with non-stick paper. Place the butter and 2/3 (160 g) of the chopped chocolate in a microwavable medium size mixing bowl and microwave for 30 seconds. Stir, then continue to microwave for another 30 seconds and stir. Leave to heat through and melt completely for about 5 minutes, stirring now and then. Now add the sugar, vanilla and eggs to the melted chocolate mixture and stir until well mixed with a spatula or wooden spoon (do not whisk). Sift the flour, baking powder and salt together, then stir it into the butter mixture until just combined. Finally, add the remaining 80 g chopped white chocolate and fold in until evenly distributed, then scrape the mixture into your prepared tin. Use a spatula to create a flat even layer that reaches all the corners, then top all over with fig quarters/wedges, pressing them into the mixture. Bake for about 40-45 minutes or until the edges turn golden brown and the centre has a golden colour all over. Remove from the oven and cool completely in the tin. To slice, tug on the baking paper edges and remove the blondie slab from the tin onto a chopping board. Slice into squares, then remove the paper. Refrigerate in an air tight container, and enjoy straight from the fridge or at room temperature. (Should last in the fridge for at least 3-4 days.) Can also be served as dessert, at room temperature, with a dollop of whipped cream.