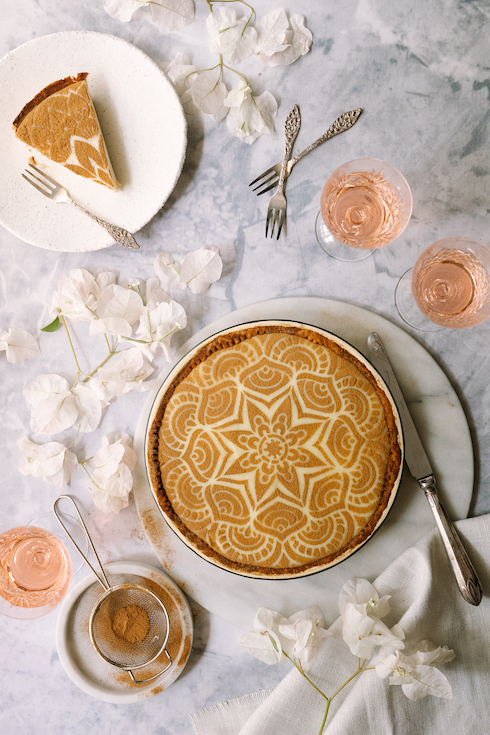 Today is National Milk Tart Day! I didn't even know a national day like this existed, until the team of KWV Roodeberg asked me to assist with creating a recipe to pair with their beautiful Roodeberg Rosé.
In the process, I proceeded to test all kinds of milk tarts: baked, unbaked, stove top filling, condensed milk filling, cookie crust, blind baked crust, store bought puff pastry crust – you name it! And the following recipe has won my vote: a blind baked buttery crust with a stove top cooked filling consisting of milk and cream, thickened with flour and corn starch, enriched with whole eggs, infused with lemon rind, almond essence and vanilla. While many people might think the list of ingredients look long, I can promise you that I've simplified the method and it is seriously easy (and forgiving) to make. I specifically wanted to side step the part where you needed to fold in whisked egg whites into an already cooked stove top custard mixture, before getting baked, meaning that it is actually cooked twice. Just too many steps and too many dirty bowls and pots!
This milk tart is softly set, which means that it slices best when served straight from the fridge. I love eating it cold or at room temperature. And the best part is that the crust doesn't get soggy over time, it stays flaky and crunchy!
Using a stencil for sifting ground cinnamon just lifts this simple tart to the next level. I bought a bulk pack of 12 mandalas and now I can sift so many beautiful patterns on my tarts and cakes – it's a game changer. The trick is to wait until the custard is set before placing the stencil on top, and to keep the stencil really close to the surface (ask a friend to hold it in place) while you sift the cinnamon. This way you get really crisp lines that will stay that way.
The floral notes of the Roodeberg Rosé (rose petal, Turkish delight, raspberry) playfully picks up the aromatics of almond, vanilla and citrus in the milk tart filling. It's an unusual and fun combination!
Quick note: to simplify this recipe even further, you can substitute the cream for more milk of the same quantity, and leave out the lemon rind and cinnamon stick infusion while heating the milk. Also, if you don't like the taste of almond essence, just leave that out too. I personally adore all of these flavour elements, but they're not essential!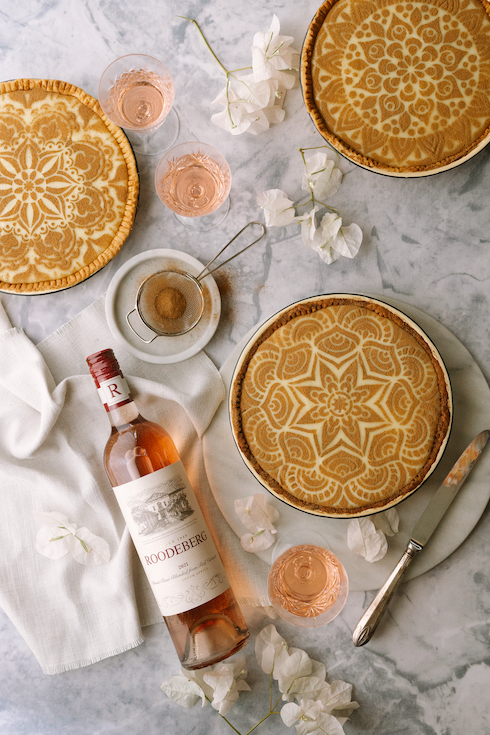 Ingredients: (makes 1 medium size milk tart)
For the crust:
1,5 cups (220 g) cake flour
1/3 cup (45 g) powdered icing sugar
1/4 teaspoon (1 ml) salt
125 g cold butter, cubed
1 XL egg yolk
1 tablespoon (15 ml) iced water
Spray a 22-23cm round tart tin/dish with non-stick spray and set aside. Place the flour, icing sugar and salt in the bowl of a food processor and pulse to mix. Add the butter and process until it resembles fine bread crumbs. Add the yolk and cold water and continue to process on low speed until it just starts to come together in clumps. Turn out into the tin and press evenly into a thin layer all over the bottom and up the sides (you might not need all of the pastry). Trim the edges, prick all over with a fork and place in the freezer. Now turn on your oven to 190 C with rack in the center to preheat while the dough firms up. After 20 minutes, transfer the cold tin to the oven and bake for 15-20 minutes until golden brown. Remove from the oven to cool while you make the filling.
For the filling:
2 cups (500 ml) full cream milk
2 tablespoons (30 g) butter
2 strips lemon rind, thinly peeled (optional)
1 stick cinnamon (optional)
1/2 cup (125 ml) cream (or substitute with more milk)
1/2 cup (100 g) sugar
2 XL eggs
3 tablespoons (45 ml) corn flour / Maizena
2 tablespoons (30 ml) cake flour
1 teaspoon (5 ml) vanilla extract
1 teaspoon (5 ml) almond essence
1-2 teaspoons ground cinnamon, for dusting
Place the milk, butter, lemon rind and cinnamon stick in a pot on the stove top over medium heat. When the milk mixture just starts to boil, remove the pot from the heat and leave to steep while you get the egg mixture ready. Place the cream, sugar, eggs, corn flour, cake flour, vanilla and almond essence in a mixing bowl and mix well with electric beaters.  Remove the rind and cinnamon stick from the warm milk, then pour the cream and egg mixture into the warm infused milk, stirring continuously. Place the pot back over medium heat and stir continuously until the mixture starts to thicken (2-3 minutes). Turn down the heat to very low and continue to stir until the mixture is very smooth, thick and glossy (1-2 minutes) – taking care not to let the bottom burn. Remove from the heat and pour into the baked pastry case. Smooth the top and leave to cool to room temperature. To use the stencil: place it gently on top of the cooled tart, then sift cinnamon all over to reveal the pattern. Lift the stencil and serve at room temperature. Store in the refrigerator, covered, for up to 3 days.
Tip: If your custard mixture seems to have thickened with some clots, use electric beaters to make it silky smooth before you pour it into the prepared base. It's quite forgiving!
(This recipe was proudly and exclusively created for KWV Roodeberg Rosé for Milk Tart Day 2022.)