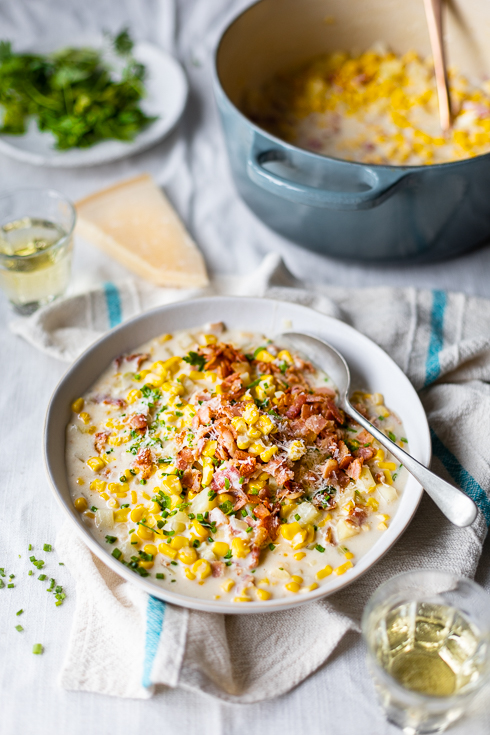 This creamy corn chowder delivers on all fronts – it is very simple to make, incredibly flavourful, packed with all kinds of wonderful crunchy (and soft) textures, and it's a comforting and satisfying dinner any day of the week. The cool thing is, it can also double up to be a popular crowd-pleasing starter or festive canapé, served in small bowls.
There are two vegetables that I always keep handy in my freezer: shelled peas and cut sweet corn. My daughter has loved both since she was very young, and this way I could conveniently cook small side portions in the microwave whenever I needed to make her a quick lunch after school or to go with our mid-week chicken schnitzels along with a creamy cheese sauce. McCain's frozen vegetables are frozen at their freshest after a quick blanche, which means that you can conveniently steam or cook just the amount you need for a short time, with all the nutrients in tact and zero wastage.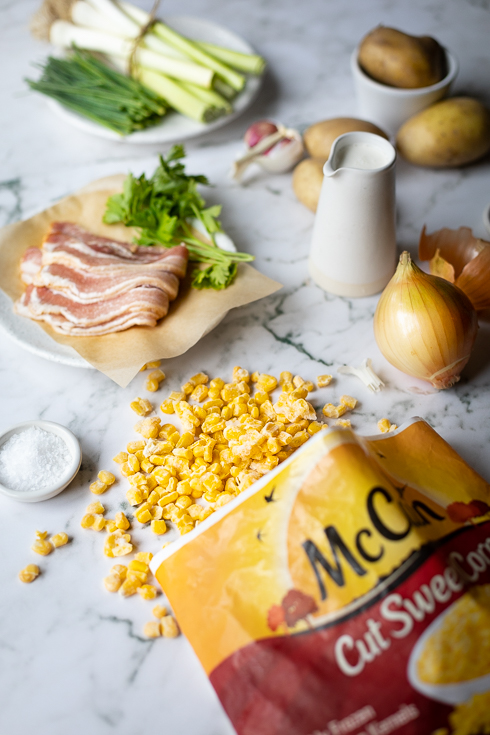 I've teamed up with McCain South Africa to bring you one of my all-time favourite, super easy recipes using their cut sweet corn: a creamy corn chowder with bacon, potatoes, leeks and lots of chopped chives and parsley. It cooks in 30 minutes max from scratch in one pot, it is popular with adults and kids alike and it is packed with flavour, texture and nutrients. It also reheats well so it can be made in advance and topped with fresh herbs upon serving.
Sign up to McCain's #MadeWithMcCain newsletter and you can stand the chance to WIN a Philips Advance Airfryer (offer valid until 15 December 2021).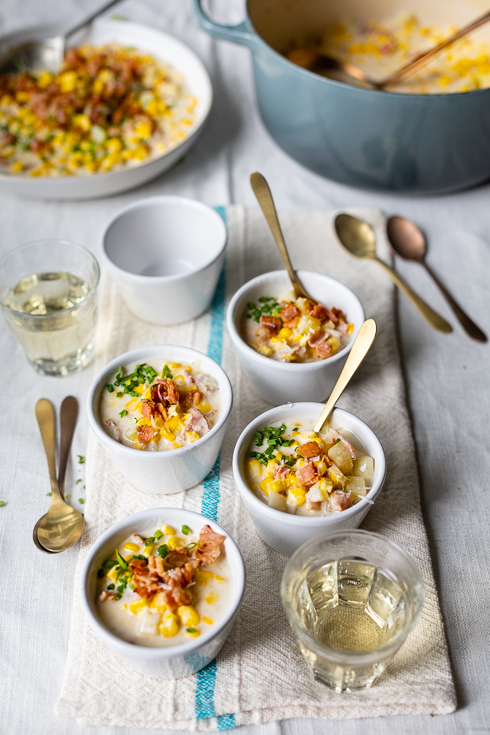 Ingredients: (serves 4 – 6 guests as a midweek lunch/dinner, or a larger crowd when served in cups as a warm canapé or snack)
30 ml (2 tablespoons) olive oil
1 onion, finely chopped
300 g leeks, finely sliced (use white parts only; weight is for whole leeks)
2 garlic cloves, finely chopped
250 g smoked streaky bacon, chopped (plus extra for serving, optional)
500 g or 4 medium potatoes, peeled & diced
750 g McCain Cut Corn, frozen
500 ml (2 cups) warm chicken stock
250 ml (1 cup) milk
30 ml (2 tablespoons) corn flour
250 ml (1 cup) fresh cream
salt & pepper, to taste
1/2 cup parmesan cheese, finely grated (or strong flavoured cheese of your choice)
a handful chives and/or Italian parsley, finely chopped, to serve
Tip: Prepare/chop all the ingredients as set out above and have them on hand before you place the pot on the heat.
In a medium pot over medium heat, add the oil and onion and fry until soft and translucent but not brown. Add the leeks & garlic, fry until lightly golden, then remove from the pot and aside. Add the bacon to the same pot, frying until golden brown, then add the fried onion mixture back into the pot along with the cubed potatoes and frozen corn (no need to thaw). Add the stock and 180 ml (3/4 cup) of the milk – mix the remaining 60 ml (1/4 cup) of milk with the corn flour and add it to the pot as well. Add the cream and stir well to loosen any sticky bits on the bottom. Season with salt & pepper, bring to a simmer, cover with a lid and cook for 15 minutes or until the potatoes are tender. Taste and adjust seasoning if necessary, then remove from the heat, add the cheese and stir through to melt. Serve hot in bowls, topped with chopped chives/parsley, extra fried bacon bits and more grated cheese, if you want to.
(This post was created in proud collaboration with McCain South Africa.)