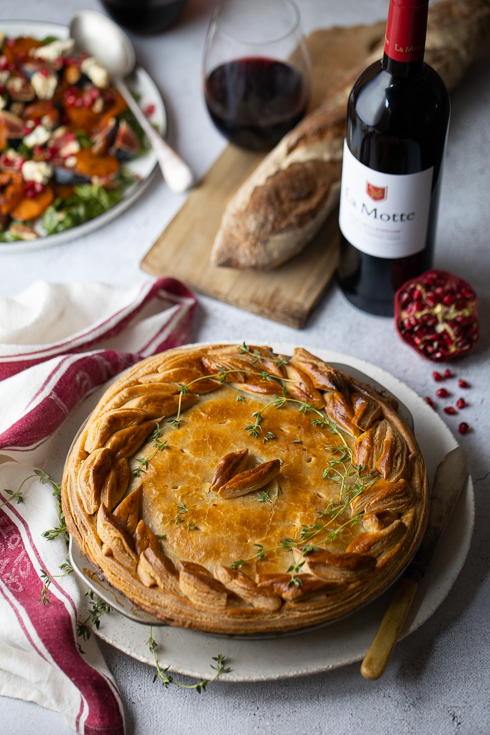 Easter is around the corner and I just had the privilege of creating an Easter-inspired recipe for La Motte with their iconic 2018 Millennium – a Merlot Cabernet Franc red blend. 
I immediately thought of the (also iconic) French chicken stew, coq au vin – a delightful dish made with red wine, mushrooms and onions, perfect for the cooler Autumn weather in the Boland. But for an Easter celebration, I really wanted to go the extra mile and turn the stew into a scrumptious (boneless) pie with a royal homemade sour cream pie crust.
Making pie from scratch is not a quick meal, but it is certainly one of the most rewarding. My advice would be to start the day before, making the pastry (it needs quite a bit of folding and rolling) and making the stew. Let the stew cool, debone it, and refrigerate. Then assemble the pie about an hour and a half before you want to serve it – take your time with cutting out extra shapes using a cookie cutter or just a small sharp knife. I cut all my leaves by hand, making the grooves with the edge of the knife. This pie is quite saucy, so I prefer not to line the base of my pie dish, but to rather go over the top with pie shapes on top so that they stay super crisp. Bake any delicate or elaborate shapes on a separate lined baking sheet, brushed with egg wash and sprinkled with salt flakes – the baking time will be shorter than the assembled pie, so just keep an eye on it (about 25-30 minutes, depending on the size and thickness).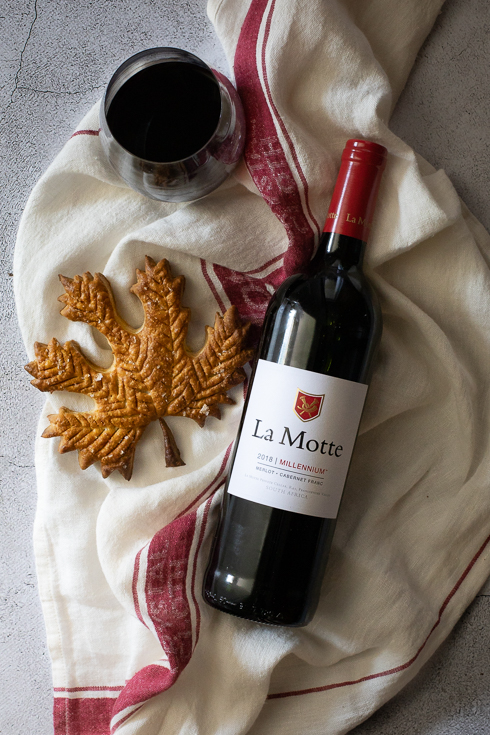 I served this festive pie with a luxurious seasonal salad of honey glazed butternut with figs, pomegranates, spinach, blue cheese and pecan nuts. The salad and the pie both pair exceptionally well with La Motte's 2018 Millennium, and the wine is available at 15% off between 15 March and 15 April 2021, available online or from the farm.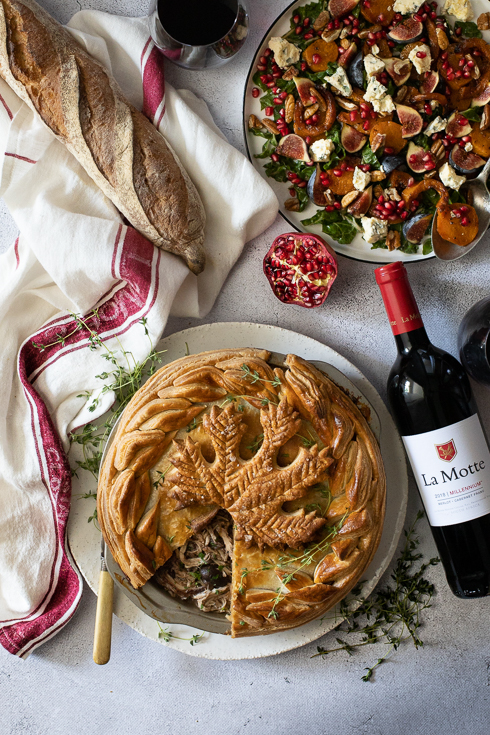 For the sour cream pastry:
Note: if you want to save time, use a good quality store-bought puff pastry instead for the crust.
3 cups (420 g) cake flour
5 ml (1 teaspoon) salt
250 g butter, cold, cubed
250 ml thick sour cream
1 egg, whisked, for brushing
In a large wide bowl, mix the flour and salt, then add the butter cubes, rubbing it into flat small discs with your fingers. When the cubes are all transformed into discs, add the sour cream and stir with a wooden spoon until it comes together in a rough ball (don't add any liquid, it will eventually become a soft ball of dough). Cover with plastic and rest the dough for at least 30 minutes (if it is a cool day, it can be rested on the counter top in a cool spot, but if it is hot, rather rest it in the fridge). Roll out into a rectangle on a floured surface, then fold into three layers (when facing horizontally, fold the right side to the middle, and the left side over both layers to the middle, making 3 layers). Immediately roll out again into a rectangle, and fold into three layers. Repeat a third time. Rest the dough for another 30 minutes. Now repeat the 3-part rolling and folding process. Rest again for 30 minutes. The dough is now ready to roll out into a 5 mm thick sheet (on a lightly floured surface) before cutting out and baking.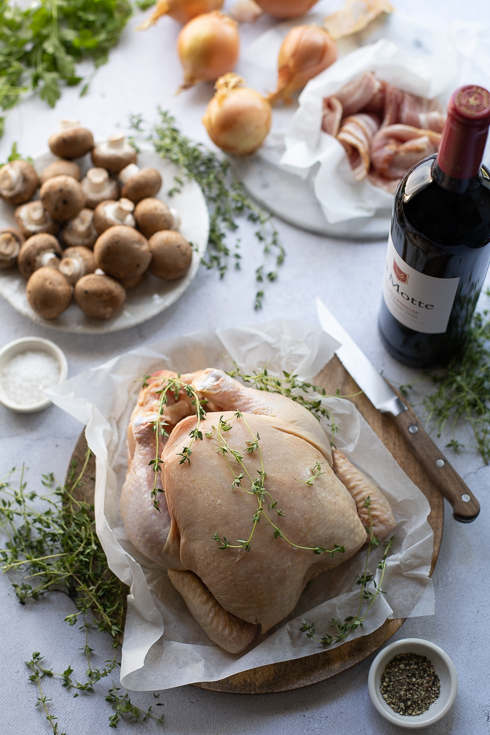 For the coq au vin:
45 ml olive oil
1 large free range chicken (about 1,5 kg), cut into quarters
salt & pepper
3 medium onions, sliced into 1/8 wedges
200 g streaky bacon, chopped
a generous handful thyme sprigs, leaves only (discard stalks)
30 ml (2 tablespoons) cake flour
15 ml (1 tablespoon) tomato paste
1/2 bottle (375 ml) dry red wine (I used La Motte's 2018 Millennium)
250 g portabellini mushrooms, halved
In a wide large pot/casserole with lid that can also go into the oven, over medium heat, add the chicken and fry on both sides until golden. Season with salt & pepper, then remove from the pot. Add the onions, bacon and thyme, and fry until the onions start to soften slightly and the bottom of the pot starts to turn sticky. Add the flour and tomato paste, and stir for a minute, then add the red wine and stir to loosen all the sticky bits on the bottom. Bring to a simmer, then replace the chicken quarters and add the mushrooms, pushing them down into the sauce. Cover with a lid and braise in the oven for about 1h15 minutes or until very tender and falling from the bone. Remove from the oven, turn the chicken pieces over, replace lid and leave to cool to a temperature where it is easy to debone. When cool, using tongs and clean hands, debone the chicken and shred the meat into chunks. Check the seasoning of the sauce and add more salt & pepper if necessary. Transfer the filling to a large deep pie dish and press down to create a flat surface. Now top it with the pastry.
Preheat the oven to 180 C. On a lightly floured surface, roll out the rested pastry to a large slab of about 5 mm thick. To cover your round pie dish with pastry, measure a circle slightly bigger than the dish, then cut it out with a pizze cutter or sharp small knife (the dough will always shrink back a little while baking). Carefully place over the pie dish, then use a fork to make indents on the edges (if you want to). Brush with egg wash, then cut more small decorative shapes to adorn the edges and centre, using a cookie cutter or a sharp small knife. Brush all the extra shapes with egg wash. Cut a few slits into the top for steam to escape, then bake for about 50 minutes on the centre rack until golden brown. Remove from the oven and serve hot.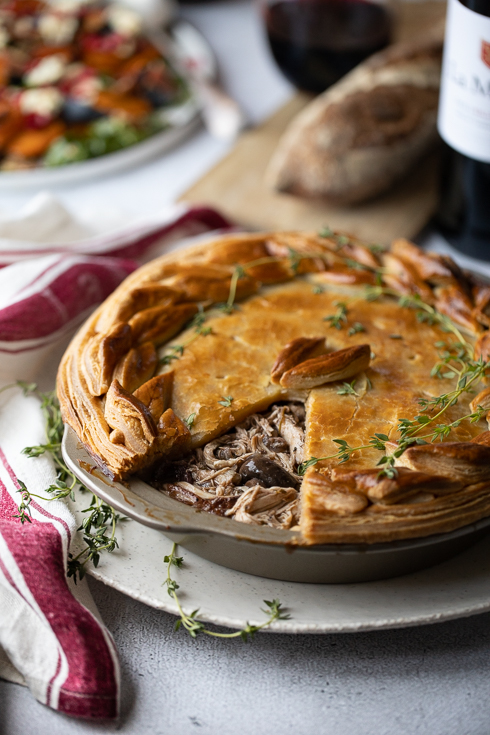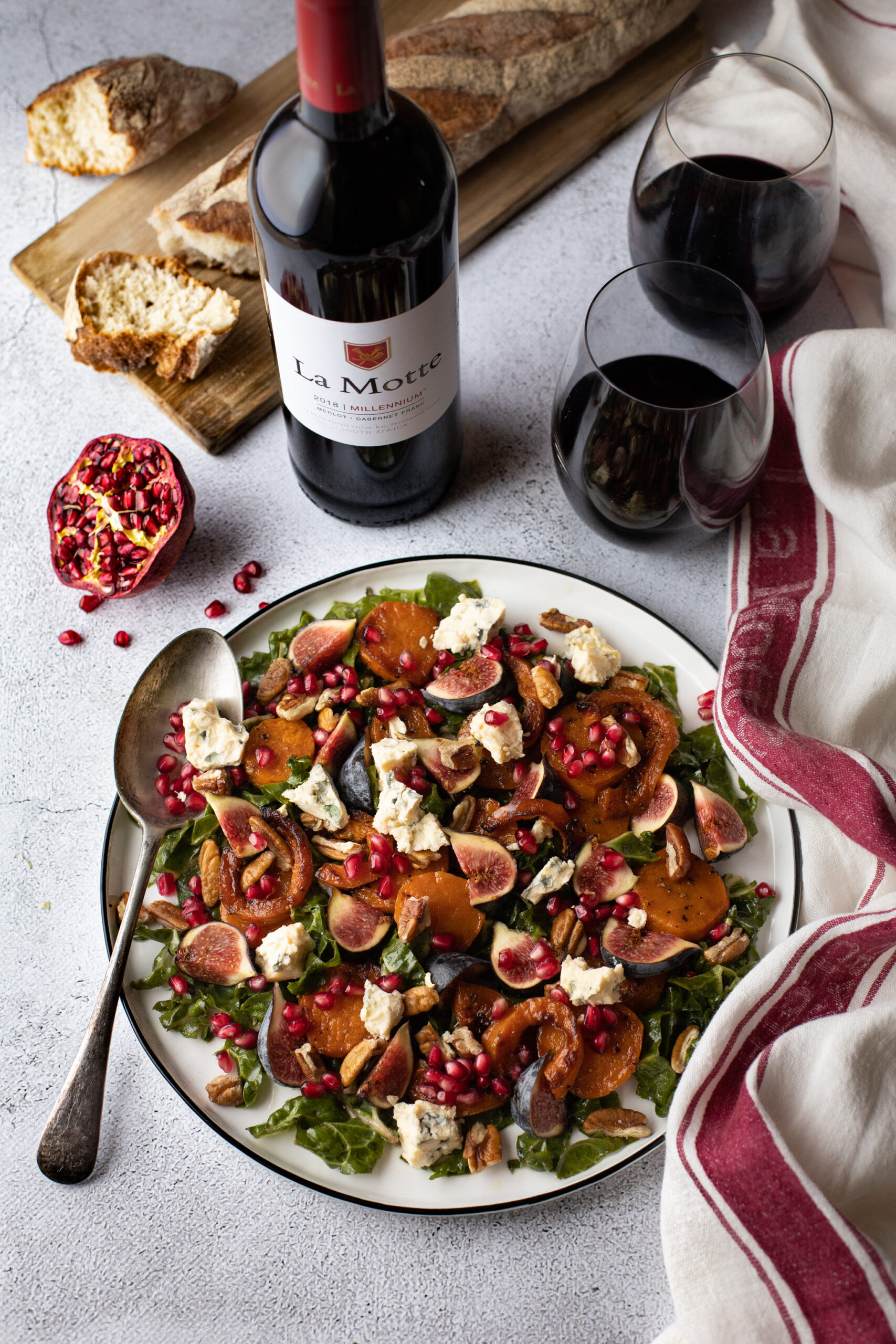 For the honey glazed butternut, fig, pomegranate & blue cheese salad:
Note: the glazed butternut can be made ahead before you bake the pie. Serve at room temperature.
1 medium butternut, peeled and sliced into 1 cm thick slices (remove seeds)
30 ml (2 tablespoons) olive oil
15-30 ml (1-2 tablespoons) honey
salt & pepper
dressing:

3 tablespoons olive oil
1 tablespoon apple cider vinegar (or lemon juice)
10 ml Dijon mustard
5 ml honey

about 150 g swiss chard spinach, chopped (stems finely sliced) – or use rocket leaves
6-8 ripe black figs, sliced
100 g blue cheese, crumbled
seeds of 1/2 ripe pomegranate
1/2 cup (50 g) pecan nuts, roughly chopped
Preheat oven to 220 C. Arrange the butternut on a large baking sheet lined with non-stick baking paper. Drizzle all over with olive oil and honey, then toss with a spatula to cover on all sides. Season with salt & pepper, then roast for 20-25 minutes or until brown on the edges and tender. Remove from the oven and let cool.
Make the dressing: add the olive oil, vinegar, mustard and honey to a small jar, season with salt & pepper and shake vigorously. Add the spinach to a mixing bowl, then add half the dressing and toss to coat all over. Transfer the dressed spinach to a salad serving platter, then add the glazed butternut, figs, blue cheese, pomegranate seeds and pecan nuts. Serve at once (the dressed spinach will continue to wilt on standing).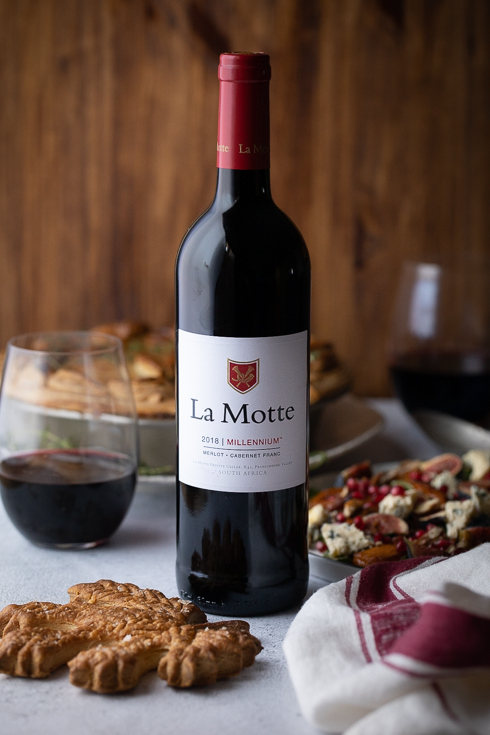 This post was proudly created in collaboration with La Motte Wines.