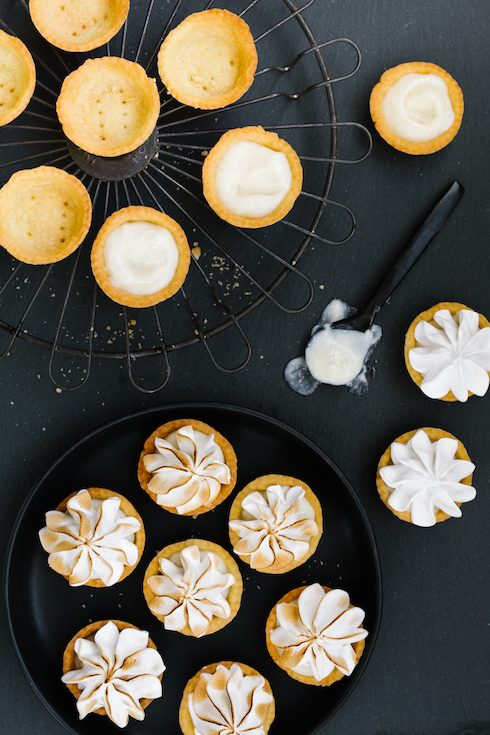 What is better than lemon meringue pie? The mini version. Why? Because popping one perfect miniature lemon meringue pie into your mouth in one bite is just immensely satisfying.
I usually make my lemon meringue pie crust using crushed cookies and butter, but these miniature casings work better with sweet shortcrust pastry (whip it up in the food processor). The simple filling of condensed milk and lemon juice contains no egg and thus need no baking (bonus). But the pièce de résistance is the thick and luxurious toasted Italian meringue topping. Do you need a sugar thermometer? Nope.
So if you've never had Italian meringue before, here's what you're missing out on: it's like the inside of a "Sweetie Pie" – that white marshmallow fluff that gets coated with chocolate and set on a round wafer. It is simply egg whites whisked with piping hot sugar syrup, cooking the mixture to a point that it is very stable, glossy and thick and needs no further baking. Using a kitchen blowtorch, you can optionally toast the edges to look really cool. No weeping golden droplets that are associated with classic lemon meringues. Just perfectly creamy, toasty, dreaminess.
I bet if you try these, you won't go back to regular lemon meringue pie for a long, long time.
Note: You'll need a mini muffin tin to make these. I use this recipe often when I cater for a crowd and the pies store very well. Keep covered in a refrigerator for up to 5 days.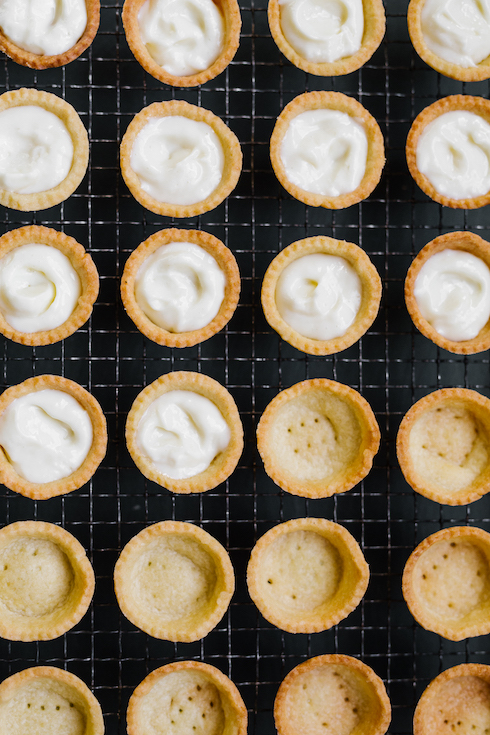 Ingredients: (makes at least 24)
For the filling:
1 can condensed milk
1/2 cup (125 ml) freshly squeezed lemon juice
Place the ingredients in a medium size mixing bowl and use electric beaters to beat until thick and smooth. Cover and refrigerate until ready to use – it will thicken more on standing.
For the pastry:
250 g cake flour
125 g cold butter, cubed
1/3 cup (80 ml) caster sugar
a pinch of salt
1 XL egg yolk
2-3 tablespoons ice-cold water
Place the flour, butter, caster sugar, salt and egg yolk in a food processor. Process well, then add the cold water little by little until the pastry comes together in a ball. Immediately stop processing, turn out onto a clean surface and press together into a disc shape. Cover with plastic wrap and refrigerate for 15-30 minutes.
Pre-heat oven to 180 C. Spray a mini muffin tray with non-stick baking spray.
On a floured surface, roll out the pastry to a thickness of 2-3 cm, then cut rounds of about 8 cm to line the insides of the mini muffin tray. Carefully nudge them into the holes, then use a fork to gently prick each pastry circle on the bottom. Bake for 8-10 minutes until lightly golden, then remove and set aside to cool. Repeat with remaining pastry.
For the Italian meringue:
300 g caster sugar
100 ml water
4 XL egg whites
Place the caster sugar and water in a small saucepan. Bring to a boil over high heat, swirling it around in the beginning to melt the sugar evenly. As soon as it comes to a rapid boil, set a timer for 5 minutes.
In the meantime, start whisking your egg whites until stiff peaks form. As soon as the syrup is ready (after boiling for 5 minutes) remove it from the heat and, with the whisk running on medium-high speed, pour the syrup in a small but steady stream into the egg whites until everything is incorporated. The mixture will be very hot. Continue whisking for about 10 minutes until the mixture has cooled to room temperature and has a thick, glossy texture. Cover and refrigerate until needed, or transfer to a piping bag fitted with the desired nozzle and use at once. I prefer using a twisted wide star-shaped nozzle.
To assemble:
Place the cooled pastry cases on a serving plate. Use a teaspoon to fill each case with a dollop of filling. Pipe the meringue filling neatly on top, then use a kitchen blowtorch to add a toasty finish. Serve at room temperature.