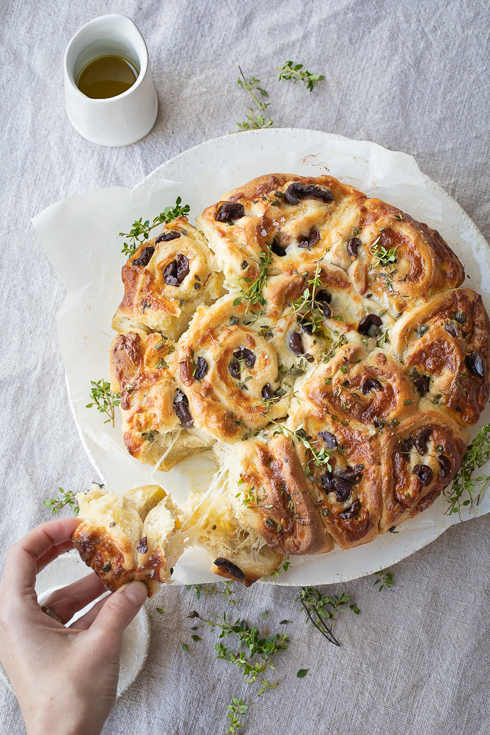 These pull-apart bread rolls are so good, they cannot be categorised as a side dish. They demand to be the showstopper of the table – golden and sizzling as it comes from the oven, packed with pitted kalamata olives, mozzarella, parmesan, capers and thyme, and drenched with only the best extra virgin olive oil. In its essence, it's a soft type of pizza bianca – easy to make, but with maximum results.
Cooking and baking with extra virgin olive oil is something that I do daily. In this case, the EVOO is in the dough, it get's drizzled over before rolling the dough up, and it gets drizzled again once the bread comes from the oven. The oil lends a fresh and vibrant flavour to the rolls, and assures that they have a pleasant "wet" mouthfeel here and there. The bread don't need anything else – in fact, after photographing it, we had it for lunch ánd dinner, as is. My plan was to add boerewors and a salad, but we were blinded by the bread, love at first bite.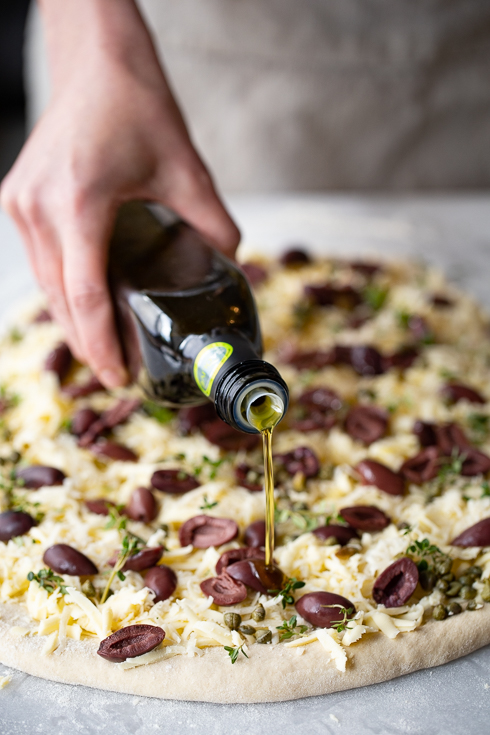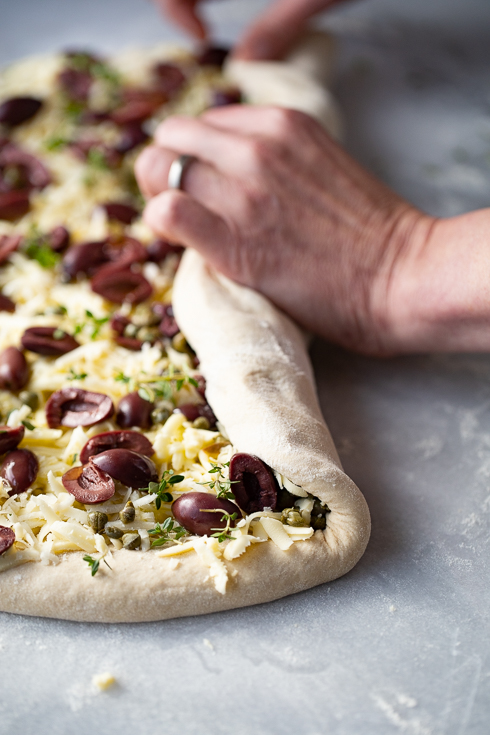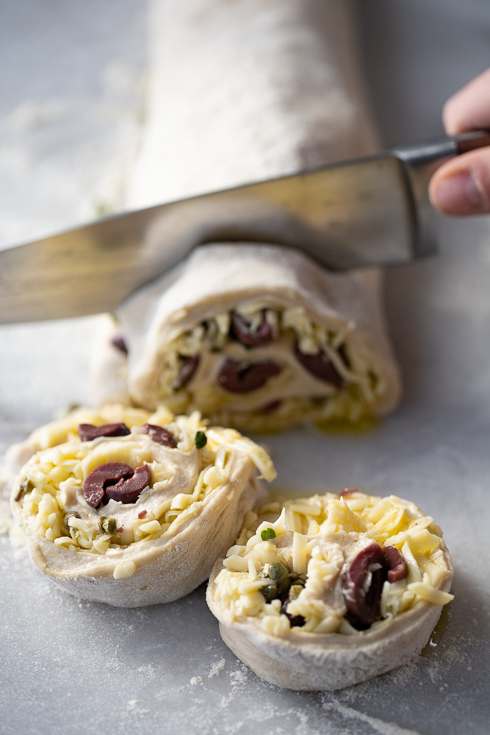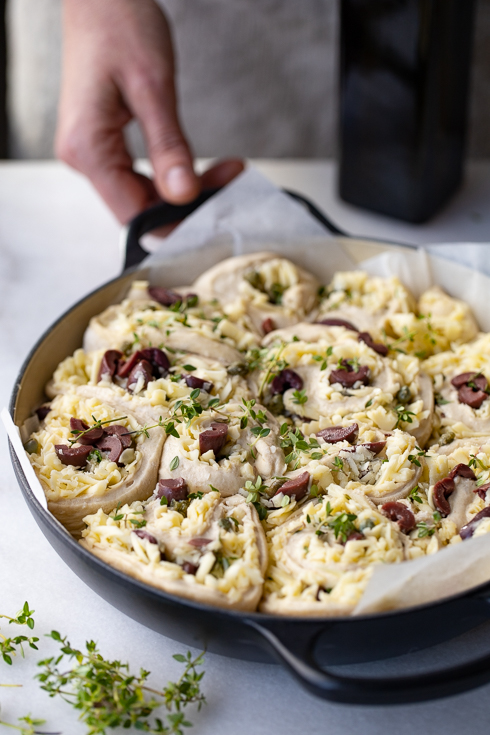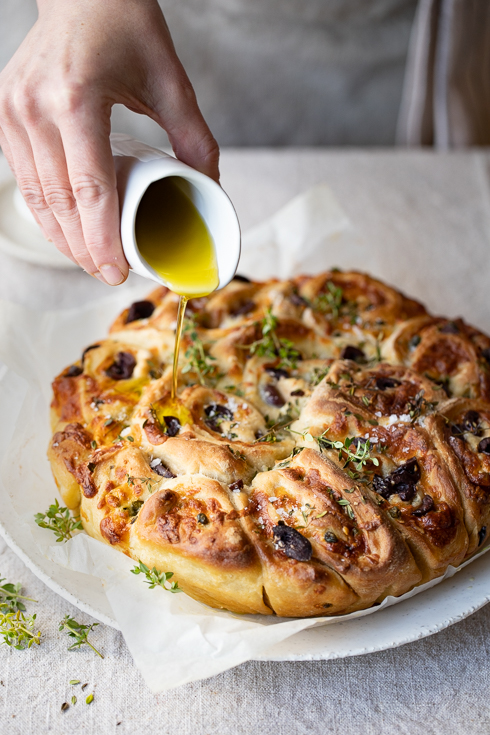 For the dough: (serves 6)
500 g stone ground white bread flour
10 ml (2 teaspoons) instant yeast
7,5 ml (1,5 teaspoons) salt
300 ml lukewarm water
15 ml extra virgin olive oil
For the filling:
300 g mozzarella cheese, roughly grated
1/2 cup (about 40 g) parmesan cheese, finely grated
1 cup kalamata olives, pitted & halved
2-3 tablespoons baby capers (in brine, drained)
4-5 sprigs thyme, leaves only (woody stalks discarded), plus extra
about 1/4 cup extra virgin olive oil, for drizzling, plus extra
salt & pepper
Method:
In the bowl of a stand mixer fitted with the K-beater, add the flour, yeast, salt and mix well. Add the water and oil and mix on low speed until it comes together, then switch to the dough hook and continue to knead for about 7 minutes until you have a very smooth dough (you can also do this by hand in a large mixing bowl, kneading for at least 10 minutes). Shape the dough into a ball, then leave to proof in an oiled bowl, covered with plastic or reusable wax wrap until doubled in size (about 30 minutes, depending on the temperature outside).
Preheat the oven to 200 C and line a large deep baking dish with non-stick baking paper (I used a 26 cm round casserole). On a clean floured surface, roll out the dough to a rough rectangle of about 30 x 40 cm, making sure that it doesn't stick to the surface. Distribute the mozzarella evenly all over the surface, then the parmesan, then the olives, capers and thyme leaves. Carefully roll the dough up in the length, then cut evenly into rounds, transferring each round to the prepared baking dish (cut side up) immediately after cutting to prevent the oil from leaking out onto the working surface. Shallower slices will cover a larger baking dish, of course. Cover loosely with a tea towel to rise for 15 minutes, then bake in the heated oven at 200 C for 35 minutes or until golden brown and cooked.
Remove from the oven and leave to cool for 15 minutes before sprinkling with salt, pepper, more thyme leaves and another drizzle of extra virgin olive oil. The bread can be transferred to a serving plate by pulling on the edges of the baking paper and lifting it out. Serve warm.
(This recipe was proudly created in association with the SA Olive Industry.)