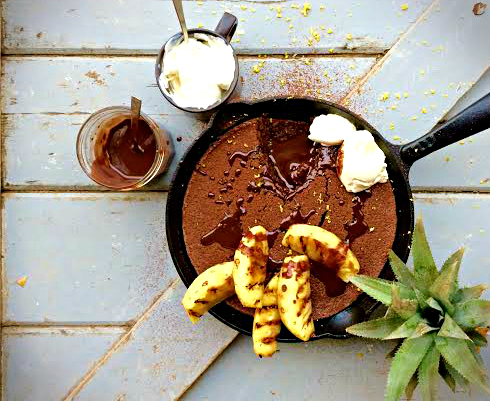 Last night, the MasterChef SA Celebrity contestants had to cook something using a secret ingredient: pineapple. The team behind the Woolworths #CelebrityChef campaign asked me to also put together a recipe using pineapple.
After considering many different dishes from a pineapple tarte tatin to a pineapple salsa taco to pineapple BBQ sauce ribs, I came up with this rich and decadent pudding using grilled fresh pineapple, chocolate, ground almonds and orange rind. The pudding must be slightly underbaked to ensure a gooey centre. It has a tropical undertone that goes so very well with the richness of dark chocolate. Serve warm with dark chocolate sauce and creme fraiche.
Ingredients:
1 ripe pineapple
100g 70% dark chocolate, chopped
60 g butter
3/4 cup self-raising flour
100g ground almonds
1/2 cup sugar
a pinch of salt
2 XL eggs
2 XL egg yolks
1/2 cup of milk
finely grated zest of 2 oranges
5 ml vanilla extract
For the chocolate sauce:
100g dark chocolate, chopped
1/2 cup fresh cream
To serve:
a dusting of cocoa powder (optional)
250 g creme fraiche (or vanilla ice cream)
Method:
Using a sharp knife, cut the skin off the pineapple and cut into chunks or rounds (I also removed the tough inner core). Grill the chunks in a very hot griddle pan until you get beautifully charred marks on the outside. Put half of the grilled pineapple in a food processor and process to a smooth pulp. Set aside the pulp and the remaining grilled pineapple.
In a small glass bowl, add the chocolate and butter. Microwave for 30 seconds, then stir well until smooth and melted. Put aside.
Pre-heat oven to 200 C and grease a deep 23cm heat proof baking dish or skillet.
In a large mixing bowl, add the flour, almonds, sugar and salt. Mix well with a hand whisk. Now add the eggs, yolks, milk, zest, vanilla, pineapple pulp and melted chocolate mixture. Mix with the whisk until smooth, then pour into the prepared pan.
Bake for 15-20 minutes or until just undercooked in the centre. Remove from the oven, dust with cocoa powder (optional) and serve warm with grilled pieces of pineapple, chocolate sauce & creme fraiche.
For the chocolate sauce: While the pudding is baking, heat the cream in a tall cup in the microwave until it just starts to boil (about 30 seconds – 1 minute). Add the chopped chocolate and stir until smooth and melted.
Tips:
You can also use cheaper commercial dark chocolate for this recipe, but be sure to add a tablespoon of cocoa powder to the batter to ensure a dark pudding.
If you'd like to serve this at room temperature as a chocolate tart, bake the pudding for 20 minutes in total, then cool completely. Cool the chocolate sauce as well, then spread the sauce over the pudding as a stylish ganache topping. Slice and serve.
I find it easy and fuss-free to melt chocolate in the microwave, but you can also do it in a heat-proof bowl over a pot of simmering water (the traditional French way).