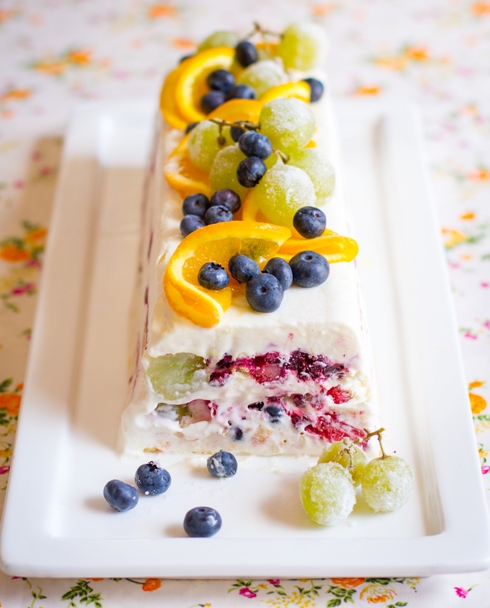 My dear friend and fellow blogger Jane-Anne Hobbs recently published a cookbook called "Scrumptious: Food for Family and Friends". Jane-Anne is a seasoned food writer and recipe developer, and loves to entertain at her breathtaking home in Hout Bay.
If you haven't seen this beautiful book, do yourself a favour and get your hands on it. It is a joy to see such magnificent work come from someone in our local food community. Jane-Anne is not a "celebrity chef", she's a self-trained intelligent cook with a born understanding of flavours. Her recipes are honest and they really work for entertaining and wowing a crowd. I have tried quite a few of the recipes in her new book, and they have all been winners. One of my absolute favourite is "Mike's Youvetsi" – a simple Greek lamb dish made with fresh tomatoes and orzo (flat, rice-shaped pasta) – absolutely packed with flavour.
A great choice for a Summer dessert is Jane-Anne's Frozen Lemon Cream with Summer Berries. This dessert is based on the basic recipe for a South African cottage cheese fridge tart, with added seasonal fruit (fresh or frozen). It is so beautiful to look at, and so easy to make. The best thing about it is that you can make it a few days ahead of your big party, and remove it from the deep freeze right before serving – like ice cream. No stress, no fuss, just delicious homemade creamy lemon delight. Perfect for a really hot, South African summer's day.
Ingredients: (serves 8)
 2 x 385 g tins condensed milk
finely grated zest and juice of 3 medium lemons (or 2 large)
500 ml fresh cream
350 g mixed frozen berries (I also added some fresh seasonal fruit, like grapes and oranges)
12 Italian Amaretti biscuits, roughly crumbled
For the topping:
1 cup frozen berries (or a mixture of fresh and frozen, or fresh seasonal fruit of your choice)
icing sugar, for dusting
Method:
Add condensed milk, lemon rind and lemon juice in a large bowl. With an electric beater, beat on low speed for 1 minute.
In a separate bowl, whip the cream until stiff, then fold the cream into the lemon mixture. Set the mixture aside to thicken for 10 minutes.
Partially thaw the frozen berries for 15 minutes in a colander. In the meantime, line a large loaf pan with cling wrap, pressing it well into the corners (wet the pan first to make the clingfilm stick).
Spread 1/3 of the cream mixture on the bottom of the pan, then top with half of the berries. Now sprinkle with half of the biscuits, then top with another 1/3 of the cream mixture.
Top with other half of berries, then with remaining biscuits, and then top with the last 1/3 of the cream mixture. Smooth top with a spatula then cover the top with a layer of cling wrap. Freeze for 6-7 hours, or preferably overnight.
When ready to serve, peel off the top layer of clingwrap, then invert the pan on a chilled serving platter to unmould. Peel off the rest of the clingfilm, then top with the remaining berries and/or seasonal fruit. Dust with icing sugar, then take to the table immediately to slice and serve. Serve with berry coulis, if preferred.
Credits:
This post was especially written for The Pretty Blog by Ilse van der Merwe from The Food Fox.
Food: Ilse van der Merwe.
Recipe: From the book "Scrumptious: Food for Family & Friends" by Jane-Anne Hobbs
Photography: Tasha Seccombe.
Styling: Tasha Seccombe & Nicola Pretorius