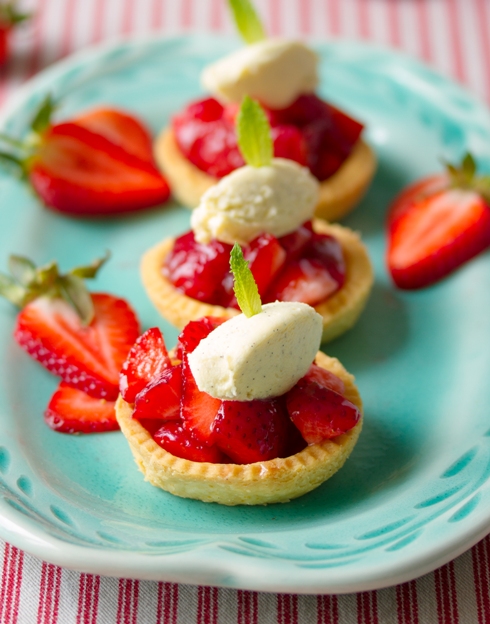 There are few things in life that taste more like summer than fresh strawberries. When we were children, my Dad used to make us "strawberries in syrup" for dessert. He would get us to form a "production line" in hulling and dicing up the masses of strawberries that we picked from Mooiberge Farm Stall outside Stellenbosch on Sundays, then he would add sugar and a touch of water. The mixture would then be stirred to create a pink syrup in between the strawberries pieces, and left in the fridge to let the syrup develop and intensify.
We would always have these strawberries with vanilla ice cream, and it was our absolute favourite summer dessert. So when I thought about the perfect ending to my ultimate summer feast, I came up with this very simple yet stylish little tartlet, inspired by my Dad's strawberries in syrup. It's a pre-baked shortcrust pastry shell, filled with fresh diced strawberries, then drizzled with warm strawberry jam and topped with vanilla flavoured mascarpone. It's the classic combination of "strawberries and cream" in a simple yet sophisticated canapé version. The jam helps to hold the tartlet together, and provides a touch of extra sweetness with the richness of the mascarpone.
You can also fill your pastry shells with my Dad's original strawberries in syrup, topped with vanilla ice cream – it's a slightly more messy version, but infinitely popular with kids and adults like. Dressed up or dressed down, these tartlets are surely some of my favourite desserts for summer.
Tip: The pastry in this recipe is really light and very "short", perfect for plated dessert tartlets (eaten with a spoon or fork). If you prefer these tartlets as a handheld treat, rather use a recipe for a firmer shortcrust pastry.
Ingredients for rich shortcrust pastry: (makes 12 muffin sized tartlet cases)
600 ml (300 g) cake flour
30 ml (25 g) castor sugar
200 g butter
2 egg yolks
45 ml water
Method for pastry:
Pre-heat oven to 200 C.
In a large bowl, sift the flour and mix in the castor sugar.  Cut the butter into cubes and rub into the flour (or process all in a food processor) until it resembles fine breadcrumbs .
Add the egg yolks and water, then bring together with your hands to form a soft dough. Add a tablespoon of water if you need to. (Or process in a food processor until the dough just comes together in a ball – do not overmix.)
Wrap the pastry with clingfilm, then chill in the fridge for 30 minutes.
Roll out thinly, then cut rounds of 8-10 cm with a cookie cutter. Place rounds carefully inside the bottom of a muffin tin (they won't go all the way up the sides). Prick carefully with a fork.
Bake the pastry cases for 8 minutes, then remove from the oven and press down any bubbles that are forming. Return to the oven at once and bake for a further 8-10 minutes, or until golden brown but not too dark.
Ingredients for vanilla mascarpone:
250 ml mascarpone (at room temperature)
seeds of 1 vanilla pod
15 ml caster sugar
Mix mascarpone, vanilla seeds and caster sugar together and set aside.
To assemble tartlets:
12 x pre-baked pastry cases
250 g fresh strawberries, hulled and diced
125 ml strawberry jam
vanilla mascarpone
mint leaves for garnish (optional)
Arrange strawberry pieces inside pastry cases – be generous!
Heat strawberry jam in the microwave until it is warm and runny, then pour about 10 ml (2 teaspoons) of warm jam over the strawberries. Make sure you coat them well, as they will look beautiful and shiny with a jam coating. Be careful not to spill the jam over the sides of the pastry case.
Let the jam cool for 5 minutes, then top with a dollop of vanilla mascarpone (I shape the mascarpone with 2 teaspoons to get a nice oval/quenelle).  Decorate with a small mint leaf on top of each tartlet.
Suggestions for shortcuts:
Use store-bought shortcrust pastry instead of making your own.
Top with store bought vanilla ice cream instead of vanilla mascarpone, then serve at once before ice cream melts!
Credits:
This post was especially written for The Pretty Blog by Ilse van der Merwe from The Food Fox.
Food: Ilse van der Merwe.
Photography: Tasha Seccombe.
Styling: Tasha Seccombe & Nicola Pretorius