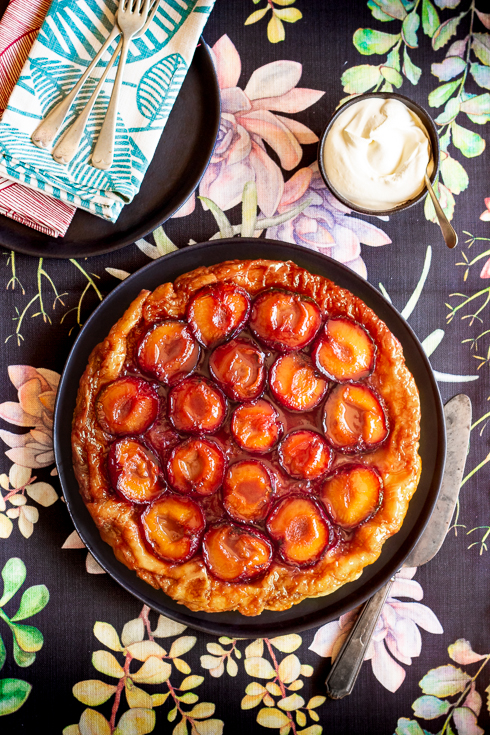 Last week we had a "sibling dinner" at my sister's place. I am the second oldest of 4 siblings, my sister being a year older and two brothers younger than me (4 years and 6 years younger). Between the four of us, we have 3 kids. Each of us has a partner too. So that makes for a loud, lovely bunch together!
My sister and her husband cooked homemade gnocchi with flame grilled steak and mushroom sauce for dinner – just incredible. We're all huge food lovers and we all love cooking, so no effort is spared. For dessert, my sister asked to help her put a quick tarte tatin together, using some of the last plums of the season left on the trees across the road. I haven't made a tarte tatin for years, because in June 2015 I had a dangerous mishap in the kitchen while demonstrating a party-size tarte tatin to a crowd: I flipped the bubbling hot caramel pan over using a plate that didn't quite fit the pan, and the hot caramel landed all over my chest. Needless to say, I still bare the scars.
It was a reminder that one should always take time and care while cooking, never to rush things when you're tired or overworked, and pausing to rethink situations that might be potentially dangerous. Yet, making this simple tarte tatin with my sister again, reminded me of how four simple ingredients can be turned into the most delicious dessert imaginable – so simple, so elegant, so celebratory of the season.
Isn't that what life is about? Pausing, learning, overcoming fears, being present, enjoying life's simple pleasures. I went home with a bag of freshly picked plums and cooked another plum tarte tatin a day later, wrapping the hot pan and plate in an old towel before carefully flipping it over. A little spillage (not on my skin this time), but so much delight! I'll be making this tart again and again this year.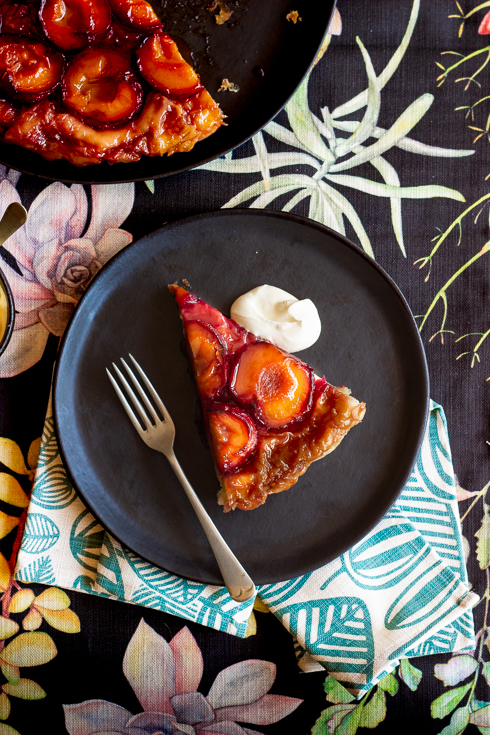 Ingredients: (serves 8)
1 cup (200 g) white sugar
90 g butter
roughly 800 g ripe yet firm plums, halved, pits removed
500 g frozen puff pastry, thawed
creme fraiche of vanilla ice cream, for serving (optional)
Method:
Using a 23-28 cm wide x 5cm deep round pan that is oven-safe (choose a suitably sized turning-out-plate for your pan before you go ahead with the cooking – test it to see if it fits, and set it aside for later), melt the butter slowly and add the sugar. Bring to a slow boil, then quickly arrange the plum halves tightly in the pan, cut sides down.
Turn the heat up, and boil until the sugar and butter for about 5 minutes to form a golden caramel, carefully shaking the pan now and then. Watch it closely and remove from heat to prevent it from boiling over. Remove from heat to cool completely in the pan – about 30 minutes is fine, but can be left longer.
Pre-heat oven to 200 C. Roll out puff pastry and cut into a circle that is slightly larger than the pan (cut and paste your sheet of rectangular pastry to first form a square, if necessary). Cover the plums with the pastry, tucking in the edges so that the fruit is contained. Use a sharp knife to cut a few slits for the steam to escape, then bake for 25-30 minutes until golden.
Remove from oven, then place a serving dish on top of the pan and carefully turn upside down (work quickly, but be very careful!). Remove the pan. If any fruit has moved out of place, now is the time to carefully put them back in place if necessary.
Slice and serve warm, with or without cream / creme fraiche / ice cream.
Tip: Only use a tin or a pan that is completely made from metal/iron – plastic handles will melt in the oven. Always remember to use a heat-proof cloth to handle the hot pan.