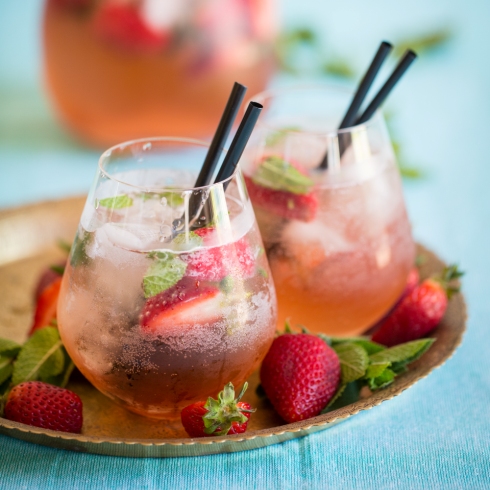 The kind people from Sodastream SA recently sent me a Sodastream Sourceto review, and I was just delighted to see my bright red new machine arriving via courier. Although there are many amazing different cordials to choose from in the Sodastream range, I just love the idea of plain soda water on tap, especially for summer. Most of the summer cocktails that I love are made with plain soda water, and I can already feel a cocktail party coming on. The new Sodastream Source is beautiful to look at, very easy to use, and just an amazingly usefull cordless machine to have in your home (or at your holiday camping site!).

Just a few days after I received my Source, my brother's boyfriend Frans gave me a bottle of red muscadel from Orange River Cellars as a dinner party gift. The sight of the muscadel immediately took me back many years ago, when I attended a music festival in Robertson. Although I cannot remember the line-up or even the name of the festival, I do remember that Rietvallei Wine Estate had a stand there where they sold red muscadel cocktails.
It was a piping hot summers day in Robertsons, and these red muscadel cocktails were so refreshing that we went back for more and more! It was such a simple mix of ingredients: red muscadel, soda water, fresh mint leaves and sliced strawberries. Although muscadel is traditionally a very sweet wine, the soda brings it back to just the right amount of sweetness for a refreshing summer drink with a fizzy lightness. I like to mix the muscadel to soda in a 50/50 ratio, which also makes it wonderfully light in alcohol – the perfect drink to serve guests at a dinner party before offering them heavier wines, or as a welcome drink at a fancy summer event.
Sweet wines, noble late harvests and fortified wines are making a big comeback this summer. I'll be sipping on red muscadel & soda cocktails until the sun sets. Cheers everyone!
The Sodastream Source retails for approximately R1595 – get yours from Yuppiechef.
Ingredients: (quantities to be adjusted according to the size of your glass or your jug)
1/3 quantity red muscadel
1/3 quantity cold soda/sparkling water (I use my new Sodastream Source to create soda water on tap)
1/3 quantity ice or crushed ice
strawberries, halved or sliced (about 1 or 2 per glass)
fresh mint leaves, torn in half
Mix all of the ingredients together and serve immediately.
Credits:
This recipe was originally written for The Pretty Blog by Ilse van der Merwe from The Food Fox.
Recipe, food/drink preparation and text: Ilse van der Merwe.
Photography: Tasha Seccombe.
Styling: Nicola Pretorius & Tasha Seccombe.
For my international readers, a little more on muscadel:
Muscadel is a proudly South African fortified sweet wine. Also known as Muscat or Muscat Blanc locally or Moscato overseas (although Moscato is usually not fortified), it is often paired with dessert. The Red Muscadel – made from Black Muscat grapes – is elegantly rich and dark. Muscadel is also a favorite during mealtimes because of its low alcohol content.
The signature sweetness of Muscadel makes it an iconic dessert wine. Although it is camouflaged as another variety of Port, some may find its sweetness a bit overwhelming. Still, Muscadel is very popular as a winter drink, and these days even chefs are looking for ways to reinvent it. We all know classic red wine cocktails such as the Kalimotxo from Mexico that is made from Coke and a simple red wine from
M&S Wine
and even the classic Sangria made from fresh fruit, red wine and a dash of brandy. So is the Red Muscadel soda cocktail part of the bandwagon yet?
Taken as an accompaniment to dainty desserts and slowly evolving as a refreshing summer drink, red Muscadel is now making a comeback among wine lovers everywhere. Among the famous South African Red Muscadels are the Slanghoek, KWV and especially the Rietvallei, which has a classic Muscat aroma that exudes "a raisiny sweetness and a rose petal fragrance". Of course, these varieties are some of the best in the world but how do you pair them with dessert? Chef and food historian Hetta van Deventer-Terblanche recently talked to Taste Magazine and vouches on the wine's versatility: "The aromas and flavours run the gamut from nougat and Turkish Delight to tropical fruit and fudge, rose petals, citrus blossoms and jasmine, mulberry, marzipan, marmalade, apricots and almonds." Think of it as not only a prelude to any dessert but also a perfect wine for any season.